DVDs from TCM Shop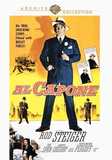 Al Capone Chicago's most notorious... MORE&nbsp> $14.36 Regularly $17.99 Buy Now
NOTES
DVDs from TCM Shop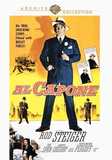 Al Capone Chicago's most notorious... MORE&nbsp> $14.36
Regularly $17.99 buy now
The working title of this film was The Al Capone Story. As noted in the film, Alphonse Capone was born in Brooklyn, NY in 1899, and began his career as a petty criminal there. He acquired the name "Scarface Al" because of a scar left by a razor slash. While still a young man, he moved to Chicago and worked his way up the crime syndicates, eventually taking over the bootleg liquor business. As depicted in the film, Capone facilitated his rise by murdering his rivals, including "Big Jim" Colosimo in 1920, and Dion O'Bannion in 1924. By the end of the 1920s, Capone was earning more than $20 million a year. On Valentine's Day, 1929, Capone's gunmen, dressed as policemen, shot and killed seven members of the rival "Bugs" Moran gang. Capone was convicted of income-tax evasion and sent to Alcatraz Federal Penitentiary in October 1931. He was released in November 1939, ill with syphilis. Capone died on his Florida estate on January 25, 1947 from complications of syphilis. For more information about Capone's life, see entry for Scarface in AFI Catalog of Feature Films, 1931-40.
According to a November 1957 New York Times news item, Al Capone initially was to be made by independent producers John H. Burrows and Lindsley Parsons, and was to be financed as well as distributed by Allied Artists. Jack DeWitt was hired to write the screenplay at this time, but his contribution to the completed film has not been confirmed. Parsons later left the project and was replaced by Leonard J. Ackerman. According to a Daily Variety news item, second-unit photography was done in Chicago, and M-G-M's "Chicago Street" lot was used for a week of shooting. A Hollywood Reporter casting note adds Bobby Hall to the cast. The film had its premiere on February 25, 1959 in Miami as well as the surrounding areas of Miami Beach and Coral Gables.
Because of restrictions imposed during the 1930s and early 1940s by Will H. Hays, president of the MPPDA, and Joseph I. Breen, director of the PCA, screen biographies of notorious criminals like Capone and John Dillinger were impossible to make. By the mid-1940s, however, the restrictions were somewhat relaxed, and in 1945, Monogram released Dillinger, the first screen depiction of John Dillinger (see AFI Catalog of feature Films, 1941-50). In late 1947, Capone was announced as the subject of a proposed United Artists release, but, according to news items, Westbrook Pegler and Jack Moffitt's screenplay was rejected by the PCA.
According to information in the MPAA/PCA collection at the AMPAS Library, in July 1958, the PCA rejected the first draft of the script for Al Capone, deeming it "unacceptable" because it contained "too much glorification" of Capone, an "overemphasis on evil," a lack of "counterbalancing good" and an "overemphasis on violence and slaughter." A revised script was approved, with eliminations, in September 1958. According to a February 5, 1959 letter to the PCA from U.S. Senator John L. McClellan, the U.S. Senate Select Committee on Improper Activities in the Labor or Management Field had a special screening of Al Capone. McClellan declared that the "picture should be shown throughout the land. Every citizen of this country should have the opportunity to see it. In my judgment it will have a potent influence for the maintenance of law and order and for the preservation of decent society in our country."
Although Al Capone marked the first time that the real gangster was depicted in a film, many earlier pictures featured characters who were presumed based on him, including Columbia's 1931 picture The Guilty Generation, directed by Rowland V. Lee and starring Leo Carrillo; the 1932 United Artists release Scarface, directed by Howard Hawks and starring Paul Muni; and the 1949 Columbia film The Undercover Man, directed by Joseph H. Lewis and starring Glenn Ford (see AFI Catalog of Feature Films, 1941-50). In April 1959, Phil Karlson directed Neville Brand as Capone in a Desilu Production The Scarface Mob, which led to the popular ABC television series The Untouchables. That series ran from October 1959 through September 1963, starred Robert Stack as FBI agent Eliot Ness and occasionally featured Brand as Capone. The teleplay was released theatrically in 1962. In 1967, Roger Corman directed Jason Robards, Jr. in the Twentieth Century-Fox Film release The St. Valentine's Day Massacre (see AFI Catalog of Feature Films, 1961-70). In 1987, Robert De Niro appeared as the gangster in Brian DePalma's The Untouchables, and in 1995, F. Murray Abraham portrayed Capone in Concorde-New Horizons' Dillinger and Capone.