DVDs from TCM Shop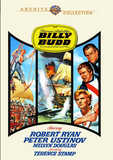 Billy Budd Adaptation of Herman... MORE&nbsp> $15.95 Regularly $17.99 Buy Now
Home Video Reviews
Herman Melville's 1891 novella
Billy Budd
, posthumously discovered in 1924, had been adapted into a 1949 play and a 1951 opera by the time Peter Ustinov turned it into a screenplay (with DeWitt Bodeen) and directed it in 1962. Warner Home Video has now brought it to DVD in a beautiful widescreen transfer complete with commentary by the film's Oscar-nominated star, Terence Stamp, who discusses the picture with Steven Soderbergh.
The story weaves a spell on many levels. A good, pure, young seaman named Billy Budd is working on a British merchant ship called "The Rights of Man" in 1797 when he is taken in mid-ocean to serve aboard an English warship, "The Avenger." Loved by his fellow crew for his decency and neverending positive nature, he finds himself in a conflict not of his own choosing with the ship's cruel master-at-arms, played by Robert Ryan in a fierce portrayal. It's Good vs. Evil and has been interpreted as an allegory with religious overtones. (As Niall MacGinnis, the captain of the merchant ship, says to Billy: "It's a fact that God goes with you.") Caught in the middle is the Avenger's Captain Vere, played by Ustinov, who can see what's going on but is compelled to follow proper military discipline at all times, right up to his final gut-wrenching decision regarding Billy Budd. Leading to that decision, however, is plenty of philosophical and moral agonizing, in which the audience is clearly asked to take part.
The increasing intensity of the conflict is perhaps more intellectual than visceral, and the movie leans a bit too much on the side of metaphor - a device which usually feels more satisfying in book form than in movie form. But the film is still a very good one, and one element that keeps it engaging on more emotional levels is the great use of location shooting off the coast of Spain. The sounds of wind on the sails and on the men really add to the feeling of being at sea, and the black-and-white CinemaScope, always a treat of a format, is put to good use here, allowing the film to stress the character conflicts through dramatic use of space.
Billy Budd
has its share of unforgettable moments, some as simple as Billy looking wistfully at The Rights of Man sailing away on the horizon as a man on his new warship is flogged (for reasons that are kept vague from him and us). Robert Ryan is unforgettable in every scene he's in, and his non-verbal acting skills culminate in one of the all-time great movie deaths.
Stamp, too, does great work here. The New York Times review described him as having "the face of a Botticelli angel." Certainly that was appropriate for the part; Billy is at peace with himself in an almost otherworldy way, causing those around him to react in varying ways, positive and negative.
Also in the cast is Melvyn Douglas as a grizzled old shiphand. He hadn't done a feature film in 11 years and got the role purely by chance; he happened to be on vacation in Spain when Ustinov's first choice for the role, Wilfrid Lawson, proved wrong for the part after filming commenced.
In the commentary track, Stamp recalls the movie's production and goes off on many interesting tangents pertaining to his career. Ustinov, Stamp says, was a "great leader of men" and unappreciated as a director. Ustinov also had a superb cinematographer working for him in Robert Krasker, who had won an Oscar for
The Third Man
(1949) and also claimed
Odd Man Out
(1947),
El Cid
(1961) and later
Fall of the Roman Empire
(1964) to his credit. It was Krasker's idea to dye Stamp's hair blond, making Billy even more angelic-looking. Stamp recalls that Krasker shone so much light on him that at times he could barely keep his eyes open. He also relates that he was sharing a flat with Michael Caine at the time he was cast in the film, and that it was Caine who taught him the right accent to use - "west country boy," as Stamp puts it.
Overall, Soderbergh pretty much just lets Stamp talk. (The two worked together on
The Limey
, 2001.) Stamp's recollections are clear and detailed, and while he imparts a tone of detached arrogance at times, his performance in this movie is so good, and clearly meant so much to his career, that one can cut him some slack. His story of the
Billy Budd
premiere and its aftermath with his father is particularly well told, and he and Soderbergh are quite interesting on the acting process and how it's changed since the old, pre-Method days.
Billy Budd
is available on its own or in Warner Home Video's Literary Classics Collection, which also includes
The Prisoner of Zenda
(both the 1937 and 1952 versions),
The Three Musketeers
(1948),
Madame Bovary
(1949), and
Captain Horatio Hornblower
(1950). None of the other discs have audio commentaries, but extras abound in the form of cartoons, short subjects, radio adaptations and trailers. Based on a quick look at these other titles, all appear to boast excellent transfers, with
The Three Musketeers
in particular looking absolutely splendid.
For more information about
Billy Budd
, visit
Warner Video
. To order
Billy Budd
, go to
TCM Shopping
.
by Jeremy Arnold