DVDs from TCM Shop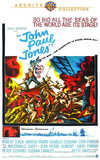 John Paul Jones The hero of the Revolutionary... MORE&nbsp> $15.96 Regularly $19.99 Buy Now
NOTES
DVDs from TCM Shop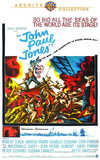 John Paul Jones The hero of the Revolutionary... MORE&nbsp> $15.96
Regularly $19.99 buy now
The opening credits contain the following statements: "This production is dedicated to Fleet Admiral Chester M. Nimitz, U.S.N., able inheritor of the John Paul Jones tradition. To him we owe much gratitude for his unflagging encouragement and inspiration. We thank the Department of Defense and the officers and men of the United States Navy for their cooperation: also the Government of Spain. We thank too, Mr. Victor Oswald, Production Adviser, for his many services."
According to Warner Bros. production notes and statements made in articles during the production, Samuel Bronston had the idea to make a film about John Paul Jones in 1946 and found that, although various studios had registered the title from the late 1930s, those companies had dropped the idea because of the expense and lengthy screen time necessary to cover the subject adequately.
According to various news items, in 1939, Warner Bros. bought the rights to Clements Ripley's biographical novel about Jones, entitled Clear for Action, which was serialized later in 1939 in The Saturday Evening Post before being published as a book in 1940. James Cagney was to star in the Warner production with his brother, William Cagney, producing, and Michael Curtiz directing. In 1946, a Los Angeles Times news item stated that Jack Warner gave Jerry Wald and Delmer Daves the "green light" for the project. In 1949, according to Daily Variety, the film was going to be produced by Lou Edelman with Cagney starring.
In December 1955, according to Daily Variety, Warner assigned the production rights to Admiralty Pictures Corp., a newly formed company of which Bronston was president. According to Hollywood Reporter, Warner gave the property to Bronston in return for the rights to make a film about Charles Lindbergh, to which Bronston had a claim. The chairman of the board of Admiralty (a precursor to John Paul Jones Productions, Inc.) was R. Stuyvesant Pierrepont, Jr. In addition to Pierrepont, the company was backed by Laurence and Nelson K. Rockefeller, the Charles Dana, Jr. family, James Watriss, Pierre DuPont III, Ernest Gross, C. D. Jackson, Frederick Stern and others, representing General Motors, Firestone Tire and Rubber Co., Eastman Kodak, Time, Inc., a Swiss banking firm and other industrial organizations. The backers were able to use assets frozen in Spain, France and Italy, according to news items, because filming was to be done in Europe, primarily in Spain. Bronston claimed that this film opened up an avenue for financing films that had been previously unavailable.
Jesse L. Lasky, Jr. was signed to do the screenplay in December 1955. According to Hollywood Reporter and Daily Variety, he conducted extensive research with Navy officials in Washington and wrote a screenplay in 1956 based on the Ripley book. Later, when John Farrow was hired to direct, Farrow, who liked Lasky's screenplay, asked him to collaborate on a rewrite, but Lasky was unable to work on it at that time. In December 1958, while the film was in post-production, Lasky saw ads listing Farrow as sole writer and heard that Farrow was to get sole screenplay credit. Lasky filed a protest with the Writers Guild of America and ultimately received equal billing with Farrow for the screenplay. Ripley's name, however, does not appear on the film. According to a Daily Variety news item, in July 1956, Bronston signed Ben Hecht to write the script, but no information has been located to confirm that he actually worked on the script. At that time, William Dieterle, who had established a reputation for making biographical films, was assigned to direct. In 1956, Richard Todd and Richard Basehart were both considered for the title role, along with John Miljan for the role of George Washington and John Lupton for that of a French naval officer.
In March 1958, prior to shooting, the Hollywood American Federation of Labor Film Council, representing more than 24,000 members of film unions and guilds, threatened to boycott the film if it was to be shot totally abroad, as was then planned. The group also vowed to protest to President Dwight D. Eisenhower and Congress the Navy's cooperation with the producers, who, they claimed, planned to shoot abroad such historical scenes as the signing of the Declaration of Independence, Washington at Valley Forge, and a ball in Fredericksburg, Virginia. They stated, "We are not protesting the filming abroad of scenes legitimately laid abroad. But we do not think the American public will approve the photographing in Spain of the signing of the Declaration of Independence and other historical American events, especially when such foreign production deprives American craftsmen of sorely needed work."
According to a Daily Variety article, the Council had previously boycotted the 1956 Republic picture Daniel Boone, Trail Blazer because it was filmed in Mexico, although its setting was American, and claimed that the boycott was responsible for that film being withdrawn from release. Hollywood Reporter stated that the group in the previous two years had made numerous motions for a consumer boycott of films made abroad by U.S. firms. Hollywood Reporter speculated that "the tinder which sparked" this protest was the Warner Bros. publicity campaign for the film, which noted that the production hired 150 Spanish women for the roles of "Virginia belles," planning to have the women wear blonde wigs. The Council also threatened to contact the Daughters of the American Revolution and the American Legion concerning their protest.
In April 1958, Daily Variety reported that Bronston had agreed to shoot some scenes in Virginia, Maryland and Pennsylvania in response to the Council's action. Nevertheless, in October 1958, after shooting was completed, the Council voted to conduct a nationwide boycott upon the film's release and complained to the Navy concerning the use of Navy equipment and U.S. Marines in scenes depicting a beach landing filmed in Spain, according to Hollywood Reporter. Bronston stated at the time that although they had planned to use Marines, he hired local extras instead when the Marines were sent to Lebanon unexpectedly. Bronston also said that twenty of the cast and twenty-two of the crew members, along with some of their families, were brought to Europe from the U.S. for the production. He claimed that had the film been made in the U.S., the cost would have been $10,000,000, rather than the actual production cost of $4,000,000. Although their appearance in the film has not been confirmed, contemporary Hollywood Reporter news items add to the cast the following actors: John Stone, Pat Clavin, Stella Gallagher and Charles Lamb. Also added to the cast by a Hollywood Reporter news item is Rosemarie Bowe, who was actor Robert Stack's wife from 1956 until his death in 2003.
According to news items and publicity for the film, shooting was done in Spain at the CEA Studio in Madrid, and at outdoor locations in Galicia, Andalusia, Rota, Benidorm and Denia. Sets for the Scottish village, Whitehaven, a wharf in Delaware and a dock site in Portsmouth, NH were constructed in and around Denia. Shooting was also done in Scotland, at the palace at Versailles, Parliament and King James's Palace in London, the Royal Palace in Madrid, where the throne rooms of Catherine the Great and of Louis XVI were shot, the summer palace at Aranjuez, and state buildings in La Granja, Spain. The film was edited, dubbed and scored in London. Fleet Admiral Nimitz was an adviser and consultant. Rear Admiral J. L. Pratt returned to active duty to act as a technical adviser.
Director Farrow had been a commander in the Canadian Navy and had directed a number of previous sea adventure films. His cousin, Alan Villiers, a British Naval officer during World War II, who also had been the captain of the Mayflower II (a replica of the original ship) on a recent transatlantic voyage, remembered seeing hulks of old sailing ships in Sicily during the war. Villiers oversaw the refurbishment of two of these ships in Ostia, Italy, and was an adviser during filming. Another ship built in Barcelona was also used in the film. According to New York Times, ships from this film were later used in the 1962 film Billy Budd (see AFI Catalog of Feature Films, 1961-70). John Charles Farrow and Patrick Villiers, two sons of Farrow and his wife, Maureen O'Sullivan, were in the cast. While production notes state that Bette Davis was paid $25,000 for four days' work, Louella Parsons related that she was to be paid $50,000. An early plan to have Hollywood celebrities who had served in the Navy, Marines or Coast Guard portray seamen of the past did not come to fruition.
In the latter part of 1958, Bronston and Barnett Glassman, who received associate producer credit on the film, traded charges in press and in court regarding ownership of the production company and Glassman's credit for the film. In December 1958, Variety reported that nineteen litigations were pending regarding the company. The two men had worked together on earlier films. No information regarding the outcome of any of the suits has been located. After production, Bronston and Farrow formed a new company to make three films abroad, but this was Farrow's last film before his death in 1963.
For its release in France, the film was called Le capitaine Paul, which was the title of a novel by Victor Hugo about Jones. Hollywood Reporter, in its review, criticized the portrayal of Jones, saying that the film's writers used "only those rumors as were flattering to their subject" while ignoring "other sources that were salty with accounts of brawls, love affairs and humor." Jones, according to Hollywood Reporter, actually killed two mutineers in the West Indies. Hollywood Reporter went on to state: "The film makes no effort to clear up some of the most fascinating enigmas about Jones." Variety was critical of the portrayal of historical characters, stating, "They end, as they begin, as historical personages rather than human beings."