DVDs from TCM Shop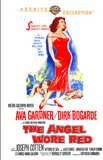 The Angel Wore Red A priest and a prostitute fall... MORE&nbsp> $17.56 Regularly $21.99 Buy Now
NOTES
Working titles of the film were Temptation, The Fair Bride and La Sposa Bella. The opening title card reads: "Metro-Goldwyn-Mayer presents Ava Gardner, Dirk Bogarde (by arrangement with the Rank Organization) in The Angel Wore Red a Titanus-Spectator Production." The opening credits include the following written prologue: "1936 a city in Spain about to experience the cruelest of all wars... a Civil War." Voice-over narration by Joseph Cotten as the reporter "Hawthorne" introduces "Arturo," the film's protagonist; provides updates on the warring factions and follows the story of the relic's location. As noted in several reviews of the film, the voices of Italian actors Vittorio De Sica and Aldo Fabrizi were dubbed into English.
The Angel Wore Red was based on the story of a young priest who had forsaken his vows to the Catholic Church during the Spanish Civil War (1936-1939). As dramatized in the film, Spain had become ungovernable due to a number of political factions, which divided the country and in February 1936, a Popular Front government, led by the Republicans, often called "Loyalists," came to power. The Republicans were supported by Communists, anarchists and union members and were aided by Communist Russia.
The Nationalists, often called Falangists, were aided by fascist Italy and Nazi Germany, fought the Republicans with the help of the Spanish military. During the war, the Republicans banned religious services, desecrated churches and murdered thousands of priests. By March of 1939, the Republicans fell to General Francisco Franco, who led the Nationalists to victory and became the Spanish dictator in 1939, where he remained in the highest position of authority over Spain until 1975. For more information about the Spanish Civil War, see the entry for the 1943 For Whom the Bell Tolls (AFI Catalog of Feature Films, 1941-50).
Modern sources add Leonardo Porzio and Renato Terra to the cast. According to a November 3, 1959 Hollywood Reporter news item, the film was to have been shot in Spain, however, due to the unflattering portrayal of Nationalists in the Spanish Civil War, Franco declined permission. Portions of the film were shot on location in Rome, Sicily and Monterossi, Italy.