DVDs from TCM Shop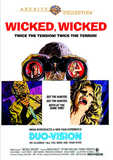 Wicked, Wicked A detective hunts down a... MORE&nbsp> $16.95 Regularly $19.99 Buy Now
Articles
SEE ALL ARTICLES
Wicked, Wicked (1973)
Sometimes a great promotional gimmick is reason enough to make a movie and this certainly proved to be a successful strategy for director William Castle who made box office hits out of low-budget horror thrillers such as Macabre (1958, admission included an insurance policy from Lloyds of London against death by fright), House on Haunted Hill (1959, a glow-in-the-dark skeleton swooped over the audience at a key point in the movie) and The Tingler (1959, selected seats were wired and vibrated when the title creature got loose in a movie theatre). Not all promoters have been as lucky as Castle though and Wicked, Wicked (1973), produced by William T. Orr and writer/director Richard L. Bare, features one of the best movie gimmicks of its era but was poorly distributed and has languished in obscurity for years.

Filmed in "Duo-vision," Wicked, Wicked opened with the announcement, "You are about to see a new concept in motion picture technique...in this process you will witness simultaneous action through the use of a double screen...an experience that will challenge your imagination!" The dual screen technique was actually nothing new; Andy Warhol had already explored that possibility in 1966 with Chelsea Girls which required the projection of two separate movies onto the same wide screen. Brian De Palma refined the concept further in Dionysus in '69 (1970), a filmed version of the Greek play The Bacchantes, shot entirely in the split screen technique, and he also toyed with the "Duo-Vision" idea in key scenes in his 1973 thriller, Sisters. Even Hollywood experimented with dual and multiple screen techniques in such films as Grand Prix (1966) and The Thomas Crown Affair (1968). But Wicked, Wicked exploits the split screen gimmick more effectively as a narrative device than most films that have utilized this visual approach. Often the movie is more fascinating for what it attempts and the visual possibilities it raises than the actual narrative which is a psychological thriller about a demented killer with a blonde fetish running amok in a sprawling resort hotel with secret passageways.

Released by MGM in 1973 during the waning days of the studio, Wicked, Wicked bore some similarities with its psycho-killer-in-a-creepy-hotel plot to Paul Bartel's Private Parts. The latter film, released in 1972, was such an embarrassment to the studio due to the kinky content that they released it under the alias Premier Productions. It failed at the box office and so did Wicked, Wicked, even though it bore the MGM logo and had great selling points. It also has a LOT of problems. For one thing, it dispenses with building any suspense about the masked psycho who savagely stabs and kills a female hotel guest in the first fifteen minutes of the film. Despite the introduction of several oddball characters, there is no attempt to hide the obvious fact that Jason (Randolph Roberts), the hotel handyman, is the murderer. The movie is also hampered by screenwriter Bare's inane dialogue that barely rises to the level of a daytime TV soap opera and the ensemble acting is so uniformly bad, even with such veteran performers as Arthur O'Connell and Scott Brady in the cast, it becomes immensely entertaining. In fact, Tiffany Bolling as Lisa James, the imperiled nightclub singer, is the film's prime guilty pleasure, whether she is screaming in terror, performing excruciatingly awful cabaret tunes by Philip Springer & Irwin Levine (they will get in your head and never leave), or arguing with her ex-husband Rick (David Bailey), a disgraced cop who is now working as the hotel's private eye.

All of the flaws only add to the oddball charm of Wicked, Wicked and the "Duo-Vision" process is consistently engaging, only reverting to the single frame widescreen format during scenes of sex and death. Like Hitchcock's Rear Window (1954), the movie cleverly implicates the viewer as a voyeur in the proceedings and underlines the visual obsession with striking dual compositions: a sweaty bodybuilder working out as the hotel manager stares intently at him from behind venetian blinds; Jason retrieving a severed arm from a hallway as a group of hotel merrymakers wind their way toward him through the corridors; a flashback scene in which the ill-fated Lenore (Madeleine Sherwood) describes her husband's accidental death which is actually revealed to be an assault with a deadly weapon. At times, director Bare is so literal-minded in his deployment of "Duo-Vision" that he renders any intended irony as null and void, such as the scene where Rick and Lisa discuss their failed marriage. "After you left," Rick confesses, "I did a little drinking...maybe more than a little," and, in juxtaposition to the cozy couple, we see a flashback of the drunken Rick, crawling face down on the floor.

Wicked, Wicked was the last feature film directed by Richard L. Bare and one of the few in his filmography which also included the 1968 cult adventure I Sailed to Tahiti with an All Girl Crew starring Gardner McKay; Bare was much more prolific in the world of television, having helmed countless episodes of Green Acres, Cheyenne, Maverick, Broken Arrow and other series. His other claim to fame is the comedy shorts series he created with actor George O'Hanlon for MGM featuring the character Joe McDoakes, which ran from 1942 to 1956 and featured such titles as "So You Want to Give Up Smoking," "So You Want to Learn to Dance" and "So You Want to Be a Gladiator."

While TCM's airing of Wicked, Wicked may not result in a revival of interest in "Duo-Vision" or any retrospectives of Bare's or Bolling's films, it stands as a unique pop culture artifact of its era. Viewers may be struck by the film's final revelation of Jason's corpse-strewn attic which mirrors the grotesque climax of Narciso Ibanez Serrador's La Residencia (1969, aka The House That Screamed) and, if you listen carefully to the press reporters clamoring for an interview with Lisa at the film's end, you'll hear one of them shout out, "Who do you think is the Zodiac Killer?", a reference to the mysterious serial killer who terrorized the San Francisco area between 1968 and 1970. By the way, the Grand View Hotel in Wicked, Wicked is actually the Hotel Del Coronado in San Diego; it is now a very expensive luxury resort and was previously used by director Billy Wilder as a prime location in Some Like It Hot (1959).

Producer: Richard L. Bare, William T. Orr
Director: Richard L. Bare
Screenplay: Richard L. Bare
Cinematography: Frederick Gately
Film Editing: John F. Schreyer
Art Direction: Walter McKeegan
Music: Philip Springer
Cast: David Bailey (Rick Stewart), Tiffany Bolling (Lisa James), Randolph Roberts (Jason Gant), Scott Brady (Sgt. Ramsey), Edd Byrnes (Henry Peter Lassiter), Diane McBain (Dolores Hamilton).
C-95m.

by Jeff Stafford
back to top
---
Wicked, Wicked (1973)
While Tiffany Bolling was working on Wicked, Wicked, she was simultaneously making The Candy Snatchers (1973) at the same time.

Bolling did her own singing in Wicked, Wicked which may also explain why her aspirations for a singing career didn't pan out. She actually had a minor hit single with the Vietnam protest song, "Thank God the War Is Over," and even released an album called "Tiffany" which is now a collector's item.

"We picked Wicked, Wicked for the introduction of Duo-Vision for two reasons," Bare explains in the studio pressbook. "It is a suspense drama of the psycho-killer genre and the entire action is laid in an old seaside resort hotel. The plot and the setting combined beautifully to make our dual screens work. Although split screen sequences have been seen in the past and are still popular for such presentations as sports telecasts, Wicked, Wicked marks the first time that an entire movie has been filmed with parallel images," Bare says. "Although primarily it serves to depict simultaneous action," the director continues, "Duo-Vision also lends itself to showing truth and untruth, flashbacks in time, visions of the future or cause and effect without abrupt interruption of the story's main continuity. As applied to Wicked, Wicked the Duo-Vision technique involves an active screen and a passive screen, meaning that dialogue comes from only one screen at a time while silent footage unreels on the other so there is no dialogue confusion."

by Jeff Stafford
back to top
---
Wicked, Wicked (1973)
The organ music heard in Wicked, Wicked is from the original sheet music score that was played live during showings of the silent horror classic The Phantom of the Opera (1925).

Taglines for the film's promotion were:
"See the hunter, see the hunted - both at the same time!"
"No glasses - All You Need Are Your Eyes!"
&
"Twice the tension! Twice the terror!"

The Hotel del Coronado, which is identified as The Grand View Hotel in Wicked, Wicked, is a historic seaside resort which first opened its doors in 1888 and has played host to such famous celebrities and dignitaries as Charles Lindbergh, the Prince of Wales, Babe Ruth, Thomas Edison, Charlie Chaplin and Marilyn Monroe. According to legend, the Victorian structure is haunted by the ghost of a beautiful young woman, Kate Morgan, who checked in on November 25, 1892 and died under mysterious circumstances. The Coronado has been refurbished since the making of Wicked, Wicked and is available for book. Here is the web site link -http://www.hoteldel.com/about/history.cfm

Director Richard L. Bare is probably best known for helming the famous Twilight Zone episode "To Serve Man" and for more than 170 episodes of Green Acres, which he hopes to revive. He is also the author of a memoir, Confessions of a Hollywood Director.

Set decorator Charles Pierce had already launched his own directorial debut in 1972 with the surprise hit, The Legend of Boggy Creek. He continued to work as set decorator on films such as Coffy (1973) and Black Belt Jones (1974) while directing his own exploitation films (The Town That Dreaded Sundown [1976], The Evictors [1979]).

Tiffany Bolling, who plays Lisa James in Wicked, Wicked, made her film debut in an uncredited minor role in Tony Rome (1967) starring Frank Sinatra.

Ms. Bolling was an extremely busy actress during the seventies, appearing in numerous TV shows (Marcus Welby, M.D., Ironside, Medical Center) and B-movies, many of which have since become cult favorites such as Bonnie's Kids (1973), The Candy Snatchers (1973), a sick, twisted tale of three kidnappers and their hostage who is buried alive in a coffin, The Centerfold Girls (1974), and Kingdom of the Spiders (1977), in which she played an entomologist to William Shatner's veterinarian.

The last film Bolling appeared in was a low-budget sci-fi thriller in 1996 entitled Visions.

David Bailey, who plays Rick Stewart in Wicked, Wicked, was primarily a stage and television actor who was best known for his recurring role in the soap opera Another World. His film appearances were rare and included the spaghetti Western, 7 Women for the MacGregors (1967), Change of Mind (1969), in which a black man receives a brain transplant from a white man, and The Believer (2001) starring Ryan Gosling as a Jew who becomes an anti-Semitic skinhead.

David Bailey died in November 2004 in an accidental drowning in his apartment pool in Los Angeles.

Wicked, Wicked was the feature film debut of Randolph Roberts who played the psychotic killer. Most of his subsequent work has been in minor supporting roles in television series such as Happy Days, Police Woman and The A-Team.

The supporting cast of Wicked, Wicked includes Diane McBain, Arthur O'Connell, Scott Brady, Madeleine Sherwood and former teenage heartthrob Edd Byrnes who created a sensation as a hipster known as "Kookie" on the TV detective series, 77 Sunset Strip. He even recorded a song with Connie Stevens - "Kookie, Kookie, Lend Me Your Comb" - that became a top 40 hit. Despite a promising film career that included Marjorie Morningstar (1958), Up Periscope (1959) and Roger Corman's The Secret Invasion (1964), Byrnes was working almost exclusively in television by the time he made Wicked, Wicked.

Diane McBain was a popular ingnue at Warner Brothers during the early sixties, appearing in such films as Parrish (1961) and Claudelle Inglish (1961) as well as hit TV shows such as Surfside 6 and Hawaiian Eye. She is barely recognizable in her brief cameo as a murder victim in Wicked, Wicked.

Two-time Oscar nominee for Best Supporting Actor Arthur O'Connell (for Picnic [1955] and Anatomy of a Murder [1959]) had just completed The Poseidon Adventure (1972) when he took the relatively minor role of Mr. Fenley in Wicked, Wicked.

The younger brother of actor Lawrence Tierney, Scott Brady enjoyed leading man status in B-movies until the mid-sixties when he began appearing in supporting roles in exploitation films such as The Road Hustlers (1968), The Mighty Gorga (1969), Nightmare in Wax (1969) and Satan's Sadists (1969). His total screen time in Wicked, Wicked is probably less than five minutes but he does figure prominently in a surprising death scene which he prompts with the sarcastic retort to a suspect, "Go ahead and jump."

Madeleine Sherwood, who broadly overplays her role as the pathetic hotel tenant in Wicked, Wicked, is probably best known for her performance as the obnoxious Mae Flynn Pollitt in Cat on a Hot Tin Roof (1958) and as the Mother Superior in the TV series, The Flying Nun.

by Jeff Stafford
back to top
---
Wicked, Wicked (1973)
"What distinguishes Wicked, Wicked from all other recent psychopathic-killers-loose-in-rambling-old-hotels movies is its gimmick...Duo-Vision is in fact nothing more than split-screen unremittingly applied, as in Chelsea Girls and Dionysus in '69, but never before with such winning simplicity of intention...When you can see both the distant, stalking killer and his intended victim at the same time you have more activity but less anticipation-and consequently less suspense. And the lifting of suspense, which in most such movies functions as an annoying burden upon the audience, is a very real advantage.Wicked, Wicked thus emerges as an oddly pleasant movie about which there is not too much good to say. Everybody is likable-even the killer, who, like most amateur embalmers in movies for the last 10 years, owes a bit to Hitchcock's Norman Bates. And everybody is at least professionally competent."
- Roger Greenspun, The New York Times

"A silly, wretchedly derivative psycho movie in which a hotel handyman (Roberts), sexually humiliated as a child by his foster mother, goes around in a fright mask dismembering blondes."
- TimeOut

"Wicked, Wicked is a great time capsule film. Only in 1973 would a major studio shoot an all-split-screen film, with an unoriginal murder mystery storyline, Tiffany Bolling in two wigs and singing two songs, Edd "Kookie" Byrnes as a beach bum gigolo, and Diane McBain as an early victim, an all organ music score."
- Casey Scott, www.dvddrive-in.com/

"This not very exciting thriller is set in a California seaside resort...This strange feature employed "Duo-Vision," the split-screen technique that so nicely built up suspense in Brian De Palma's terror film, Sisters. Unfortunately, none of the skill shown in that film is evident here, so the technique is reduced to a gimmick...written, produced, and directed by the director of the 1960s TV comedy series "Green Acres."
- TV Guide

"...Richard L. Bare's film pokes fun at every horror, mystery, and suspense film clich and contrivance in sight. Told entirely in split screen...writer-director Bare uses the gimmick with mostly amazing agility and slickness. But a gimmick is not substitute for style and, though admittedly it is effective for suspense, shock value, and macabre humor, it remains a gimmick when used so consistently...Some modernists believe this is real cinema, but history will prove them wrong. But it is fun."
- Dale Winogura, Cinefantastique

"Disastrous mystery-thriller"
- Leonard Maltin's Movie Guide


back to top
---
Wicked, Wicked (1973)
Rick: "I'm a security man, not a bill collector."
Simmons: "As long as you work at this hotel, you'll be whatever I say you are."

Lenore: "I don't want to move...you know, I've got a lot of wonderful friends here in the hotel. You know, I have never, ever been lonely here. Not once."

Genny: "I think I feel another toothache coming on doctor."
Rick: "I'm sorry. I'm not drilling today."

Bill: "Is that the security man? How do you know him?"
Lisa: "I was married to him."

Rick (interviewing missing woman's relative): "What about her hair?"
Grandpa: "Oh, she had lots of it."
Rick: "No, the color."
Grandpa: "Oh, real light, real light, like Jean Harlow."
Rick: "Any other distinguishing features?"
Grandpa: "Knockers!"
Rick: "Simmons, did it ever occur to you that there might be more to these things than coincidence?"
Simmons: "If you intimating what I think you are, I don't want to hear it."
Rick: "Three single women, blonde, each of them with luggage, check in in the middle of the night, order dinner sent up, and that's the last of them."

Lisa (to Jason): "I want a full figure spot when I get to center stage, not before and not after!"

Lisa: "Well, what do you do besides work a spotlight?"
Jason: "I change light bulbs, rewire old circuits, climb flagpoles, anything they can think of."

Lenore: "I performed before kings and queens. I had legs in those days."

Rick: "If you can't be a good cop, be a dropout."

Rick (to Lisa): "After you left I did a little drinking...maybe more than a little."

Lisa: "It's a bit difficult to sing when you're scared to death."

Jason: "Don't come any closer. There'll be an awful mess to clean up down there."

Simmons: "It all could have been handled without any notoriety. It's all a matter of image."

Reporter: "What does it feel like to have your throat cut?"
Lisa: "It hurts."

back to top
---
Wicked, Wicked (1973)
Sometimes a great promotional gimmick is reason enough to make a movie and this certainly proved to be a successful strategy for director William Castle who made box office hits out of low-budget horror thrillers such as Macabre (1958, admission included an insurance policy from Lloyds of London against death by fright), House on Haunted Hill (1959, a glow-in-the-dark skeleton swooped over the audience at a key point in the movie) and The Tingler (1959, selected seats were wired and vibrated when the title creature got loose in a movie theatre). Not all promoters have been as lucky as Castle though and Wicked, Wicked (1973), produced by William T. Orr and writer/director Richard L. Bare, features one of the best movie gimmicks of its era but was poorly distributed and has languished in obscurity for years.

Filmed in "Duo-vision," Wicked, Wicked opened with the announcement, "You are about to see a new concept in motion picture technique...in this process you will witness simultaneous action through the use of a double screen...an experience that will challenge your imagination!" The dual screen technique was actually nothing new; Andy Warhol had already explored that possibility in 1966 with Chelsea Girls which required the projection of two separate movies onto the same wide screen. Brian De Palma refined the concept further in Dionysus in '69 (1970), a filmed version of the Greek play The Bacchantes, shot entirely in the split screen technique, and he also toyed with the "Duo-Vision" idea in key scenes in his 1973 thriller, Sisters. Even Hollywood experimented with dual and multiple screen techniques in such films as Grand Prix (1966) and The Thomas Crown Affair (1968). But Wicked, Wicked exploits the split screen gimmick more effectively as a narrative device than most films that have utilized this visual approach. Often the movie is more fascinating for what it attempts and the visual possibilities it raises than the actual narrative which is a psychological thriller about a demented killer with a blonde fetish running amok in a sprawling resort hotel with secret passageways.

Released by MGM in 1973 during the waning days of the studio, Wicked, Wicked bore some similarities with its psycho-killer-in-a-creepy-hotel plot to Paul Bartel's Private Parts. The latter film, released in 1972, was such an embarrassment to the studio due to the kinky content that they released it under the alias Premier Productions. It failed at the box office and so did Wicked, Wicked, even though it bore the MGM logo and had great selling points. It also has a LOT of problems. For one thing, it dispenses with building any suspense about the masked psycho who savagely stabs and kills a female hotel guest in the first fifteen minutes of the film. Despite the introduction of several oddball characters, there is no attempt to hide the obvious fact that Jason (Randolph Roberts), the hotel handyman, is the murderer. The movie is also hampered by screenwriter Bare's inane dialogue that barely rises to the level of a daytime TV soap opera and the ensemble acting is so uniformly bad, even with such veteran performers as Arthur O'Connell and Scott Brady in the cast, it becomes immensely entertaining. In fact, Tiffany Bolling as Lisa James, the imperiled nightclub singer, is the film's prime guilty pleasure, whether she is screaming in terror, performing excruciatingly awful cabaret tunes by Philip Springer & Irwin Levine (they will get in your head and never leave), or arguing with her ex-husband Rick (David Bailey), a disgraced cop who is now working as the hotel's private eye.

All of the flaws only add to the oddball charm of Wicked, Wicked and the "Duo-Vision" process is consistently engaging, only reverting to the single frame widescreen format during scenes of sex and death. Like Hitchcock's Rear Window (1954), the movie cleverly implicates the viewer as a voyeur in the proceedings and underlines the visual obsession with striking dual compositions: a sweaty bodybuilder working out as the hotel manager stares intently at him from behind venetian blinds; Jason retrieving a severed arm from a hallway as a group of hotel merrymakers wind their way toward him through the corridors; a flashback scene in which the ill-fated Lenore (Madeleine Sherwood) describes her husband's accidental death which is actually revealed to be an assault with a deadly weapon. At times, director Bare is so literal-minded in his deployment of "Duo-Vision" that he renders any intended irony as null and void, such as the scene where Rick and Lisa discuss their failed marriage. "After you left," Rick confesses, "I did a little drinking...maybe more than a little," and, in juxtaposition to the cozy couple, we see a flashback of the drunken Rick, crawling face down on the floor.

Wicked, Wicked was the last feature film directed by Richard L. Bare and one of the few in his filmography which also included the 1968 cult adventure I Sailed to Tahiti with an All Girl Crew starring Gardner McKay; Bare was much more prolific in the world of television, having helmed countless episodes of Green Acres, Cheyenne, Maverick, Broken Arrow and other series. His other claim to fame is the comedy shorts series he created with actor George O'Hanlon for MGM featuring the character Joe McDoakes, which ran from 1942 to 1956 and featured such titles as "So You Want to Give Up Smoking," "So You Want to Learn to Dance" and "So You Want to Be a Gladiator."

While TCM's airing of Wicked, Wicked may not result in a revival of interest in "Duo-Vision" or any retrospectives of Bare's or Bolling's films, it stands as a unique pop culture artifact of its era. Viewers may be struck by the film's final revelation of Jason's corpse-strewn attic which mirrors the grotesque climax of Narciso Ibanez Serrador's La Residencia (1969, aka The House That Screamed) and, if you listen carefully to the press reporters clamoring for an interview with Lisa at the film's end, you'll hear one of them shout out, "Who do you think is the Zodiac Killer?", a reference to the mysterious serial killer who terrorized the San Francisco area between 1968 and 1970. By the way, the Grand View Hotel in Wicked, Wicked is actually the Hotel Del Coronado in San Diego; it is now a very expensive luxury resort and was previously used by director Billy Wilder as a prime location in Some Like It Hot (1959).

Producer: Richard L. Bare, William T. Orr
Director: Richard L. Bare
Screenplay: Richard L. Bare
Cinematography: Frederick Gately
Film Editing: John F. Schreyer
Art Direction: Walter McKeegan
Music: Philip Springer
Cast: David Bailey (Rick Stewart), Tiffany Bolling (Lisa James), Randolph Roberts (Jason Gant), Scott Brady (Sgt. Ramsey), Edd Byrnes (Henry Peter Lassiter), Diane McBain (Dolores Hamilton).
C-95m.

by Jeff Stafford
back to top
---