DVDs from TCM Shop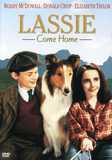 Lassie Come Home A faithful collie undertakes... MORE&nbsp> $9.95 Regularly $14.98 Buy Now
NOTES
The film's opening credits include the following written dedication: "The author of Lassie Come Home was a man of two countries. Born in England, he survived the First World War as a British soldier, only to die in the Second World War, killed in line of duty in the uniform of the country he had adopted...America. With reverence and pride, we dedicate this picturization of his best-loved story to the late Major Eric Knight." A brief, voice-over narration, describing "the people of Yorkshire," then accompanies the film's opening shots. Knight's novel was derived from a short story, which was published in The Saturday Evening Post on December 17, 1938. In the opening credits, Lassie is listed in two separate cast lists, seventh in the first list, and fourteenth in the second. Lassie, whose real name was Pal, made his screen debut in the picture and was selected for the role after M-G-M launched a nationwide talent hunt. (One Hollywood Reporter news item claimed that the studio was searching "back alleys" for a dog that used to sit in front of Dave Chasen's or the Brown Derby and beg for pennies.) According to modern sources, after the mass casting call failed to produce a viable dog star, M-G-M called in noted dog trainer Rudd Weatherwax. Although Weatherwax showed off many mature, purebred collies, one-year-old Pal, who lacked pedigree papers, easily won the role.
Lassie Come Home was the first entry in a six-picture series produced by M-G-M. The second, the 1945 Son of Lassie , was a sequel to Lassie Come Home, and featured Pal in the role Lassie, as well as Lassie's son "Laddie." In the sequel, the characters played by Roddy McDowall and Elizabeth Taylor in Lassie Come Home were performed by adult actors Peter Lawford and June Lockhart. (Lawford and Lockhart also played adult versions of the McDowall and Taylor characters in M-G-M's 1944 film The White Cliffs of Dover.) Lassie is the central character in all of the films, but only Lassie Come Home and Son of Lassie feature characters from the novel. Settings and time periods also change from picture to picture. Pal's four male descendents, all of whom were billed under the name Lassie, portrayed the collie in the other pictures. (Pal retired at the age of five, according to modern sources.) Elizabeth Taylor starred in the third film in the series, Courage of Lassie, but her role was unrelated to the part she played in Lassie Come Home. Edmund Gwenn and Donald Crisp appeared in two of the non-sequel entries. The last film in the series was The Painted Hills (1951), starring Gary Gray and directed by Harold Kress. Modern sources note that in the late 1940s, the number of purebred collies registered in the U.S. increased from 3,000 to 18,400, presumably as a result of the series.
Fred M. Wilcox, a former M-G-M publicist, script clerk, assistant director and second unit director, made his feature directing debut with this picture. Wilcox also directed two other films in the "Lassie" series, The Courage of Lassie and Hills of Home. McDowall and Donald Crisp had previously appeared together in the popular 1941 picture How Green Was My Valley . Lassie Come Home marked the first time in which Dame May Whitty and her husband, Ben Webster, who had just celebrated their golden wedding anniversary, appeared together in an American film. Reginald Owen was announced as a cast member in a September 1942 Hollywood Reporter news item, but he did not appear in the completed film.
Though not her debut film, Lassie Come Home was Taylor's first film for M-G-M, the studio at which she worked for the next seventeen years. Modern sources note that there are two versions about how the eight-year-old Taylor won the part of "Priscilla." In one version, confirmed by an October 1942 Hollywood Reporter news item, Taylor was "discovered" by producer Sam Marx when she brought sandwiches to her father, Francis L. Taylor, while he was on air raid warden duty with Marx. At the time, according to modern sources, Marx was looking desperately for a young actress with a convincing English accent because the girl he had originally cast as Priscilla had grown almost a foot and was noticeably taller than McDowall. According to the second version, the original Priscilla was let go because her eyes were too weak to withstand the bright lights on the set, and was replaced by Taylor after Marx and Wilcox contacted her agent, Sara Taylor. Taylor's dark beauty and natural acting made an immediate, strong impression on Marx and Wilcox, and many reviewers commented favorably on her performance. Taylor and McDowall were again cast opposite each other in the 1944 M-G-M picture The White Cliffs of Dover .
According to Hollywood Reporter news items, in addition to Southern California locations in Laguna Beach, Malibu, Chatsworth, Lake Arrowhead, Big Bear, Calabasas and Irvine Park in Santa Ana, some scenes and background shots were filmed in Santa Barbara, the San Joaquin River near Stockton and Monterey, CA, as well as Seattle and other parts of Washington State. Background shooting took place for two months, between July and August 1942. The Technicolor company experimented with a new "monopack" color process on this picture, according to an April 1944 Hollywood Reporter news item. The monopack process, in which all the color emulsions were present on one base and required no special cameras, replaced Technicolor's three-strip process. Smith was nominated for an Academy Award for Best Cinematography (Color). Redbook magazine named Lassie Come Home its "Picture of the Month" for October 1943.
In addition to the M-G-M film series, a "Lassie" radio show was broadcast on the ABC network between 1947 and 1950, featuring the barking of the original Pal, but with other sound effects provided by a human actor. On September 12, 1954, the CBS network broadcast the first episode of Lassie, a television show based on Knight's characters. Set in the U.S., the television Lassie lived first with a boy named "Jeff Miller," played by Tommy Rettig, and his mother, played by January Clayton. From 1957 to 1964, an orphan boy named "Timmy," played by Jon Provost, became Lassie's co-star, and Cloris Leachman and June Lockhart played his adopted mother in turn. The CBS show ran until summer 1971, and in fall 1971, a syndicated series called Lassie and Timmy began its three-year run. Between September 1973 and August 1975, an animated series, Lassie's Rescue Rangers, was broadcast on CBS. A second syndicated series, starring Will Nippen and featuring Jon Provost as the grown-up Timmy, was broadcast between 1989 to 1991. In 1963, Twentieth Century-Fox released the Wrather Corp. production Lassie's Great Adventure, a feature made from a four-part episode of the CBS series called "The Journey."
In 1953, Andrew Marton directed Donna Corcoran and Ward Bond in Gypsy Colt, M-G-M's second version of Lassie Come Home, in which the dog role was rewritten for a horse. (A television series based on Gypsy Colt, also called Gypsy Colt, aired on the ABC network in 1967.) In 1978, Don Chaffey directed Lassie, Jimmy Stewart and Mickey Rooney in the Wrather Corp.'s The Magic of Lassie. Knight's novel was adapted for the screen for a third time in 1994 as the Paramount production Lassie, directed by Donald Petrie and starring Thomas Guiry and Helen Slater. In 2006, another version of the story was released, the British-made Lassie, directed by Charles Sturridge, and starring Peter O'Toole and Samantha Morton. In all versions except the 2006 films, Lassie was played by one of Pal's descendents. For more information on the "Lassie" series, consult the Series Index. On AFI's 2003 list of the top 100 Heroes and Villains in American Films, Lassie was number thirty-nine on the list of heroes.