DVDs from TCM Shop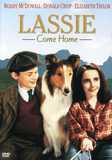 Lassie Come Home A faithful collie undertakes... MORE&nbsp> $9.95 Regularly $14.98 Buy Now
Home Video Reviews
In 1943, MGM released
Lassie Come Home
, the tale of a faithful dog and his young master. As it turns out, Lassie was the most faithful to MGM: the canine-friendly film grossed a handsome profit, spawned several successful sequels, and featured one of the industry's greatest stars in one of her earliest films. Based on a novel by Eric Mowbray Knight (first featured as a short story in a 1938 edition of
Saturday Evening Post
),
Lassie Come Home
, now on DVD from Warner Video, starred a very young Roddy McDowall as the Scottish lad who is forced to sell his beloved dog. McDowall had just finished work on
My Friend Flicka
and both films (which were released in the same year) helped to firmly establish McDowall as a popular child actor.
Lassie Come Home
also featured a wealth of beloved character actors: Donald Crisp, Edmund Gwenn, Dame May Whitty, Nigel Bruce, and Elsa Lanchester. Rounding out this impressive cast was an eleven-year-old girl named Elizabeth Taylor.
Set in England, the story is about the loyal bond of friendship between the collie and the young boy; the pair is split apart when the dog is sold by her poor family to the wealthy Duke of Rudling and spirited far north to Scotland. With the aid of the Scottish Duke's daughter, Lassie escapes her new confines and travels hundreds of miles to be reunited with the overjoyed boy. Along the way, Lassie overcomes danger and peril with the aid of helpful strangers, played by Gwenn and Whitty. Gwenn, best known for his portrayal of Kris Kringle in
Miracle on 34th Street
(1947), often specialized in kindly but eccentric elderly men. Whitty, who had extensive stage and film credits, received Oscar® nods for her work in
Night Must Fall
(1937) and
Mrs. Miniver
(1942). Playing the boy's father in the film, Crisp is noted for working on both sides of the camera as actor and director in his career, but is best remembered for his Oscar®-winning performance in
How Green was my Valley
(1941).
The role of the Duke's daughter, Priscilla, was originally awarded to Maria Flynn, a young actress who had previously acted alongside McDowall. When the first side-by-side daily prints of the film came in, however, it was readily apparent that Flynn had grown a good head taller than McDowall: the part would have to be recast. Producer Samuel Marx recalled a conversation with an old wartime buddy, Francis Taylor, and contacted him regarding his young daughter, an aspiring actress. After a brief improvised scene, Elizabeth was cast in the role of the girl. In the humble beginnings of a superstar career, she was paid $100 per week; Lassie, on the other hand, received $250! Her big break would come the next year with the release of
National Velvet
(1944), a film that also featured Crisp in a supporting role. Taylor and McDowall became close friends during the shooting of
Lassie Come Home
, a friendship that would last until McDowall's death in 1998. The two child actors worked together again as adults in
Cleopatra
(1963) and McDowall, an accomplished photographer, conducted Taylor's photo shoot for her 1963
Playboy spread
.
But back to the casting problems. In addition to replacing Maria Flynn with Miss Taylor in the role of Priscilla, there was a problem with the star canine; the original dog cast in the role of Lassie was having a bad hair day - every day! Filming was extending into the end of summer, and the animal was shedding ferociously - so much so that a replacement was sought. The filmmakers had insisted upon a female dog to play the part, so male contenders were relegated to stand-in and stunt dog responsibilities. One of these stunt dogs, Pal, performed so well that the decision was made to cast him in the starring role. But the fact that she was really a he was kept a secret by the publicity department.
The dog's owner and trainer, Rudd Weatherwax, employed a wide variety of techniques to cajole Lassie into performing for the camera. Favorite toys and treats dangled in a tantalizing fashion just off-camera helped to focus the animal's attention to the right directions, and rubber balls were attached to doorknobs to give the impression that the dog was opening doors. A piece of cork attached to a paw provided a limp when the action called for Lassie to be injured, and ice cream smeared on McDowall's face allowed for the sloppy dog kisses. In order to secure a canine expression of frustration, Lassie was given a command to stay but forced to watch the director, beyond the sight of the cameras, being pushed around by the crew.
Based on the success of
Lassie Come Home
, several Lassie films were released in the subsequent years, including
Courage of Lassie
(1946) that once again featured Elizabeth Taylor. The original Lassie was replaced a total of five times by direct descendants throughout the years. None of the replacements were female, causing Groucho Marx to quip, "Ever since the public found out that Lassie was really a male, they've been thinking the worst about Hollywood."
The Warner Video DVD of
Lassie Come Home
is a welcome though not particularly stunning addition to their library of Technicolor MGM classics not previously available on disc. Compared to the company's past releases of
The Adventures of Robin Hood
and
Meet Me in St. Louis
, the colors aren't as eye-popping or vivid and there are some obvious though minor flaws in the image - scratches and nicks. Yet, it's a completely respectable presentation if you don't compare it to Criterion's exacting standards. As for the modest extras, they include a collection of trailers from other MGM Lassie movies and
Fala
, a short subject on President Roosevelt's dog, a Scottish terrier.
This title is currently unavailable.
To order
Lassie Come Home
as part of TCM's
Greatest Classic Films Collections
, click
here
and
here
.
by Eleanor Quin