DVDs from TCM Shop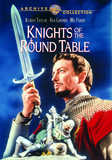 Knights of the Round Table Queen Guinevere is torn... MORE&nbsp> $15.96 Regularly $19.99 Buy Now
Articles
SEE ALL ARTICLES
Knights of the Round Table (1954)
For their entrance into the rectangular CinemaScope arena, MGM shrewdly bowed to their British arm for Knights of the Round Table, a rousing 1954 re-telling of the Camelot saga. Pulling out all the stops, MGM created a Technicolor extravaganza that was intended to surpass The Robe (1953), Twentieth-Century-Fox's religious spectacle and the first Cinemascope production, a film which was still breaking world box office records when Knights went into production. Re-teaming the chemistry-friendly Robert Taylor and Ava Gardner (ideal as Lancelot and Guinivere), who had formerly co-starred in The Bribe (1949), Ivanhoe (1952) and Ride, Vaquero! (1953), and, who had once had a brief albeit volcanic affair, was a calculated move that had exhibitors bidding for playdates sight unseen. Indeed, Taylor had an unusually chameleon-like career - a true testament to his 25 year reign as a movie star. The typical all-American boy in the 1930s, he re-invented himself as a dark seductive villain in the post-War 1940s. Playing a Roman-turned-Christian in 1951's Quo Vadis? transformed the veteran leading man into a sort of Mr. Ancient World - going on to unlikely but nonetheless successful turns in the aforementioned Ivanhoe, 1955's Quentin Durwood and this mammoth medieval extravaganza.

Knights of the Round Table was filmed at the Boreham Wood backlot of MGM's British studios and used the same castle built for the Ivanhoe set. Despite authentic locales, the production was a troubled one. The cold, drizzy weather hampered shooting and a strike of extras forced director Richard Thorpe to travel to Ireland to shoot a particular battle scene. But the problem with extras continued as the Irish recruits refused to wear the heavy armor required for the scene unless they were paid a bonus. When the British Association of Motion Picture Producers hear about the Irish extras, they refused to allow the film's producers to use them at all. As a solution, Thorpe approached the Eire government which allowed the director to use their soldiers as extras in the battle scene. The Guinness heiress also allowed the use of her estate for some location shooting. Second unit man Yakima Canutt was entrusted with directing 100 trained stunt riders and the caterers had their work cut out for them with a total of 3000 production people to feed every day. It was not unusual for their shopping list to include requests for 975 pork chops, 300 pounds of potatoes, or 400 gallons of coffee and tea.


Among the cast members, Ava Gardner was probably the least pleased with her role in Knights of the Round Table. She later commented, "What was I doing in that costume epic, for heaven's sake?" Not only did the actress dislike the dreary weather but, as a self-confessed nightowl, she hated getting up at 5 a.m. in the morning to put on complicated costumes and heavy makeup. She was also bored by the lack of nightlife in the small English villages where they were staying and, matters weren't helped when her husband at the time, Frank Sinatra, would show up on the set. There were going through a difficult time in their marriage and often engaged in terrible marital spats. But, there was one consolation for Gardner. She was now a bona fide star at MGM and, with a new contract, was able to command $17,300 a week for 50 weeks a year with a two picture minimum.


Director: Richard Thorpe
Producer: Pandro S. Berman
Screenplay: Talbot Jennings, Jan Lustig, Noel Langley, based on the novel Le Morte D'Arthur by Thomas Malory
Cinematography: Stephen Dade, F.A. Young
Editor: Frank Clarke
Art Direction: Alfred Junge, Hans Peters
Music: Miklos Rosza
Cast: Robert Taylor (Sir Lancelot), Ava Gardner (Queen Guinevere), Mel Ferrer (King Arthur), Anne Crawford (Morgan Le Fay), Stanley Baker (Modred), Felix Aylmer (Merlin)
C-116m. Letterboxed. Closed captioning. Descriptive Video.

by Mel Neuhaus
back to top
---