DVDs from TCM Shop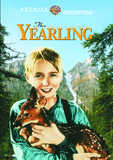 The Yearling A Florida boy's pet deer... MORE&nbsp> $14.36 Regularly $17.99 Buy Now
NOTES
Unless otherwise noted, the following information about the film was taken from contemporary news items in Hollywood Reporter and New York Times and Hollywood Reporter production charts: The Yearling, based on Marjorie Kinnan Rawlings' Pulitzer Prize-winning novel, had a long and troubled production history. According to information contained in AMPAS Library file on the film, in 1938, shortly after M-G-M purchased the rights to the novel, the studio engaged Rawlings to help M-G-M photographers to select locations in the Ocala National Forest, in Florida, that were appropriate for the setting of her story. With the expectation that shooting on the Sidney Franklin production would begin in mid-1940, M-G-M leased a farm in Florida and planted crops there. The start date of the film was postponed, however, due to M-G-M's inablility to cast the role of "Jody Baxter." Filming began a year later under the direction of Victor Fleming, with the top roles being played by Spencer Tracy (as "Penny Baxter"), Gene Eckman (as "Jody Baxter"), Ann Revere (as "Ma Baxter"), Adeline deWalt Reynolds (as "Ma Forrester"), Tully Marshall (as "Pa Forrester") and Chill Wills. Actors Barton MacLane and Cecil Kellaway were considered for roles in 1941. Hal Rosson was the cameraman in 1941 and worked with a company numbering approximately 300.
Due to several production difficulties, the film was shelved two months after it had begun, after an expediture of half of its $1,000,000 budget. M-G-M offered no official explanation for halting the project, except to note that it was done "in the best interests of the company." While it was rumored in some contemporary news items that the film was shelved because Eckman was found to be unsuitable for his role, others reported that the production was halted because the fawns the studio had been raising for the film were growing too fast. In addition, several disputes between Tracy and Fleming were reported, as were problems posed by the weather, uncooperative animals and sand.
Fleming withdrew from the film in June 1941, and King Vidor was brought in to replace him. Vidor reportedly told M-G-M that he could not salvage the production on such short notice, and the film was shelved again shortly thereafter. In February 1942, M-G-M announced that Roddy McDowall had been tested for a role, and that filming would resume, although this time the picture was to be shot entirely at the M-G-M studios. Tracy again was set to star, and Sidney Franklin was named as a possible director. Cameraman Paul Vogel filmed screen tests for the film in March 1942, but the Franklin-directed production never materialized.
No further production activity on The Yearling was reported until November 1944, when a Hollywood Reporter news item announced a spring 1945 start for the film. Clarence Brown was assigned to direct the film, and Leonard Smith was the new cameraman. News items also announced that much of the original footage filmed in the Ocala National Forest would be salvaged, and that the production would return there for additional filming. Tracy was replaced by Gregory Peck, and it was announced that Eckman, who had outgrown his part as "Jody," would also be replaced. Tommy Lee was tested for the role of Jody in January 1945, but the part eventually went to Claude Jarman, Jr., who made his motion picture debut in the film. According to M-G-M publicity materials, Jarman was personally selected for the part by Brown and production manager Jay Marchant after an eight-state search through the South for an unknown young actor. Brown and Marchant discovered the eleven-year-old Jarman on February 14, 1945, at a grammar school in Nashville, Tennessee, and persuaded his family to move to Hollywood.
While M-G-M waited for Peck to complete his work in the film Duel in the Sun, Brown began filming some location sequences in Ocala and Silver Springs, Florida. In all, about three dozen locations in Marion County, Florida, were used. Filming of the dramatic scenes resumed in the summer of 1945 with actress Jacqueline White playing "Ma Baxter." According to a studio publicity item, White was being groomed for stardom by M-G-M, and her appearance in The Yearling was to be her first major part in a film. White enacted her role through late August 1945, when shooting was halted again, this time for nearly a month. Production resumed in mid-September with Jane Wyman replacing White, and with James Craig, Henry Travers and June Lockhart added to the cast. Chill Wills, who had been cast as "Buck" in 1941, returned in the same role. Craig was later replaced by Jeff York.
A November 1946 article in Liberty magazine, entitled "Them Hollywood Nuts," gives a detailed account of the numerous production difficulties that plagued the Florida location filming between 1941 and 1945. The troubles included swarming insects, injuries suffered from animal attacks, a hurricane that destroyed Brown's set, and Jarman's bout with the measles. The following individuals were mentioned in the Liberty article as having worked on the production in the summer of 1945, although their contribution to the final film has not been confirmed: Eddie Faust, animal trainer; Mac Weatherwax, dog trainer; Charles O'Malley, supply officer; Rose Allen, snakebite double for Peck; Lee Stanfield, makeup; and Lew Crolley, props. An undated M-G-M publicity item in the AMPAS Library production file of the film noted that Wyman and Peck were to be joined by silent film star King Baggot, making his "comeback" in the role of "Pa Weatherby," but Baggot did not appear in the film. Wyman was borrowed from Warner Bros. for the production.
In October 1945, after completing some location shooting at Lake Arrowhead, California, the production moved to the M-G-M lot in Culver City for additional filming. M-G-M built a replica of the Baxter farm on its backlot, and much of the Baxter farm set, which covered 7,500 square feet, was reconstructed from parts of the Florida farm that were shipped to California. A second unit returned to Silver Springs in early November 1945, about the time that Hollywood Reporter production charts began listing Charles Rosher as the cameraman. According to publicity materials, a total of 312,564 feet of film were exposed in making the picture. The production required six separate expeditions between Culver City and Florida, a cast and crew of 410, along with some 2,644 additional workers who were not studio employees. Publicity materials also note that 81,023 pounds of Spanish moss from Florida was shipped to the M-G-M studios in Culver City, where some of the outdoor settings were duplicated.
The December 18, 1946 world premiere of The Yearling, which took place at the Carthay Circle Theatre in Los Angeles, was held as a charity event sponsored by the Assistance League of Southern California, with proceeds donated to United States Navy Library in Guam. The film opened to the public in Los Angeles on December 25, 1946, in New York one month later, and had roadshow engagements at select theaters until its general release in the May 1947.
A November 1946 Hollywood Reporter news item noted that Brown asked permission from M-G-M to finance and direct a stage version of The Yearling, but no further information about the outcome of Brown's proposed stage version has been found. The film opened to generally favorable reviews, with Variety calling the picture "one of the better contributions to the screen." The New York Times reviewer lavishly praised the performances of Jarman and Peck, and called the film "cheerful and inspiring." The Yearling won Academy Awards for Best Color Cinematography and Best Art Direction/Interior Direction (Color), and Claude Jarman, Jr. received a special Academy Award for "Outstanding Child Actor of 1946." The film was also nominated for Academy Awards in the following categories: Best Picture, Best Actor (Peck), Best Actress (Wyman), Best Direction and Best Film Editing. This was the last film photographed by longtime M-G-M cameraman Leonard Smith, who died of a heart attack in October 1947, at the age of 53. Peck, Wyman and Jarman recreated their roles for a Lux Radio Theatre adaptation of The Yearling on January 19, 1948. A made-for-television adaptation of the story aired on the CBS network on April 24, 1994, starring Peter Strauss, Jean Smart and Will Horneff.