DVDs from TCM Shop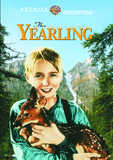 The Yearling A Florida boy's pet deer... MORE&nbsp> $14.36 Regularly $17.99 Buy Now
FULL SYNOPSIS
In the days following the Civil War, pioneer Penny Baxter builds a small house for his wife Orry and their eleven-year-old son Jody in the scrub country of Florida. After clearing and cultivating a patch of fertile ground, Penny names his new home "Baxter's Island" and begins the hard work that will be needed to provide food for his family. When Jody is not busy helping his father with the chores, he wanders through the backwoods and marvels at the wide array of wildlife. Jody develops a great appreciation for animals, but when he asks his parents for permission to adopt a baby raccoon as a pet, his mother sternly forbids it. Penny later explains to his son that Orry is opposed to bringing in a pet because she is still grieving the premature deaths of three of their children. One day, when a wild bear, nicknamed "Old Slewfoot," kills the family calf, Penny and Jody set out to kill the bear. During the hunt, the bear attacks one of Penny's favorite hounds and escapes into the wilderness.

The next day, Penny and Jody visit their neighbor, Pa Forrester, whose sons are prone to fighting and cheating. While Jody plays with his young crippled friend, Fodderwing, Penny trades his hound for a better rifle. A short time later, Penny discovers that his hogs have been stolen and immediately suspects the Forrester boys. En route to the Forresters, with Jody at his side, Penny is bitten by a rattlesnake. To save his father's life, Jody is told that he must shoot a doe and use its heart and liver to treat the snakebite. Jody follows his father's instructions, and then races to the Forresters to get help for Penny. Millwheel is the only member of the Forrester family who agrees to help Jody, and a doctor arrives in time to save Penny's life. After he recovers, Penny shows his gratitude for his son's heroic actions by allowing him to adopt the fawn of the doe that was killed. Jody is happy to finally have the pet he always wanted, and the fawn, which he has named "Flag," becomes his constant companion.

A series of tragedies later befalls the Baxters, beginning with the sudden death of Fodderwing and followed by the loss of an entire crop to bad weather. As Jody tries to understand his friend's death, Penny does his best to comfort him and delivers a moving eulogy at the funeral. The Baxters attempt to save their farm by planting tobacco to replace their lost crop, but Flag later ruins the crop. When Flag becomes a yearling, Penny considers turning him loose but Jody adamantly refuses.

One day, Penny injures himself while working in the field and becomes bedridden for a lengthy period of time. Jody takes over the duties of running the farm, and learns how to hunt for dinner. When Flag destroys the family corn crop, Orry vows to get rid of the deer. Again, Jody pleads with his father to spare Flag, but because the deer has destroyed the last of their food, Penny insists that the deer must go. Jody ignores his father's orders to shoot Flag, and instead tearfully sets Flag loose in the woods. Flag follows Jody home, though, and when Orry sees the deer, she shoots it. The shot does not kill Flag, so Jody is forced to relieve the deer of its pain with a final shot. The incident proves too much for Jody to bear, and he runs away from home. After drifting down a river on a rowboat for days, Jody is found nearly starved by a steamer crew and sent home. Orry, who has been searching for Jody, makes amends with her son, while Penny reaffirms his love for him.