DVDs from TCM Shop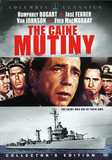 The Caine Mutiny Naval officers begin to... MORE&nbsp> $11.21 Regularly $14.99 Buy Now blu-ray
USER REVIEWS
See Detailed Ratings
Acting of Lead Performers

Acting of Supporting Cast

Director

Music Score

Title Sequence

Screenplay

Cinematography

Historical Importance

Would You Recommend?

0 Member Ratings
Rate the acting of the Lead Performers

Rate the acting of the Supporting Cast

Rate the Director

Rating of the Music Score

Rating of the Title Sequence

Screenplay

Creatively uses the camera to tell the story

Importance in Cinema history

Would you recommend for fans of this genre
Submit Ratings
Cancel
Write a Review
Read Reviews
NO REVIEWS AVAILABLE
The title has not been reviewed. Be the first to write a review by clicking here to start.
Not A Simple Film

Even after 62 years The Caine Mutiny is a great movie. It is Edward Dmytryk's finest film after his career was interrupted by the HUAC's "inquisition." The cast is terrific with Humphrey Bogart as the captain who's lost it and doesn't know it, Fred MacMurray as a malevolent officer who initiates unrest, Van Johnson and Robert Francis as officers caught in the middle charged with mutiny, and Jose Ferrer as their defense attorney who sees what's happened and works to resolve the situation. Neither life or this film is as simple as the previous reviewers comment describing the ending as "inappropriateness of celebrating a commanding officer's downfall," which exhibits an overly moralistic sense of self-righteousness.

The Caine (& Abel?) Mutiny

This is a reasonably good sea-faring movie that acted out the many sides of manliness and which ending taught me the inappropriateness of celebrating a commanding officer's downfall.

Fred MacMurray

Fred MacMurray gives the greatest supporting actor performance I have ever seen. He makes the most minute gestures as the action unfolds that I could not take my eyes off of him. He should have won the Oscar for this performance.

Caine Mutiny

Watched this film in its entirety for the first time today. Bogart was fabulous, but the rest of the film was dreadful. Worth watching only for the Bogart performance.

Great movie

Anybody that has been in the Navy can relate to this one.The cast was outstanding. I love this film.

caine mutiny

One can only dream what this movie would have been like in the hands of a gifted 1950s director like Robert Aldrich or Otto Preminger. What we have is a rather clunky directed, overly long film that comes alive when Bogie's on screen and goes to its various holes to die when he's not. Especially soporific is the "love interest" between Robert Francis' callow (read boring) ensign Willie Keith and May Wynn's nightclub singer named May Wynn (about the only interesting thing about her is the non name change. Don't think I've ever seen that before.) Give it a C plus for Bogie's take on obsessive compulsive psychosis.

one of the best ever

I saw it first after it has been shown at the Festival of Venezia in 1954. I was very young then and thought that after so many years it would have been a little disappointing. No sir! It's just as great as before. My only objection goes to the length of the movie: I mean that it should have been at least 30 minutes longer, so that the love story might have had a more strong consistence, but even so I wouldn't be so squeamish. Forgive me for my poor English. I hope You coul understand my opinions. Thanks.

the caine mutiny

watched this brilliant film again today, and not to compare apples and oranges, but it reminded me of george armstrong custer, who rarely confided in his officers. always gave orders and expected them to be carried out, till the night before the little big horn fight, when he stunned his officers by asking there opinions and practicily begged them for help in making the right decitions. two officers in private conversation concluded (i think the general is going to die tomorrow,ive never seen him act this way at a staff meeting) the captain of the caine seems to be suffering from the same kind of break down. the lost tearful look in bogarts eyes says it all. a great film with an out standing cast.

Excellent

One of my all time favorites. Riveting performances all around.. Extremely gratifying conclusion...

Killer Good!

GREAT flick, didn't need the off center love plot but still nothing short of great acting from the top on down. Bogart was phenomenal as was Johnson. Who ever thought Fred MacMurray was that good on the big screen as well? This one lived up to the book as far as entertainment. Most interesting watching Bogart come unraveled when under fire be in in action or in a court martial.

GREAT PEFORMANCE BY HUMPHREY BOGART

Humphrey Bogart gave a great performance in this movie, so great that it is easy to overlook the excellent supporting cast-the conflicted Van Johnson, the wise-cracking Fred MacMurray, the tough Tom Tully, the compassionate Jose Ferrer-all excellent performances, but overshadowed by the outstanding performance by Humphrey Bogart! He won an Academy Award for "The African Queen", but, surely, this was his greatest performance! A not-to-be-missed performance, and a not-to-be-missed movie!

GREAT PERFORMANCE BY HUMPHREY BOGART!

Humphrey Bogart gave a great performance in this movie, so great that it is easy to overlook the excellent supporting cast: the conflicted Van Johnson, the wise-cracking Fred MacMurray, the tough Tom Tully, and the compassionate Jose Ferrer-all excellent performances, but overshadowed by Humphrey Bogart's outstanding performance! He won an Academy Award for "The African Queen", but, surely, this was his greatest performance! A not-to-be-missed performance, and a-not-to-be-missed movie!

The Caine Mutiny

I read the book in the year 1970 as part of my High School English Literature class in Puerto Rico. The novel gives a deep assesment of actions of human beings under stressful scenarios. The movie captures the essence of this wonderful novel and the cast is magnificent. Being a Bogart fan I must say that his portrayal of Captain Francis Queeg is magnificent. But I must also acknowledge the performance of fellow Puerto Rican, Jose Ferrer who delivers an astute, clever and resourceful Barney Greenwald. I would highly recommend this movie to anyone.

The Caine Mutiny

An engaging adaptation of Wouk's novel. Bogart earned his final Oscar nomination as a possibly-insane Captain of an unkept ship; great supporting work from MacMurray, Johnson, Francis & Tully, the latter in an Oscar-nominated performpance. This is Director Dmytryck & Producer Kramer's best film together, creating the tense lives of these sailors under a more disciplined ship. Entertaining & dramatic filmmaking at it's best. I give it a 4.5/5.

... aka "Don't Make Waves"

This movie is, for all intents and purposes, a call for inaction. Coming out in 1954 it must have been McCarthyism's last gasp against "those commie protesters who weaken our great country by questioning authority." This movie wasn't even aimed at the Beat Generation in particular (they could recognize fascist propaganda when they saw it). No, this movie was aimed at Mr. & Mrs. Average American, the fence-sitting herd animal that only needs a nudge now and then to be kept in line. Behold Lt. Keefer (MacMurray), the writer, intellectual, and free-thinking liberal ... See how this complainer without a backbone works to undermine our armed forces! See how the decent but gullible crewmen are corrupted by his words! Witness how Lt. Greenwald (Ferrer) proves Queeg's incompetence but then later repents his evil deeds! Forgive our corrupted leaders because they were once like the great men of today who span the globe in order to protect you, your families, your homes ...! A well-filmed, well-acted piece of utter fiction that is, unfortunately, just as relevant today as it was then. Pity the conformist who complains about his job but not to his boss's face because he doesn't want to get fired, yet spit on the free-thinker who may happen to do the same thing. Naturally Keefer was portrayed as a man too cowardly to stand up for his beliefs; the movie wouldn't be able to serve its purpose if he was a "Hawkeye" Pierce, someone more than willing to stand up for their morals. Better to ignore the countless protesters throughout history who have willingly sacrficed their lives in the name of peace, freedom, and the betterment of humanity. Instead, honor the conformist who carries out orders without question. This movie is an exercise in free speech but one that attempts to damn free speech when it bucks the establishment. The real message here? All rebels are scum ... unless you're part of the revolution. Didn't the year 1776 ring a (liberty) bell for the makers of this film?

The Caine Mutiny Experience

I've read the book and seen the movie three times. They are both very good. The movie leaves out many details of the book which makes for a very different experience. All the actors are excellent especially Van Johnson and Humprey Bogart. Fred McMurray is interesting as the villain of the piece.I don't know who the female lead was, but she was good too.

The Caine Mutiny

I've seen this movie many times and it has so many merits, but if you're not into a thinking military courtroom drama - this isn't your kind of movie. What I have to include is a comment by Ben Mankiewicz's on Lee Marvin (9/10/11). This is the second time in one week that I've caught Mankiewicz in errors on actor information. Huge faux pas: Lee Marvin never served in the Navy - he was a Marine. How do I know? My husband knew him both during and after the war...and he only wore the uniform of a Marine as my husband did during WWII. If I caught these errors with ease, then I'm sure a true film historian could make mincemeat of the "facts" that Mankiewicz presents. Solution: would someone at TCM please fact-check all of his film introductions? I'm amazed he hasn't gotten into trouble before.

What is the point of this movie?

Queeg was obviously a nut-job, and Fred MacMurray's character and Van Johnson's character were obviously in the right to do what they did. But then what happens? The audience is told that they should be thankful for all that men like Queeg have done for America in the past and that the other two are really stool pigeons and nobody likes a snitch. Say what?? What Queeg was like in the past has no bearing on the present whatsoever. That's like aquitting a murderer because he USED to be a nice guy. No, Queeg was rightfully brought to trial for his incompetence and the others most certainly weren't snitches for doing so -- lives depended on what they did. So what was the point of making such a backward-thinking film, then? Well, it all starts to makes sense when you see in the end credits that the movie was supported by the U.S. Navy itself. "Protect thine own interests" is the motto here, apparently. This movie leaves a bad taste in one's mouth.

A slow, plodding movie

This is my least favorite Bogart film. The script is slow and plodding, with an uncharacteristically weak performance by Bogart. It is dull and lacks energy for the most part, with the exceptional outburst of anger. His testimony on the stand is especially lackluster. I think he is miscast in the role as captain of the Caine, and he looks uncomfortable in the role. By contrast, Van Johnson's performance is over the top. I think he is trying to overcompensate for the lack of energy that seems prevalent in the entire cast throughout the film, offset by a few moments of hysteria and hyper-activity. The story lacks real action and there is very little substance to begin with. Who cares that a few spoiled, undisciplined officers rebel against an overbearing, incompetent captain on some nameless, rusted out old barge? There's nothing fresh here. The book the movie is based upon is an updated version, a rip-off of Mutiny on the Bounty, and the film is a weak re-make of the same, but without real drama or the lovely scenery of Tahiti. It's all much ado about nothing.

"Caine" is one of Bogie's best!!!!!

Bogart give a fantastic performance as Queeg! He uses his great acting talent to make Queen the most believable character possible! From the steel balls to the "Strawberries" to the way he buttered the toast and the end of his testamony in the court room where he breaks down! How Bogart did not win a Oscar for this performance only proves that the Ocsars are a popularity contest!Not only should Bogart have won the Oscar for playing Queeg he also should have won the Oscar for playing Dobbs in "The Treasure of the Sierra Madre!" And for Richard Blaine in "Casablanca!" And you can even make a great case for Glenn Griffin in "The Desperate Hours!"

Bogart + Johnson + MacMurray + Ferrer = EXCELLENCE

I think the title of my review says it all. All of these performers outdid themselves in this movie. Johnson was absolutely marvelous and Fred MacMurray.....Who Knew? Ferrer is great as the prosecutor......especially at the end where he crashes the celebration party...... and lastly there's Bogart and he is well.........Bogart. This film is a viewing must.

The Caine Mutiny (1954)

Certainly one of Humphrey Bogart's finest performances. He is amazingly good, and it is a pleasure to see him act in this, particularly when it is against type. The screenplay is extremely well done. A fine classic.

This Movie:

I saw this movie, and I really liked it, great! Mainly because I am very interested in joining the Navy someday =).

Classic

I will never forget Bogart's performance, especially with those little metal balls. I also don't understand why he didn't receive an oscar for it. Also one of my favorites is in this classic: Van Johnson, his performance is also right on the mark. I think that it is one of Johnson's best!

great cast grat book outstanding movie

same as above

Better than the novel

I remember my senior English teacher having us read this pulitzer prize winning novel, The Caine Mutiny. The movie is far better. Now there are probably few movies that fit in this catagory.

Bogart's Blithering Bonzo

Paul Conrad Jackson

3/21/09

The Caine Mutiny came out when I was just 10 years of age, and lived in a seaport in England. So I have an affinity for the sea. I have seen this movie repeatedly since then, and will see it repeatedly again. It is five stars out of five stars in my rating. Tell me an actor today who can match Humphrey Bogart or Fred MacMurray! None can. The genre has been demeaned. That's why, on my 100-inch - that's more than eight feet - TV screen I watch TCM day and night.

Raising Caine

It is understandable why Herman Wouk won the pulitzer for this remarkable character study. The movie version does nothing to alter this fact. Quite the contrary; it brings them all to life. Amamzing cast, with some solid performances by Tom Tully, Fred MacMurray and Jose Ferrer. Best for last. Arguably Bogart's finest performance (but I'd hate to hang in the balance between African Queen; Treasure of the Sierra Madre and this one). Right up there with Bogey's performance is that of the recently departed, Van Johnson. This I believe is HIS finest performance. He is the glue that holds this film together. Nominated for 7 Academy Awards; won - - NONE! How unfortunate; this is a great film.

Great Classic

Who can forget Bogart's great scene in the courtroom when he takes out of his pocket those little metal balls. This is probably one of my favorite Bogart movies. The other actors also have memorable performances. This is a classic!

The Caine Mutiny

A great movie Bogarts a great. One of his last movie before he died of cancer. Fred Mcmurry is great also. Went one to do comedies just as well. Dont make these movie greats any more. Also of note there never been a real Mutiny in the US Navy.

Very good performances!

Nancy Joy O'Connor

1/6/08

After watching and enjoying many performances by every actor in this movie, there could not have been, in my opinion, an better ensemble performance by all. Humphrey Bogart ventured into the character of mental instability while the end of the movie....where Ferrer declared McMurray the ultimate trouble-maker, was superlative alongwith being very understandable from the viewpoint of a prosecutor and movieviewer.
*We protect your personal infortmation and will not provide it to anyone without your consent. For a complete explanation, please refer to TCM's Privacy Policy. By submitting your contribution, you agree to TCM's Terms of Use.