DVDs from TCM Shop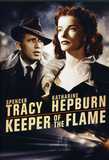 Keeper of the Flame A reporter digs into the... MORE&nbsp> $14.95 Regularly $19.98 Buy Now
NOTES
According to a December 1941 Hollywood Reporter news item, M-G-M bought the rights to the I. A. R. Wylie novel from RKO for $50,000. RKO had bought the property when it was an "embryonic idea," but later decided that it would need too many changes to film and presented too many casting difficulties due to the lack of suitable stars at RKO. Although Hollywood Reporter news items add Dorothy Morris, Jay Yard and Barry Bernard to the cast and state that Glenn Anders was testing for a role, their appearance in the released film has not been confirmed. A July 22, 1942 news item notes that Pauline Lord was in the cast, but in a modern interview, director George Cukor stated that Lord was originally cast as "Mrs. Forrest." According to Cukor, the scene with Lord was shot, but didnt work, and so she was replaced by Margaret Wycherly. This picture marked the screen debut of Audrey Christie and Mary McLeon. According to a June 1942 Hollywood Reporter news item, Hepburn suggested that Christie be tested for the role of "Jane Harding." Previous to her appearance in this film, McLeod was an unknown Canadian school teacher, according to a December 1942 Hollywood Reporter news item.
Keeper of the Flame was the last picture made by costume designer Adrian before leaving M-G-M. He had been head of the costume departmart for many years and was credited as being largely responsible for the M-G-M "look" popular throughout the 1930s. Adrian worked at various other studios throughout the 1940s and opened his own fashion house. He returned to M-G-M as costume designed for Lovely to Look At (see AFI Catalog of Feature Films, 1951-60).
According to an October 1943 New York Times news item, several Republican legislators complained to the Production Code Administration that this picture was propagandistic. In a modern interview, Cukor stated that the picture was made "during a period of undercover Fascism in the country. Certain things were in the air but hadnt come out into the open I suppose, to draw attention to them, we exaggerated." The New York Times review commented that this film "touches frankly upon a phase of American life that is most serious and pertinent today."