DVDs from TCM Shop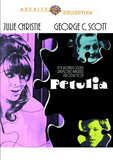 Petulia A married doctor falls for the... MORE&nbsp> $14.95 Regularly $17.99 Buy Now
Home Video Reviews
The Swinging Sixties! If you remember them, an old joke goes, you weren't really there. But if you don't remember them, chances are you weren't born yet. Today's younger generations have taken their image of the period largely from movies, including a few by Richard Lester that helped define the scene while the scene was still happening.
Petulia
, now available on DVD from Warner Home Video, was one of these. So were the Beatles comedies
A Hard Day's Night
and
Help!
, released to huge acclaim in 1964 and 1965, and
The Knack...and How to Get It
, also from 1965. All combine quintessential '60s content with an anything-goes editing style that captures the era's unstoppable energy, which Lester-an American who moved to England in his early twenties-knew from both sides of the Atlantic.
Petulia
reached theaters in 1968, the year when public fascination with youthful idealism and psychedelia hit its peak, then started its slide into polarized debate over everything from the Vietnam war to the sexual revolution. The gifted George C. Scott plays Archie, a middle-aged San Francisco physician who's getting divorced just because he got "tired of being married." Young and beautiful Julie Christie plays Petulia, a self-described "kook" who comes on to Archie at a charity rock concert, announcing to this total stranger that she's been married all of six months and hasn't had an affair yet. Her husband, played with remarkable subtlety by Richard Chamberlain, is a businessman with a violent streak lurking behind his handsome smile. Important subplots center on Archie's unhappy former wife, his two young children, and a cheeky Mexican boy who brings major complications to Petulia's already complicated life. All this adds up to a sometimes intricate plot, but its main concern is the strange relationship between Archie and Petulia-at once a casual fling, a potentially life-changing love affair, and a psychological puzzle too hard for either of them to solve. Petulia calls herself a kook but is far more disturbed than such a breezy word conveys; her husband is an abusive tyrant disguised as a regular guy; and even Archie, the most stable and successful of the group, is on his way to becoming an exhausted has-been whose ambition is simply to "feel something" again before he gets too old to care.
This is promising material, and Lester took the risk of refusing to play it straight. Instead he ran the story through a cinematic Mixmaster, slicing and dicing its images and chronology, then splicing the pieces into a free-associating mosaic that opens up unexpected levels of meaning. Lester had paved the way for this in
A Hard Day's Night
and
The Knack
, and he's been credited (or blamed) with pioneering MTV-type editing styles. Many of his films are very linear, of course, and even the most radical aspects of
Petulia
were anticipated by European directors like Federico Fellini in
8 ½
and Alain Resnais in
La Guerre est finis
, not to mention Jean-Luc Godard in several early works. That said, though,
Petulia
was one of the first American studio pictures to confront mainstream audiences with a full-blown postmodernist vision. Especially daring is Lester's blend of flashbacks with flash-forwards, which film editor Antony Gibbs takes credit for suggesting: Interviewed in "The Uncommon Making of
Petulia
," one of the DVD extras, he says the idea occurred to him when Lester asked for something more exotic than the "fancy New Wave things" already written into the screenplay. Lester thought the flash-forwards should be lightning quick, Gibbs adds, but was easily convinced that if they went by too fast they'd just confuse the audience. The other extra on the DVD, a promotional short produced when
Petulia
was being shot, says the movie "starts in the middle and moves toward its beginning...and its end...at the same time." That's a rough but useful description.
The point of this unconventional approach is not just to dazzle the eyes, but to make sure the story's full meaning comes across.
Petulia
is sliced and diced because its characters' minds and hearts are sliced and diced, and because the shallow, artificial culture they live in has started to break apart in ways that mirror (and maybe cause) their growing incoherence. Lester's style is of a piece with the psychology and sociology he portrays-charmingly unpredictable one moment, decadent and dangerous the next.
Petulia
is a wake-up call for the '60s, warning that the decade has fallen under the spell of its own shining surfaces, smiley faces, and self-deluding kookiness. No wonder its characters can't get their inner selves together. They've almost forgotten they have inner selves, and that's perilous for American society, since the story's main figures aren't the hippies and dippies who crowd around the edges of some scenes, but members of the "respectable" ruling class whose escalating instability has wide-ranging consequences.
A key contributor to the movie's penetrating portraits of people, places, and things is the artful cinematographer Nicolas Roeg, who became a director soon after and followed similarly experimental paths in movies like
Don't Look Now
and
Bad Timing: A Sensual Obsession
. Also important is the literacy of the screenplay by Lawrence B. Marcus and Barbara Turner, who adapted a novel by John Haase called "Me and the Arch Kook Petulia." Lending additional color are glimpses of vintage rock groups, including the Grateful Dead and Janis Joplin's early band, Big Brother and the Holding Company.
Petulia
got many enthusiastic reviews when first released. It also received some skeptical pans, including a big thumbs-down from the influential Pauline Kael, who called it "come-dressed-as-the-sick-soul-of-America-party" and blamed "the mass media" for hyping Lester too much. Seen today, when its style seems downright tame by Quentin Tarantino standards, the movie is an absorbing character study, a colorful time capsule, and a valuable history lesson. Turns out the Sixties weren't so Swinging after all.
For more information about
Petulia
, visit
Warner Video
. To order
Petulia
, go to
TCM Shopping
.
by Mikita Brottman and David Sterritt