DVDs from TCM Shop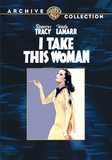 I Take This Woman A tenement doctor's... MORE&nbsp> $15.95 Regularly $17.99 Buy Now
NOTES
DVDs from TCM Shop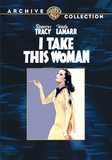 I Take This Woman A tenement doctor's... MORE&nbsp> $15.95
Regularly $17.99 buy now
This picture was based on the unpublished original story "A New York Cinderella," by Charles MacArthur. According to news items in Hollywood Reporter, the film had a long and troubled production history. The film began production in October 1938 as A New York Cinderella. An October 18, 1938 news item in Hollywood Reporter notes that Josef von Sternberg (spelled Joseph von Sternberg in Hollywood Reporter) was assigned to direct and Walter Pidgeon was to play the second male lead (the role of "Phil Mayberry.") A 19 October news item adds Thurston Hall to the cast. A 22 October production chart lists Larry Weingarten as producer, Dick Green as assistant director, and Spencer Tracy, Hedy Lamarr and Pidgeon as cast members. Modern sources add that Louis B. Mayer intended to use this picture to mark Lamarr's M-G-M debut, and so hired Sternberg to give her the "glamour treatment."
A news item appearing on 7 November adds that Frank Borzage took over the direction from Sternberg because of a "disagreement concerning the manner in which the picture was to be shot." Sternberg was then assigned to direct Sergeant Madden. In the 12 November production chart that follows this announcement, the film is retitled I Take This Woman, Borzage is listed as director and Lew Borzage is listed as assistant director. A 17 December production chart lists Bud Lawton as photographer and adds Ina Claire, Adrienne Ames and Laraine Johnson (who is billed in the onscreen credits as Laraine Day) to the cast. Modern sources note that Ina Claire was to play "Madame Maresca," the role taken over by Verree Teasdale, and Adrienne Adams was to play "Linda Rogers," the role taken over by Day. Modern sources add that Fanny Brice was to play the role of "Madame Maresca" in the Sternberg version. The film was still in production on January 25, 1939 when a news item in Hollywood Reporter noted that twelve-year-old Johnny Walsh was added to the cast. His name does not appear in the credits of the final film, in reviews or the CBCS, and his appearance in the completed film has not been confirmed.
On December 2, 1939, a news item in Hollywood Reporter announced that I Take This Woman would resume production on 4 Dec, with W. S. Van Dyke II as director, Hugh Boswell as assistant director and Harold Rosson as photographer. The cast then included Tracy, Lamarr, Kent Taylor (replacing Walter Pidgeon), Verree Teasdale, Dalies Frantz, John Shelton, Rosina Galli and Charles Trowbridge. An December 8, 1939 news item in Hollywood Reporter notes that Pidgeon had to leave the cast because of a scheduling conflict with Republic Pictures' Dark Command. Modern sources add that after the Borzage version was shelved in January 1939, MacArthur was called in to remedy problems with the script. Modern sources note that when Van Dyke took over, Leonard Penn was replaced by Reed Hadley, who portrayed "Bob Hampton" in the completed film. Although Jack Carson is credited onscreen in the role of "Joe," his role in the viewed print consisted of one scene in which his character summons "Dr. Dexter" in a subway station. The voice that speaks the lines is not Carson's, however, and it is likely that his role was cut during the late 1939 shooting when Carson was unable to resume work on the film because of commitments at other studios.
According to the Variety review, the film was practically remade in its entirety by Van Dyke, resulting in a final production cost in excess of $700,000. The length of the late 1939 "retakes" plus extensive cast and crew changes noted in contemporary news items indicate that most of the film was reshot by Van Dyke. One contemporary review quipped that the film should have been entitled "I Re-Take This Woman."
Modern sources add the following actors to the cast: Leon Belasco (Pancho), Charles D. Brown (Lieutenant of Police), Gayne Whitman (Dr. Phelps), Tom Collins and John Shelton (Interns), Florence Shirley (Mrs. Bettincourt), Rafael Storm (Raoul Cedro), David Clyde (Steward), Nell Craig (Nurse on boat), Lee Phelps (Policeman), Matt McHugh, Polly Bailey, George Humbert, Rosina Galli, Esther Michelson (People at Clinic), Peggy Leon (Georgie's maid), Jack Chefe (Waiter), Jean De Briad (Headwaiter), Florence Wix (Mrs. Winterhalter), Jimmie Lucas (Taxi driver), Charles Sherlock (Steward), Bill Cartledge (Newsboy) and Lowden Adams (Butler). Some of the actors included in modern sources were not in the viewed print, and it is possible that their roles were cut from the released film.