DVDs from TCM Shop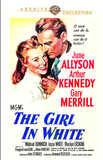 The Girl in White Biography of Emily Dunning,... MORE&nbsp> $15.96 Regularly $19.99 Buy Now
NOTES
DVDs from TCM Shop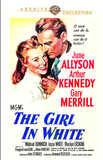 The Girl in White Biography of Emily Dunning,... MORE&nbsp> $15.96
Regularly $19.99 buy now
The film's working titles were Bowery to Bellevue and Doctor Emily. A written prologue reads: "A pioneer is one who goes before to prepare the way for others. Emily Dunning, who lived in New York at the turn of the century, was a pioneer. This is her story." A July 17, 1951 Hollywood Reporter news item stated that Robert Walker was set to co-star in the film with June Allyson; however, Walker died in September 1951. Another Hollywood Reporter news item noted that Conrad Salinger was to write the film's score, but his contribution to the released film has not been determined.
As in the film, the real Dr. Emily Dunning Barringer (1876-1961) attended Cornell University in Ithaca, NY, then went on to attend Cornell's Medical School in New York City. The character of "Dr. Marie Yoemens" was fictional, although Barringer was influenced by pioneering female physician Dr. Mary Puttnam Jacobi. Barringer was the first woman intern at Gouverneur Hospital (part of New York City's Bellevue Hospital complex) and worked as an ambulance surgeon from 1903 to 1905. She married Dr. Benjamin Barringer and temporarily retired, but returned to the profession and continued to work as a physician for many years.
According to a July 21, 1952 Hollywood Reporter news item, freelance magazine writer Susan Alexander filed a $100,000 piracy suit against M-G-M, claiming that incidents in The Girl in White were taken from her Collier's magazine article "Riding for Trouble." Alexander further claimed that incidents within the film were from a treatment she submitted to the studio in 1948, rather than from Barringer's autobiography. Neither a date for Alexander's story nor the disposition of her suit has not been determined. Allyson recreated her role for a Lux Radio Theatre broadcast on May 18, 1953. The program also starred Steve Forrest and Dan Riss.