DVDs from TCM Shop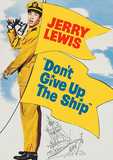 Don't Give Up the Ship A newlywed cannot remember... MORE&nbsp> $12.95 Regularly $19.95 Buy Now blu-ray
NOTES
DVDs from TCM Shop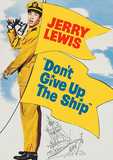 Don't Give Up the Ship A newlywed cannot remember... MORE&nbsp> $12.95
Regularly $19.95 buy now
The film begins with an offscreen voice narrating scenes of Jerry Lewis dressed as various "John Paul Stecklers" throughout history, each wreaking havoc in his time period. The opening credits end with the written statement: "We are grateful to the United States Navy for its cooperation-and sense of humor-which made this production possible." The film's working title was Now Hear This. According to a June 1958 Hollywood Reporter news item, when the studio renamed the picture Don't Give Up the Ship, they discovered the title was registered to director Al Rogell. Although an June 11, 1958 Hollywood Reporter news item stated that Rogell declined to allow Paramount to use the title, planning to make a film of the same name, Paramount had taken over the title by October 1958. The phrase "don't give up the ship" was first uttered during the War of 1812, but sources conflict as to whether Capt. James Lawrence or Capt. Oliver Hazard Perry spoke the words.
As noted in a November 1958 Hollywood Reporter article, Lewis developed a perforated ulcer in late Oct, suspending the production for five weeks. Shooting resumed on 12 Dec. Some scenes were shot on location in Long Beach, CA, according to Hollywood Reporter news items, and information in the Paramount Collection at the AMPAS Library adds that second unit footage was shot in Washington, D. C. Although late 1958 and early 1958 Hollywood Reporter news items add Sue Carlton, Philo McCullough, Hazel "Sonny" Boyne and Max Cutler to the cast, their appearance in the final film has not been confirmed.
As part of their advertising campaign, Paramount posted ads in newspaper lost and found columns announcing "Missing: One Destroyer Escort Lost by Jerry Lewis." The Variety review noted with approval that "Lewis has jettisoned some of the more frantic aspects of his technique for this film."