DVDs from TCM Shop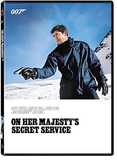 On Her Majesty's Secret... When his usual intelligence... MORE&nbsp> $5.15 Regularly $9.98 Buy Now blu-ray
Alternate Versions
DVDs from TCM Shop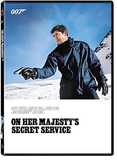 On Her Majesty's Secret... When his usual intelligence... MORE&nbsp> $5.15
Regularly $9.98 buy now
Most European non-English language prints and videos are cut and omit the scene where Bond is almost caught in the office of Blofeld's lawyer cracking a safe. The scene is now being included in the German TV version.

Some versions include a scene where Bond's blonde colleague (the mountain climber who also appears before the office of Blofeld's lawyer in the above scene) tries to check out the valley station of the cableway to Piz Gloria, and gets thrown out by Blofeld's guards, who speak unsynchronized "Schwitzerdutsch" (swiss German dialect). This scene is apparently missing from either the German and English versions.

The original version edited for American Television was re-cut in several places. The film started "in medias res" with the escape from Piz Gloria, then flashing back to the beginning of the film. The entire film featured Bond's voice over (done by a different actor than Lazenby), and included a shot before the wedding in which Bond and Tracy buy her the wedding ring and Irma Bunt's reflection is seen in the window of the jeweler's.

R1 DVD release omits a few seconds from a mountain climing scene, showing the shadow of a moving cable car on a cliff face.

The DVD R2 release differs slightly from the most recent (complete) VHS version. Notably:- the shot of the shadow of a cable car moving across a cliff side when Bond's helper (Bernard Horsfall) is climbing a cliff is missing.- The music starts differently when Herr Gumbold leaves his office prior to Bond breaks into the office's safe.- When Bond speaks the line "I told you the crowd would discourage them" after the stock car race, he was previously shown saying so in close up, now the line is only heard as Bond and Tracy speeds away.