DVDs from TCM Shop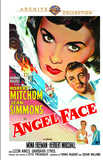 Angel Face An unscrupulous woman murders... MORE&nbsp> $14.95 Regularly $17.99 Buy Now
NOTES
The working titles of this film were The Murder and The Bystander. Modern sources also list Murder Story as a working title. According to modern sources, the story was based loosely on the real-life case of Beulah Louise Overell and George Gollum, who in 1947 were accused of murdering Overell's parents in their yacht off Newport Beach, CA. Police maintained that seventeen-year-old Overell and twenty-one-year-old Gollum bludgeoned the couple to death prior to setting off a crude explosive device on the boat. Suspicion fell on young Overell, who stood to inherit a sizable fortune, after it was revealed that her parents did not approve of her romance with Gollum, a pre-med student. After a lengthy trial, one of the longest then on record, Gollum and Overell were acquitted. In November 1957, writer Chester Erskine sold the rights to his story to producers Sam Baerwitz and Joseph Justman of Belsam Pictures, according to news items. Edmond O'Brien was announced as Belsam's probable star and director in January 1952.
After RKO head Howard Hughes acquired the property, he borrowed Otto Preminger from Twentieth Century-Fox to direct. In his autobiography, Preminger states that he at first rejected the script, despite pleadings from Darryl F. Zanuck, Fox's production chief, who reportedly owed Hughes some favors. According to the autobiography, Hughes called Preminger at three in the morning, drove him around town for hours and convinced him to take the job. Preminger claimed that Hughes gave him carte blanche on the production, stipulating only that Simmons be required to wear a long, black wig over her recently cut hair, and that the filming be completed in eighteen shooting days, as required by her contract termination date. As per Preminger's request, the script was quickly rewritten by Frank Nugent and Oscar Millard and cinematographer Harry Stradling was borrowed from Samuel Goldwyn's company for the production.
Although the CBCS lists Ralph Volkie (Good Humor man), Peggy Walker (TV girl) and Charles Tannen (TV broadcaster) in the cast, those characters were not included in the final film. Modern sources note that Layne Britton worked as a makeup artist on the picture.