DVDs from TCM Shop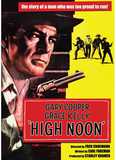 High Noon A retired Marshal must defend... MORE&nbsp> $12.97 Regularly $19.95 Buy Now blu-ray
USER REVIEWS
See Detailed Ratings
Acting of Lead Performers

Acting of Supporting Cast

Director

Music Score

Title Sequence

Screenplay

Cinematography

Historical Importance

Would You Recommend?

0 Member Ratings
Rate the acting of the Lead Performers

Rate the acting of the Supporting Cast

Rate the Director

Rating of the Music Score

Rating of the Title Sequence

Screenplay

Creatively uses the camera to tell the story

Importance in Cinema history

Would you recommend for fans of this genre
Submit Ratings
Cancel
Write a Review
Read Reviews
NO REVIEWS AVAILABLE
The title has not been reviewed. Be the first to write a review by clicking here to start.
powerful

I've loved this film since I was a kid. Gary Cooper and Grace Kelly are so disciplined and perfect in their respective roles. I see a poster below says that John Wayne hated this movie "because of the cowardice" or something. That makes me like the film all the more. Considering he fought all of America wars from the Revolution to Vietnam but on a Hollywood backlot and for big bucks, he has absolutely;y nothing to say about heroism or cowardice. While none of Wayne's films had any nuance at all, this is the story of what courage really is. It's not a blow hard windbag spewing platitudes and barking orders; it's when a man, a conflicted man, reaches deep within his soul in a time of crisis and decides want truly matters and takes his stand. He may win but he may also lose but he takes the chance because it's the right thing to do. This is the excellence of Cooper's performance. I love the scene when he drops his badge into the dust and rides away with Grace Kelly, also conflicted, but a woman who realizes, almost too late, what she must do. It's a remarkable slam at the jellyfish in that community who refuse to stand with their sheriff. Cooper risked his life doing what he believes is right and what is best for his community, but that does not mean he has to remain in a place so overrun with unreliable turds. So he tossed the badge, took his wife's arm and walked away without saying g a word but his actions said it all. Is this the part that bothered Wayne? That's likely because it was over his head.

"We sent him up once ...

... and who saved him from hanging? The politicians up north." Best line in this simple story of picking up the can and throwing it away instead of kicking it down the dirty road hoping it disappears into the dust(bin of history) but instead the dirt and the dust gets into your eyes, ears, throat and ultimately affects how you see, hear, and communicate. It's a story known by everyone from here to eternity, or at least Oklahoma, about a man for all seasons. Citizen Kane is up against the clock in the search for a few good men. The old man and the sea of rejection drop on him like a hatful of rain. After the seventh cross (Herb, after Harvey, Judge Mettrick, Jonas, Sam, Helen, and Martin), the day of the jackal Miller produces more than one act of violence. The hotel receptionist was cast due to Vincent Price needing a break after "His Kind of Woman."

Thought-provoking, but....

Faithful TCM viewer

2/18/19

For all its virtues, the somber, well acted 'High Noon' just doesn't have the sheer entertainment value of 'The Greatest Show on Earth,' which is why I think the DeMille epic won the 1952 Best Picture Oscar, and why the prize was well deserved.

More than a Western

Those who dislike High Noon as a Western forget that it originally was suppose to be a modern police drama. It's a story of individual courage that just happens to be set in the West. Cooper fit this type of character perfectly. As for any rift between John Wayne and Cooper, there was none. Wayne hated the film, but remained a close friend of Cooper's, even going to his funeral.

John Wayne hated this movie

He was so irate at the cowardice that he did Rio Bravo later in the decade. True story.

strange coincidence..

I felt just like the main character.. for calling out Stephen Colbert ..because he took too many vacation days instead of work on his show.

High Noon

A classic western with Gary Cooper as the town sheriff having to face villains when nobody wants to help. Grace Kelly as his new bride helps out but mostly its one man against the outlaws wanting revenge. A great character study of nerves as one by one the town people leave the situation as the sheriff has to manage on his own. Winner of 4 Academy Awards including Best Actor this was directed by a great director Fred Zinnemann who followed this up with "From Here To Eternity".

High Noon..Great film

It has been so long since I have seen it. PLEASE play it.

He was all Alone

His Friends? They all deserted Kane, when he needed help. He reached out, but was turned down. No unlike some real life experiences.

high noon

I pretty much agree with the standard criticism that this is the favorite western of people who hate westerns. Great song, though.

High Noon and Gary Cooper First Rate

Gary Cooper is a good guy lawman who must stand alone when a gang of thugs come to kill him. This movie is SO much about how people talk a good game, but really don't show up at game time. GC knows the bad guys are coming and enlists the help of every male in the town. All of them punk out for one lame reason or another so that Gary has to go it alone when the bell tolls. But wait! Grace Kelly decides to Stand by Her Man (thanks, Tammy Wynette!) and turns out to be a deadeye shot. Really an homage to the difference between a coward and a real man/real woman. When Gary & Grace head out of town at the end, you know they ain't ever comin' back! Excellent.

High Noon

Overall- 4 and 1/2 out of 5Lead Performers-5/5Supporting Cast-5/5Director-5/5Score-2/5Titles-2/5Screenplay-4/5Cinematography-4/5Importance-3/5Recommendation for fans of the genre-5/5

The date of the High Noon gunfight

The fight was on Sunday, June 26th, 1898. Several clues in the beginning of the picture circuitously indicates that is the date. Most descriptions of the movie suggests the 1870's or 1880's. However, the handsome two story building that may be a hotel has a 1888 date on the gable so it is apparent that it is after that date. In the marshal's office is a small poster stating "war is declared". The only war declared around that time was the Spanish-American War declared on April 25. 1898. And at the train station the station manager is writing down the telegram that Frank Miller is coming in on the noon train, there is a calender over his left shoulder with the 26th printed on it. We know it was a Sunday and the only 26th in the summer of 1898 was in June. Also, it is reported that it took place in New Mexico which did not become a state until 1912 and N.M. was still wild and lawless in the 1890's.

An Aristotilian Drama

Carl Foreman's screenplay is a testament to the precepts of Aristotilian drama. Specifically, UNITY OF TIME AND PLACE. Also, its recurrent emphasis on the central THEME -- In this case: law and order, cannot survive without the support of the populace. An unusual preachment for a Western.

High Noon

An exciting, intelligentally- made western. Cooper gives the literal performance of a lifetime, conveying agony & elegance with ease, great early performance from Kelly. Real-time conveys the approaching menace & the Oscar-winning score and song are appropriate in most scenes. A film that could have easily won a Best Picture Academy Award over De Mille's "The Greatest Show on Earth." I give it a 4.5/5.

Excellent Classic

I''ve always thought that this was and is a great movie. One man.......alone, standing up for what's right.....and all that he has going for him is that he is right. To the people who put labels on this movie like "un-American", "Communist", "witch-hunt", etc., etc., etc........I say, "Get a life"! It's a movie!!!!!!!! Maybe you people THINK TOO MUCH!!!!!!!!

Excellent Movie about a strong individual.

I've seen all the controversial comments about this film but I've always enjoyed it at face value & don't read a lot of political stuff into it. Sit back and enjoy it!

Still controversial but dated film

High Noon continues to represent the frustrations of sidelined screenwriters and Hollywood talent accused of being 'red.' It's a heavy-handed offering that attempts to co-opt its audience into thinking that an abandoned marshal should experience glory in his final moments with evil. What occurs to me is that the screenwriter was indeed blacklisted but most of the actors (lead actors as well as supporting cast) continued to work in Hollywood after its release. Was it prestigious to be part of such a project, but not be too subversive that you didn't get blacklisted, too? I continue to think this is an irresponsible piece of propaganda masquerading as Americana. We must also note that the story is depicted in a very American genre, the western. There's a reason the message wasn't presented as a horror flick in which the marshal was a policeman trying to deal with scared people and aliens. Why? Well, that would be considered camp and would not earn an Academy Award and make enough of an artistic and philosophical statement.

A great movie about human nature

It's incredible to see how some people here insist on the bulshit about the movie being "anti-american". The story is about how human nature really is, about fear and what really happens when we most need people. It is a beautiful story that was awarded because of its kindnes and smartness. The role of Cooper was not about the traditional "hero" who's not afraid of anyone or anything, but a man like anyone else who feels he has a duty to protect people. Definely, the difficulty to deal with what is different and this stupid thought of thinking everything has to be "american" or "anti-american" is tragic and stop people from thinking for themselves.

Un-American film

I watched the film without prejudice..and waited to research the background of it before I rendered my own judgment. Throughout the viewing, I kept thinking, this is NOT an American film. It seems very eastern European...and not at all conventional. It is set in the old American west but it's an allegory for contemporary blacklisting and not a true western. I like the pacing of the film and some of the visuals are impressive, but it drags and is boring until the last ten minutes...but even then, the confrontation between Cooper and the baddies is played quickly and even Grace Kelly's killing scene is too tidy and quick. The only thing I really liked about the film was Grace Kelly's costuming and make-up. She looks sensational. While I don't like ignorance and bashing, I can see why John Wayne disliked the film so much. I don't blame him...I don't really like it, either. The music is silly and I would've preferred silence in the scenes where Cooper's marshall character walks the street. The quick and quiet ending is supposed to make us think but it all seems too heavy-handed.

Not really a Western

To me High Noon is not a Western it is a story as contemporary today as it was in 1870 or 1952. A story of a man whose character will not let him walk away from his duty. Place this tale in your office, your school, your community or internationally. There is a bully who threatens the acceptable order. Everyone knows the bully will change what everyone worked hard to achieve, but noone is willing to risk challenging the bully--not the deputy, not the judge, not the business community, not the church and certainly not the politician--not even his new wife. Everyone urges the hero to just leave and everything will be alright: in fact maybe they will be better off! Plus many in the community really didn't like him anyway, as the hotel clerk rationalizes, he is too aloof or arrogant. The symbolism of this movie is wonderful. Gary Cooper's expressions of vulnerability, self-doubt and fear are absolutely terrific. I can't imagine John Wayne in this role, and I think it might have ruined his career. Wayne built his personna on not showing those emotions.The comment about this being a Communist propaganda film strikes me as pure rubbish. To me this film represents the essence of American idealism, take a stand against the bully who threatens peace and order, when noone else is willing to. But remember you will probably not be thanked for it so just move on.

High Noon (1952)

A fine western, but I also feel it is an overrated film. Gary Cooper is very good, the screenplay is excellent, nice pacing. It has some tense moments. It's hard to believe that theme song won an Oscar.

You don't think---

You don't think that the script writer, Carl Foreman actually meant that Marshall Will Kane is a product of the type of hero that the Soviet Union produces and that the towns people are the type of cowards that America produces. Oh no! That is to far fetched. Speaking of cowards, we now know why Carl left America a hurry!

The American Way

I couldn't agree more with Jack The Hat's assessment. If this film is supposed to be anti-war (Korean) it failed miserably. The towns people, I assume are the peace activist and are portrayed as cowards, where by Marshall Will Kane is willing to stand by his principals and fight for what he believes is right, even if it cost him, his life and against over whelming odds -- isn't that the American way?

Pro-Communist

According to what I read, John Wayne turned down this film because it was promoting Communist thought. It would not be unexpected knowing Hollywood. I just do not know where the Hollywood message comes in at? Actually, it states very clearly that the criminal element in this film was supposed to be hung but had his sentence commuted and then finally freed to kill again. This sounds more like a conservative message promoting the reason for and the continuation of capital punishment.

High Noon is overrated!!

High Noon is a good drama but it's not a good western because the premise isn't credible. He goes around town trying to find deputies from the townsfolk? That's why he's the sherrif!! They hired a sherrif to fight so they wouldn't have to! If you study western history, you'll find that was the arrangement made in every community that was beyond the long arm of the law. Plus there is no outdoor photography in the whole movie. Any authentic western has to contain photography of the wilderness that the characters were a part of.

BEST WESTERN EVER

High Noon is much more than a fine Western; it is a story of standing up for your beliefs and principles even when everyone else disagrees with what you are doing. It also differs from many Westerns because it avoids the usual cliches in both plot and characters. The film gives the viewer a sense of approaching danger and shows the desperation of Will Kane being unable to convince the townspeople that facing the outlaws is not only his fight but theirs also. The photography is very stark and the story is told in real time unlike other Westerns.I recommend High Noon to anyone who has not seen it not only as a Western but as one of the all time best films ever.
*We protect your personal infortmation and will not provide it to anyone without your consent. For a complete explanation, please refer to TCM's Privacy Policy. By submitting your contribution, you agree to TCM's Terms of Use.