DVDs from TCM Shop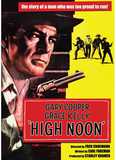 High Noon A retired Marshal must defend... MORE&nbsp> $12.97 Regularly $19.95 Buy Now blu-ray
Quotes
DVDs from TCM Shop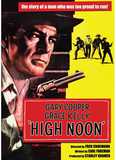 High Noon A retired Marshal must defend... MORE&nbsp> $12.97
Regularly $19.95 buy now
Martin Howe


And in the end you wind up dyin' all alone on some dusty street. For what? For a tin star. It's all for nothin', Will. It's all for nothin'.

Will Kane


Quit pushin' me, Harv. I'm tired of being pushed.

Will Kane


I've got to, that's the whole thing.

Helen Ramirez


What kind of woman are you? How can you leave him like this? Does the sound of guns frighten you that much?

Amy (Fowler) Kane


I've heard guns. My father and my brother were killed by guns. They were on the right side but that didn't help them any when the shooting started. My brother was nineteen. I watched him die. That's when I became a Quaker. I don't care who's right or who's wrong. There's got to be some better way for people to live. Will knows how I feel about it.

Helen Ramirez


You're a good-looking boy: you've big, broad shoulders. But he's a man. And it takes more than big, broad shoulders to make a man.