DVDs from TCM Shop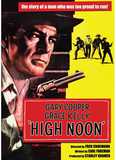 High Noon A retired Marshal must defend... MORE&nbsp> $12.97 Regularly $19.95 Buy Now blu-ray
NOTES
DVDs from TCM Shop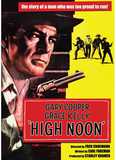 High Noon A retired Marshal must defend... MORE&nbsp> $12.97
Regularly $19.95 buy now
New York Times articles from spring 1949 indicate that producer Stanley Kramer's company Screen Plays Corp. was to produce the film and that Mark Robson, who had directed earlier Kramer pictures, might direct it. According to a March 12, 1949 Los Angeles Times news item, Kirk Douglas and Lola Albright were originally set to star in the film. Modern sources note that John Wayne, Charlton Heston, Marlon Brando, Montgomery Clift and Gregory Peck were all considered to play "Will Kane" before Gary Cooper was signed for the role.
According to a January 10, 1953 Hollywood Citizen-News article, actors James Brown, Roberta Haynes and John Daheim, all of whom are listed on Hollywood Reporter production charts, shot scenes for the film that were deleted before the final release. In the article, Brown describes the deleted scenes: "They were to be intercuts all through the picture, the idea being that Cooper says he knows he can count on Toby (his other deputy) if he gets there in time. The cuts show me taking my time with fights and drinking beer at a stage coach 'stop' with Roberta. In the scene she lets me know that if I stay, the time won't be wasted as far as our romance is concerned."
A studio plot synopsis contained in the MPAA/PCA collection at the AMPAS Library lists Brown's character as "Toby," Daheim's character as "Peterson," and Haynes's character as "a seductive Mexican girl." In a modern interview, associate producer and screenwriter Carl Foreman stated that the scenes with "Toby" were shot at the end of production, as insurance in case the film seemed too claustrophobic. The entire picture as released takes place only in the town of "Hadleyville." [According to a modern source, the extra sequences were deleted to help strengthen the film's use of "real time," in which the length of the story and the length of the film are approximately the same. After the picture's release, many reviewers praised its effective employment of real time.]
Hollywood Reporter news items from 1951 add the following actors to the cast: Marilee Phelps, Charles McAvoy, Gertrude Chorre, Lee Aaker, Duncan Richardson, Crane Whitley, Bob Carson, Charles Leon Soldari and George Deer. Their appearance in the final film has not been confirmed. Hollywood Reporter production charts and news items note that the film was shot at the Motion Picture Center and on location at the Columbia Ranch in Burbank and in Sonora, CA. In a modern interview, Kramer and director Fred Zinnemann stated that they originally intended to photograph the film in color, but after some color sequences where shot, they switched to black and white for artistic reasons. Lee Van Cleef and Eve McVeagh made their screen debuts in the picture.
Many modern sources assert that High Noon's plot and characters were a reflection of Foreman's experiences with the House Committee on Un-American Activities and his subsequent blacklisting in the Hollywood community. In an interview in Film History, however, Zinnemann stated that, to his knowledge, Foreman had no such aspirations, adding that "The politics...for me were non-existent, and I would believe that they were non-existent for Coop[er]." In the same interview, the director vehemently denied a persistent rumor that the editing of Elmo Williams and Harry Gerstad "saved" the picture. The film, which garnered excellent reviews and was listed as a "box-office champion" by Motion Picture Herald, received Academy Awards for Best Actor (Cooper), Best Song, Best Scoring of a Dramatic or Comedy Picture and Best Film Editing. The picture also received Oscar nominations for Best Film, Best Director and Best Screenplay.
Other awards included Golden Globes for Best Actor in a Drama (Cooper), Best Supporting Actress (Jurado) and Best Black-and-White Cinematography; inclusion on the National Board of Review's list of the ten best films of the year; Best Film and Best Direction awards from the New York Film Critics; and the Best-Written American Drama award from the Writer's Guild of America. The film's ballad, "High Noon," was a huge hit both for Tex Ritter, whose singing is heard throughout the picture, and for Frankie Laine. In 1980, CBS televised High Noon, Part II: The Return of Will Kane, a made-for-television sequel that was directed by Jerry Jameson and starred Lee Majors in the title role. On August 20, 2000, TBS produced High Noon, a television remake directed by Rod Hardy and starring Tom Skerritt and Susanna Thompson.