DVDs from TCM Shop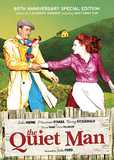 The Quiet Man An Irish ex-boxer retires to... MORE&nbsp> $17.47 Regularly $24.95 Buy Now blu-ray
USER REVIEWS
See Detailed Ratings
Acting of Lead Performers

Acting of Supporting Cast

Director

Music Score

Title Sequence

Screenplay

Cinematography

Historical Importance

Would You Recommend?

0 Member Ratings
Rate the acting of the Lead Performers

Rate the acting of the Supporting Cast

Rate the Director

Rating of the Music Score

Rating of the Title Sequence

Screenplay

Creatively uses the camera to tell the story

Importance in Cinema history

Would you recommend for fans of this genre
Submit Ratings
Cancel
Write a Review
Read Reviews
NO REVIEWS AVAILABLE
The title has not been reviewed. Be the first to write a review by clicking here to start.
A classic!

The best movie John Wayne and Maureen O'Hara made together.

Good Irish Blarney

John Ford's Irish heritage is suggested in a number of his films, but in The Quiet Man it comes to full fruition. John Wayne portrays a boxer with a conscience who retreats to his ancestral home in Ireland and encounters a headstrong Irish lass played by Maureen O'Hara. There is also Victor McLaglen as her stubborn brother while Barry Fitzgerald almost steals the movie as the village matchmaker. This film is a romp in the Irish spirit and could be seen as mostly blarney, but what good blarney it is.

My favorite film

I have most likely viewed this film more that fifty times. I first saw it when I was seven with my family. Even though I was young I fell in love with Maureen O'Hara. She has always been my favorite actress and John Wayne is my favorite actor. This is the most delightful movie ever made. Maureen for me is the most beautiful actress ever.

A wonderful Irish movie - filmed in Ireland - 1952

Mary Bridget Branigan

3/18/17

I never get tired of watching this movie. In fact, I watch itevery year around St. Patrick's Day. It's on the TCM channel.All the actors appear to be having a terrific time. Barry Fitzgerald as the matchmaker was wonderful - such a natural actor. Movie is absolutely hilarious! Has a happy ending.

Great on many levels also tribute to Mr O

The comedy the acting the story the great cinematography. Great love story great comedy. Must see. I laugh out loud every time I watch it. On another point I am deeply saddened over the recent passing of the great and wonderful man Mr Robert O. If I happened to miss one of his introductions before a movie came on I felt as if I missed half or even more of the the movie itself. I often only wanted to see his introduction. The best interviews I have ever seen were his with anyone sitting across from him. He was everyone's good friend. Truly a great loss for all of us. Wishing I could have shook his hand and thanked him for the knowledge and joy he created in us all.

THE QUIET MAN

Reply to Thomas Billick. If you had said this film was Irish blarney (hope I spelled it right), pure Hollywood fantasy, I might have agreed with you. But to call it crap and leave it at that, is in my opinion just plain mean spirited. You've said nothing constructive. My mother in law, God Bless Her who two months ago passed away, and Yes she was Irish, thought this film was pure blarney, still loved it. It is a visual masterpiece. In the words of John Ford print the legend.

Their personal love story

Although Maureen O'Hara denied it, John Wayne wrote in his later years that he began an affair with his co star in the Quiet Man that lasted for many years through several of his marriages.When asked why he never married Maureen he said she was very strong and her own person and that perhaps she was too independent for him to marry her.They were lovers and friends for many years and it shows in this movie.

The Quiet Man

The irish classic directed by John Ford and starring John Wayne and Maureen O'Hara as an American comes back to Ireland and makes progress in some ways with the local crowd. He comes to like Maureen O'Hara but not so much her father. It takes him a while to mesh in but his views are as good as others. The cinematography is gorgeous of the emerald isle. John Wayne always did well with John Ford as they made several films together.

the quiet man

Hard to know which of two things Ford's camera loves more; the beauty of Ireland or the beauty of Maureen O'Hara. I guess, to Ford, they're the same. This film is such a combination of wonderful stuff and "udder crap," (to quote reviewer Thomas Billich, below.) There are the passionate, yet strangely mournful, love scenes between John Wayne and O'Hara. And O'Hara's never been better than as Mary Kate Danneher, a woman with a fascinating combination of sensuality, venality, temper, and laughter. She definitely should have gotten an Oscar nomination. It's also nice to see Victor McLaglen playing an actual character, instead of providing unfunny comic relief, as he does in Ford's Westerns. (That role has been assigned, in this film, to Barry Fitzgerald.) And there is the poetic cinematography of Winton Hoch. Pulling against these positives are too many travelogue shots and too much Irish schtick that make you think you're in Emerald Isle Land at Disney World. However, as usual with Ford, the good tends to outweigh the bad. So let's give it an A minus. P.S. Wayne's quite good in the uncharacteristically introspective title role. Personally, I missed the more verbose, sardonic, flamboyant and darker Duke of the great Westerns, but I'm in a distinct minority.

the quietman

by far the worst wayne ford movie ever udder crap!

The Quiet Man

My favorite movie of all time!!! So Glad TCM is finally showing it! I had the privilege to watched it on a 50ft screen and it was amazing. One of the kisses between Sean and Mary Kate, there was a string of moisture as their lips parted! It was so passionate and I realized this is one of the reasons why John Ford won an Oscar for best director! Everything about this movie is perfection!

One word: Delightful!

If I had to sum up this movie in one word, it would be: Delightful. I find myself smiling the whole time that I watch it. Just a treat to watch all the characters, including all the authentic Irish folks who contribute so much to this wonderful film. I'm not Irish, but it makes me want to go to Ireland so much. One of my favorite scenes is when the preacher is trying to reel in a fish that he's hooked, and lovely Maureen is yelling instructions at him - hilarious! Great movie.

The Quiet Man

Outstanding film!

ONE OF THE VERY BEST FILMS OF ALL TIME

I have watched this movie many times and I am always drawn to the beautiful countryside of Ireland. Originally, I found it difficult to concentrate on the screenplay due to the that beautiful country.But, after viewing the film the second time, I truly appreciate what a great piece of film making it is. I have always loved the chemistry between Maureen O'Hara and John Wayne, and they do not disappoint. Don't miss this romantic, funny, and beautiful ending to this movie.

Excellent Film - Breathtaking in Every Way

A simply beautiful film - from the breathtaking cinematography, to the superb acting; and it's story telling at its finest. The Quiet Man is a quiet film that unfolds like the film's gently green rolling hills. One of my favorites - Mr. Wayne & Ms. O'Hara are at their best.

Why are reviews being deleted?

I left a review earlier today and it is gone. Also noticed others are gone too.

Please -- why not today?

Without The Quiet Man today, the day will be incomplete, the ballads less fun, the beer warm and eyes drier. We miss it!

the quiet man

I could watch it over and over and have!!!

Doesn't get much better than this one!

It's St. Patrick's Day and we've just eaten our corned beef, cabbage and Colcannon and we are watching this film for the umpteenth time. This film is the biggest delight! It focuses on the days when men were men, guns were used only for hunting and fists were used for fighting. In fact, it has the best fist fight in all of cinema! While I have always felt Wayne's best performance was in "Stagecoach," he is extraordinary in this film. Maureen O'Hara is gorgeous, as always. The character actors are hilarious and wonder-filled at the same time! I love this film, always have. I've been to Ireland several times and, if you go into the country towns, it is still exactly like this there, even down to the thatched roof housing. It is a gorgeous country and has the loveliest and friendliest people who are always welcoming to you. If you have never seen this film, please sit down, turn it on and you have the treat of a lifetime!

The Way a Movie is Supposed to be

The Quiet Man has it all. John Ford direction at its best, a terrific story, good acting, good music, authentic Irish scenery. Not to mention Hollywood legends like John Wayne, Maureen O'Hara, Victor McLaglen, Ward Bond and Barry Fitzgerald. What more could you ask for in a sentimental journey back to Mother Ireland?

The Quiet Man

Almost good enough to make you like the Irish. And if enny a ya care to differ, then put up yer dukes!

The Quiet Man

One of my all-time favorites, and a staple feature of the annual Millne-Woodrum Pub Crawl here in Huntington, W.Va., now going on for over 30 years. John Wayne as the Irish-American fighter Sean Thornton, come home to Innisfree and falls for the lovely Maureen O'Hara (Mary Kate Danaher), but standing in the way of their happiness is her bully of a brother, played with gusto by Victor McLaglen, as Squire "Red" Will Danaher. The fight across the county is worth the picture, with great back-up by stars like Barry Fitzgerald (as Michalen Oge Flynn, so much like one of my deceased older mentor and friend at Marshall University, who also joined us over the years to hoist a pint or three on the 17th, or any other time!), Ward Bond (Father Lonergan), Mildred Natwick (widow Tillane), Francis Ford (Dan Tobin), Arthur Shields (Rev. Playfair) and so many others.Director John Ford films a love song to his native Ireland with a film mixing love, loss and life, and should be required viewing on St. Patrick's Day worldwide.

Great Movie

A picture which truly shows the Irish spirit and the Irish way. Just love the chemistry John W and Maureen O have in this delightful movie. A good St. Patrick's day movie. Hasn't been show for quite sometime on TCM.....hope it will be on soon.

The Quiet Man

Ford's most personel film is one of his greatest, exploring his Irish roots. An American boxer, after accidentally killing a man in the ring, comes to Ireland & falls for a firey woman. O'Hara is great, Wayne deserved an Oscar nomination & McLaglen was nominated as O'Hara's bullying brother who refuses to pay their dowry. Ford won his forth & final Academy Award for his direction & the film was honoured for it's cinematography, capturing the lushious hills and ending with a memorable brawl. A magnificent film from one of cinema's best director's. I give it a 5/5.

My Favorite of all time

I was born in 1948. In 1952 my mother went to see " The Quiet Man " at the theater and when it was first on TV she forced me to watch it. I didn't want to because I liked at the time only sci-fi & westerns. I was only 10 at the time. Because of this movie I became an avid movie fan of all genres. It change my perspective about movies. Today I estimate I have watched over 10,000 and have collected over 1,000. In all the movies I have watched The Quiet Man is still My favorite. This movie is still not reproduced in Blu-ray and that is a crime. I have read many reviews on this movie by many different sources and the general feeling by most reviews is this is one of greatest films ever made. I don't know who has the rights to this but they should read some of these reviews to realize how passionate people are about this film. Even if you charge $100.00 many people would buy it.

A ST Patrick's day tradition

A lot of John Wayne's films were only fair but this isn't one of them. This is a great movie on its own merits and one of the best films of the Irish experience even if a bit romanticized. It's great fun. This is definitely on a par with The Searchers which gets a lot more air time. I am surprised that this film is not shown regularly on March 17. The film was based on a short story which appeared in an American magazine and was sillfully adapted for the screen. Most readers will know the great cast from top to bottom. Real pros. Truly a shame that we cannot enjoy this great film on or about March 17. I say all of this and I'm not even Irish. By the way the story it was based on is available on the internet. Since we can't have the film you can at least read the story.

where art thou?

The best coupling of one of cinema's best on-screen couples. When is TCM going to show this film again??? Please??

another top 10

This is not only my favorite John Wayne movie, but one of my all time top 10's. The acting is some of the best put on the silver screen. The Irish stereotype is blatant but makes me wish I was there as one of them. This movie should have swept the awards across the board. I always felt that someone, somewhere in the industry just had it in for John Wayne. All the many great and excellent movies he made...and True Grit his only one he won an award for. The plot...the antics...the Irish mannerisms...the climax when the fight finally comes to be...and the end...is very magical...light hearted...with a true love you see between Wayne and O'Hara's characters...I absolutely love this movie...and will to the day I die....

A Wonderful Quiet man!

This is my all time favorite John Wayne movie!!I simply love the beauty of it.The gorgeous local is breathtaking.The cast awesome!!If you have'nt seen the remarkable movie, you've lost out on a viewing wonder. From the time it's set in to the wonderful Irish accents will make you want to see it again and again.I know it did for me!!!!

The Quiet Man

The best movie ever! John Wayne and Maureen O'Hara are always great together but there is a spark between them in this film that is magical. The scenery and beauty of Ireland is perfectly captured by Ford. Romance, comedy and the best fight scene ever all come together to make one of the most enjoyable films you will ever see.

the quiet man

john wayne at his best and with one of the prettiest and best leading ladies he ever worked with

Quiet Man Redux?

The making of Quiet Man is the background for the latest book by acclaimed Irish author Roddy Doyle. Roddy's character is providing background to Ford, accompanied by script girl and Borzage the accordianist...a literary masterpiece by a great artist to go with Ford's earlier masterpiece. Roger

Superb!

Timeless perfection!!!!

Best Movie Ever

This is the best ever!

I love this movie

I loved that movie

My Fav - The Quiet Man

My Irish Mum named me after Ms.O'Hara - I couldn't be more proud. Whenever I watch it, I feel like I'm "home", although I've never been to Ireland. Is there any way to send her a letter or email?

Always a favorite.

I have enjoyed the Quiet Man since I was old enough to realize who John Wayne and Maureen O'Hara were....and that's about 40+years! I love the characters that are protrayed by wonderful actors and actoresses no longer with us and who cannont ever be replaced. That kind of talent no longer exists with today's actors. and Director, John Ford had all of them on his payroll! I can recite ever word of dialog and tell you what scene is what, just by hearing the music. It is truly a favorite and if you enjoy colorful characters...you will, too.

Wonderful!!!

I watch it at least once around St. Patty's day. It really puts me in a great mood.

Among favorites

This has long been one of my all time favorite movies. The charming way of the Irish is certainly brought forth by the use of the local villagers, and the beauty and peace of the countryside is brought to life in the wonderful cinematography. And, the narrative of Father Lonergan is very telling, complete with an Irish accent. One of my favorite scenes is when Mary Kate goes to Father Lonergan to talk about the problems she and Sean are having and she wants to tell him "in the Irish" and she proceeds to tell him in the language of old Ireland. Without a translator, just by virtue of her hand gestures and facial expressions you know exactly what she is saying! For those big fans of this movie, I highly recommend that you watch the special features of the dvd with interviews by Maureen O'Hara. You might even watch the movie a second time, with the commentary of Maureen O'Hara superimposed over the movie -- lots of info and trivia. For instance, that the children of John Wayne are in the scene during the race with Mary Kate, where they are sitting in the wagon and they ask her if she is putting out her bonnet.

Great Movie

This I think is one of Wayne's and O'Hara's greatest films together. The chemistry comes through and the scenery is beautiful. I think the rest of the roles were cast wonderfully also. It's just a great all around movie I could watch over and over.

Quiet Classic

Production, acting, directing, cinematography, screenplay; all just about perfect. What more could you ask for? One of the Duke's best performances; and Maureen O'Hara? I have loved this ageless beauty since 1939 in The Hunchback of Notre Dame. Conversely, the first one I think of in this film is Barry Fitzgerald. What a performance; and what lines! Though my favorite line comes from Victor McLaglen when he says: "He'll regret it til' his dying day; if ever he lives that long."This movie is filled with these fractured, charming lines of dialogue.This movie is truly one of a kind.

My Favorite

If the highest rating was 20, mine would be all 20's. "The Quiet Man" is my favorite movie of all time, just as John Wayne has been my favorite actor of all time. I cannot count the times I have watched this movie. I recently traveled to Ireland, and although I didn't visit the area where the movie was made, it reminded me so much of the movie. My tour bus driver was asked about the Irish brouge and he tried to discribe it. He said if you really want to talk like the Irish, watch the movie of "The Quiet Man".The way Barry Fitzgerald and the towns people talked is really the way the Irish talk.

Lovely

The Duke and Maureen were such a perfect match for each other and that is definitely evident in The Quiet Man. I've always loved this film and it nevers grows old.

Better each time

I've always loved this movie and think Duke and Maureen are in fine form for this timeless piece of work.

beautiful

I get lost in this movie. Its got humor and love and drama its just the perfect movie one of my all time favorites.

Wonderful movie

The Quiet Man is one of the greatest. The performances are wonderful, especially on the parts of Maureen O'Hara, Barry Fitzgerald and Victor McLaglen. It's a beautiful love story, not mushy. Watch the scene where they're together at the fireplace. Beautiful. No one could have done it that way but them. Nowadays, you can't get people to do a thing like that. They did it with the energy on the screen and their expressions. It's a film for any classic movie fan.

GREAT LOVE STORY!!!!

HAVE ALWAYS LOVED THIS MOVIE!!!!WHAT A LOVE STORY....

Cinema at its best

A must see for any film fan. If you are Irish and you haven't seen this film you can not truly call yourself Irish. Maureen O'Hara and John Wayne were born to play these roles.

Cheers for "The Quiet Man"

The Quiet Man is one of those films thatis alwaya fresh now matter how many timesyou've seen it. It is well crafted by the great John Ford and contains greatperformances from each member of it'sfine cast of superb character actors. Everyone in the film is perfectly castmaking this film enjoyable anytime ofthe year but especially fun on St. Patricks Day.

The Quiet man

The Quiet Man is not just for St patties day it a any time movie. It seems to break a depressed life and cheer on up.
*We protect your personal infortmation and will not provide it to anyone without your consent. For a complete explanation, please refer to TCM's Privacy Policy. By submitting your contribution, you agree to TCM's Terms of Use.