DVDs from TCM Shop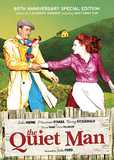 The Quiet Man An Irish ex-boxer retires to... MORE&nbsp> $17.47 Regularly $24.95 Buy Now blu-ray
Home Video Reviews
"My name's John Ford. I make Westerns," said Hollywood's preeminent director at a Director's Guild meeting in October 1950. It is true that Ford's name is synonymous with the Western, but ironically, of Ford's six Academy Awards, not a single one of them was for his Westerns. His fourth for Best Director was earned for
The Quiet Man
(1952), released just two years after his Director's Guild self-introduction. For a closer look into the beloved film, Artisan Home Entertainment has released a special edition DVD of what is perhaps Ford's most personal work.
Based on Maurice Walsh's short story,
The Quiet Man
is the simple story of disgraced American boxer Sean Thornton (John Wayne) returning to Ireland, the land of his birth. Upon arrival, he spots an emerald angel named Mary Kate Danaher (Maureen O'Hara) tending to her sheep. Love blooms between the two and they soon marry, but a major problem arises when Mary Kate's brother, Red Will Danaher (Victor McLaglen), refuses to hand over to the newlyweds Mary Kate's rightful dowry.
It's evident at the first exchange of glances between Sean and Mary Kate that
The Quiet Man
is a rich and genuine love story. But who would have thought that John Ford, a tough, hard-drinking and often caustic filmmaker, could direct such a lovely poem to his ancestral home and to two lovers? Ford shows in this film his confidence and mastery in telling a story, regardless of the genre.
The Quiet Man
is gentle without being genteel, and it's heartfelt, minus the contrived schmaltz. This is due mainly to Ford's direction and the performances of his actors, primarily Wayne and O'Hara.
Even if
The Quiet Man
was a surprise to some, it certainly wasn't to Ford and to those who knew his work. A notorious sentimentalist, Ford had made a number of films dealing with the heart, like
Pilgrimage
(1933) and
How Green Was My Valley
. Also, Ford had wanted to make
The Quiet Man
for several years. While just about every studio in town turned down the offer to fund Ford's "folly", the director persisted in finding the money needed to do the story justice. This included filming in Technicolor on location in Ireland. Ford made a deal with Republic Studios, an outfit churning out B-Westerns mainly that was looking to increase the quality of its films and its image. See author Joseph McBride's massive biography
Searching for John Ford
for more insight into the production.
The special edition DVD of
The Quiet Man
does an excellent job of detailing the efforts that went into bringing Ford's romance to the screen. The documentary "The Making of The Quiet Man," hosted by Leonard Maltin, is not an original piece, since it was included on a previous DVD edition of the film. But it's a well-produced piece that's worth another look, particularly for a rare bit of footage of Wayne and Ford bantering in front of a television camera. A second documentary, "The Joy of Ireland," recounts the joys and difficulties of working with Ford in Ireland via interviews with those who were on location. Maureen O'Hara (who teaches us a little bit of Gaelic while she recounts a pivotal scene between her and Ward Bond), Andrew L. McLaglen (son of Victor), and Patrick Wayne (son of the Duke) all chip in. The DVD's production notes are very detailed, going into the film's literary origins, the casting, script writing, and financing, and it's on-location production in Ireland. Also on the disc is "Remembering the Quiet Man Montage," a goofy, pointless assemblage of scenes from the movie set to a cheesy music score.
However, Maureen O'Hara's audio commentary for
The Quiet Man
is certainly not pointless. A lovely and informed guide, O'Hara's commentary is a pleasure just to listen to, regardless of what she's talking about. Nevertheless, her informal comments are honest, witty, and even sometimes cagey (she swears she'll take to her grave what she whispers in Wayne's ear at the end of the film). When she observes that Wayne smokes too much in the film, she sadly notes, "That's what did you in, old boy." Given her roots in Ireland, O'Hara's commentary on the film doubles as a guided tour of the Irish countryside, a unique quality among audio commentaries. She draws attention to just about every actor who appears on screen, going into personal recollections and biographical information about careers and lives lived, all with a personal touch. The actor Jack MacGowran (playing Feeney) lived on the Dublin street on which O'Hara was born, she mentions. O'Hara's lovely voice has a bittersweet note of nostalgia, since virtually all other members of the cast and crew are deceased, so listening to her thoughts are like peering into her personal photo album. It's a lovely experience. Watch out for her audio commentary for the special edition DVD of
Rio Grande
(1950), the film that she, Wayne, and Ford made just prior to
The Quiet Man
.
To purchase a copy of
The Quiet Man: Special Edition
, visit
TCM Shopping
.
by Scott McGee