DVDs from TCM Shop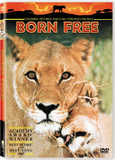 Born Free A game warden and his wife... MORE&nbsp> $11.95 Regularly $14.99 Buy Now
NOTES
Although Gerald L. C. Copley was given credit for the screenplay when the film was initially released, according to official WGA records, Copley was a pseudonym for blacklisted writer Lester Cole. The WGA changed the screenplay credit to read: "Screenplay by Lester Cole." Born Free was filmed on location in Naro Moru, Maralal, and Malindi, Kenya, and Doldol, Ethiopia. Original director Tom McGowan resigned after several months of production. The great success of Born Free resulted in a 1972 sequel, Living Free (see below) which continued the saga of Elsa's cubs.
Joy Adamson (1910-1980) was born Friederike Viktoria Gessner in Austria where she studied psychoanalysis, archaeology, painting and medicine. Because her first husband, who was Jewish, feared the growing Nazi movement in Austria, the couple moved to Kenya, where she divorced her husband and married a botanist with whom she traveled throughout Kenya making paintings of plant life, many of which are now housed at the National Museum in Nairobi. After divorcing her second husband, she met game warden George Adamson (1906-1989) whom she married in 1944, and they settled permanently in Kenya.
In 1956, when George was forced to kill a man-eating lion and a lioness after they attacked him, he and Joy discovered the mother was defending her three cubs. The couple's subsequent adoption of the three, raising them, then returning to the wild of the smallest, Elsa, became the basis for Joy's books, Born Free, Living Free and Forever Free. The series was extraordinarily popular and served as inspiration for many, including husband-and-wife actors Virginia McKenna and Bill Travers, who played the Adamsons and founded the Born Free Foundation in support of wildlife conservation. Joy was also the founder of the World Wildlife Fund. In 1980 Joy Adamson was found dead in the Shaba Game Reserve in Northern Kenya. It was initially reported that her death was due to a lion mauling, but later, it was apparent that Adamson had been stabbed to death and a young Kenyan worker was eventually arrested, tried and convicted of the murder. At her request, George had Joy's ashes placed in the graves of Elsa and a tamed pet cheetah, Pippa, in the Meru Game Reserve. In 1989 George Adamson was murdered by bandit poachers in the Kenyan wilderness.