DVDs from TCM Shop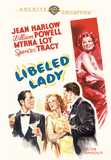 Libeled Lady When an heiress sues a... MORE&nbsp> $14.95 Regularly $17.99 Buy Now
Home Video Reviews
Libeled Lady
(1936) is one of the sprightliest entries in Warner Home Video's Classic Comedies Collection DVD box set. It features a healthy dose of MGM gloss and virtually overflows with star power. These are both qualities that could actually work against a screwball comedy, but happily
Libeled Lady
avoids being weighed down and it neatly takes its place alongside the other freewheeling comedies in the set. (For the record, the other films are
Bringing Up Baby
(1938),
The Philadelphia Story
(1940),
Dinner at Eight
(1933),
Stage Door
(1937), and
To Be or Not to Be
(1942)).
The star power in
Libeled Lady
is on display straight from the opening titles, under which we see Jean Harlow, Spencer Tracy, Myrna Loy, and William Powell striding arm-in-arm toward the camera. There is no casting-against-type; all of the headliners play to their particular strengths, and what is wrong with that? The plot freely mixes public deceptions, romantic frustrations and battle-of-the-sexes motifs, and still has room to throw in such cliched comedic situations as newsroom chaos and shipboard seduction! Somehow, there is room for all of the plot machinations and nothing seems overly contrived.
Warren Haggerty (Tracy) is a workaholic newspaper editor who all too cheerfully skips out on his wedding to eternal fiancee Gladys Simpson (Harlow) in order to deal with an emergency at the paper: It seems a story has been printed labeling wealthy heiress Connie Allenbury (Loy) as a husband stealer. The story is false, so Allenbury and her father (Walter Connolly) slap the paper with a libel suit for 5 Million dollars. Haggerty concocts a plot to have Connie seen in a compromising situation with a married man to negate the lawsuit. He enlists crafty ex-newspaperman Bill Chandler (William Powell) to charm and seduce Connie during a ship voyage. Since Chandler has to be a married man, Haggerty improbably talks Gladys into the in-name-only nuptials. Of course, the ensuing complications are many: Bill seems to be charming Connie¿s father more than Connie; Gladys despises Bill at first but eventually falls for him as well; and Haggerty seems to be continually digging himself into a deeper hole both romantically and professionally.
MGM assigned contract director Jack Conway to
Libeled Lady
. A director since the earliest days of filmmaking, Conway was a good choice to handle the variety of styles and settings required of the script. He had previously handled some hard edged big-budget MGM pictures such as
Hell Below
(1933) and
Viva Villa!
(1934), and had already worked with Jean Harlow on one of her best career-establishing roles in
Red-Headed Woman
(1932). Conway¿s touch is evident in some of the rowdier moments of
Libeled Lady
, notably the on-location sequence of the refined Powell - totally out of his element while trying to fish in a rugged trout stream. Following this film, Conway directed
Saratoga
(1937), the movie Harlow was making at the time of her death. He also directed Powell and Loy in another of their non-
Thin Man
comedies,
Love Crazy
(1941).
It would have been interesting to hear some behind-the-scenes production stories on the
Libeled Lady
DVD. (For starters, Powell and Harlow, so convincing as a reluctant couple in the movie, were actually engaged in real life at the time of filming). Sadly, this DVD release is a no-frills affair, and has no commentary track or making-of documentary. The only features are a trailer and a cheat of a radio production called
Leo On the Air
, a promotional broadcast with audio excerpts from the film instead of a live radio production of the story. A further problem with the DVD is the poor quality of the source print used. It is full of blemishes in the form of white splotches (indicating dirt on the negative) and intermittent lines. At times the print damage is downright distracting. While it may not be as essential as
The Philadelphia Story
or
Bringing Up Baby
,
Libeled Lady
deserves an eventual upgrade in DVD quality, whenever a better print surfaces or a restoration is funded.
For more information about
Libeled Lady
, visit
Warner Video
. To order
Libeled Lady
, go to
TCM Shopping
.
by John M. Miller