DVDs from TCM Shop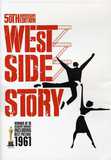 West Side Story A young couple from dueling... MORE&nbsp> $7.46 Regularly $9.98 Buy Now blu-ray
USER REVIEWS
See Detailed Ratings
Acting of Lead Performers

Acting of Supporting Cast

Director

Music Score

Title Sequence

Screenplay

Cinematography

Historical Importance

Would You Recommend?

0 Member Ratings
Rate the acting of the Lead Performers

Rate the acting of the Supporting Cast

Rate the Director

Rating of the Music Score

Rating of the Title Sequence

Screenplay

Creatively uses the camera to tell the story

Importance in Cinema history

Would you recommend for fans of this genre
Submit Ratings
Cancel
Write a Review
Read Reviews
NO REVIEWS AVAILABLE
The title has not been reviewed. Be the first to write a review by clicking here to start.
Richard Beymer

I've read a number of critiques on Richard Beymer's Tony. And I don't believe anyone could have done this particular part any better. That's considering the entirety of the film and the tone of story. Beymer creates a youthful, realistic, character, imperfect who is in the process of finding a renewal a transformation from a street tough, into a serious adult. Tony is growing up and in this process he finds love, he's open to it and joyous about it. I found Beymer's Tony capable of showing that love in a way that makes the film "glow". He is a much larger part of the success of this film than may be evident after one viewing. He is not as perfect, groomed or fine tuned as Chikiris's Bernardo he is not as musical and choreographed as the jubilant, witty and charismatic Rita Moreno. In Tony the film finds this naive heart that is so open to love, I feel in the context of this film he was just right, I don't believe the casting could have been better. . .

Great To View In A Theater.

Seriously, after seeing this in a movie theater I now know why this film won 10 Oscars and probably could have won others, and became so much of the culture of the early sixties . It is a film that must be seen in a theater. It was absolutely mesmerizing, not a single patron left the theater until the final credits were shown. I honestly can not remember being so overwhelmed by a film, in a theater. There is not one piece of this film that could have been better in my mind. If I had to choose one element of the film that more than others stood out, it would have to be the Leonard Bernstein score. Which combines Jazz, traditional Film music and classical forms. It is so perfect and in a theater the sound is visceral. Awards went to Rita Moreno and George Chakiris but easily could have gone to Natalie Wood and Richard Beymer, as well. Honestly if you ever are able to see this on a large screen, you need to go, it will impact you, totally !

An enjoyable movie

The music and dancing, like no other musical.When I drove a taxi in Manhattan, Rita Moreno was one of my passengers. She was pleasant and sexy.

The Genius of Bernstein and Robbins

West Side Story is all about the genius of Leonard Bernstein and Jerome Robbins. The music, the movement, the energy are electric.

West Side Story--An Oldie-but-Great-ie:

West Side Story is a film that I never, ever get tired of seeing over and over again, either on TV or in a movie theatre (the latter of which I admittedly prefer, due to a clear appreciation to what a work of art the film West Side Story really is.).

One of the best, but...

This is one of the best musical dramas ever, but I would have like to seen "One Hand, One Heart and Somewhere" sung through more than once. I recognize they were trying to keep the length down and it would have been hard to dump some of Jerome Robbins' fine choreography, but these are poignant songs worth hearing over again. If Natalie Wood hadn't been nominated for Splendor in the Grass, she was certainly worthy of an Oscar nomination for this film. Rita Moreno and Richard Beymer are OK, but George Chakiris gives the performance of his career that deservedly garnered him an Oscar.

Real Story

Hauntess A. Clichae

6/23/16

Thanks to this movie's producers, directors, composer, lyricist, choreographer, actors, et al, political correctness & 'thought-stop' are "realities".

West Side Story

Movie musicals of the 40s and the 50s got BIGGER with "West Side Story". We float over Manhattan quietly while viewing the Size of New York City and then descend on a youth gang whose moves dance to the beat of "this is my turf". And then we see a Puerto Rican gang do the same and later we get to know Tony and Maria from the two sides and we know this is "Romeo and Juliet" in modern form. The Jets (Montagues )and Sharks(Capulets) size up each other at a dance as Tony and Maria meet and they want more of each other. Leonard Bernstein's music and the songs ring out a truth of the highs of falling in love and the lows of rumbles. Riff and Bernardo's hatred causes the dead bodies while Tony and Maria's love causes hope for the future between rivals. Ten Academy Awards went to this one.

The Essential Love Story Musical

I don't recall if I saw this magnificent film the same year I became an adult in the summer of '61, but I'm guessing it was with the woman I was engaged to, and would marry one year later in the summer of '62. And I'd have to thank her for recommending that we go see it at a local theater in Chicago or most likely at the "outdoor" back then. I'm not sure how I first reacted to it, but seeing it now and then over the past 50 years or so, West Side Story has become my all-time favorite musical. Behind the camera it's the collaborative creative genius of director Robert Wise, director/choreographer Jerome Robbins, screenwriter Ernest Lehman, composer Leonard Bernstein and lyricist Stephen Sondheim. Add to that the performances of two star-crossed lovers of different ethnic (Puerto Rican and Polish American) backgrounds, played by Natalie Wood and Richard Beymer, and Academy Award-winning supporting roles of Rita Moreno and George Chakiris, it's no wonder this musical masterpiece won 11 Oscars, including Best Picture of 1961. To my granddaughter Julia, this is the fourth of my 12 movies about love I'm recommending that you see. And you should have already received the West Side Story DVD I ordered from the TCM Shop, as part of my year-long 12th birthday present to you. If you've read and were emotionally touched in some way by Shakespeare's Romeo and Juliet, I think you'll love this movie enough to one day submit your own review. Love, Grandpa

West Side Story: Always new and fresh to me:

West Side Story, as I've put it in other reviews here and elsewhere, is a great classic film that, for me, never grows old. It always feels new and fresh to me, like I'm seeing it for the very first time. The MGM quote "Unlike other classics, West Side Story grows younger." rings so, so true!

West Side Story: A Classic that Never Grows Old;

West Side Story is a beautiful movie/musical classic that I never get tired of seeing over and over again. I never fail to notice something that I didn't notice during a previous viewing of this movie, and West Side Story always feels like I'm seeing it for the very first time. A great film!

I love this movie!

West Side Story is a movie that I never, ever get tired of viewing, whether it be on a great big, wide movie theatre screen, with the lights down low, or on TV, with a TCM viewing. It always feels like I'm seeing it for the first time, and I never fail to notice things that I didn't notice in my last viewing of the film West Side Story. I only wish that this great classic would come around more often, especially in the movie theatres!

West Side Story

I grew up with this movie. This love story between different cultured teens in new inviorments trying to learn how to coigsest with one another, along with abusive parents is a true way of struggling Families are still living Today! But the moral of th story is that True love is out there and the only differance today is the same!

Don't we still looooove it?

I love that the theatrical stage "space" was utilized, rather than broadening the locations. The score- still clever and brilliant. What really makes me chuckle is how "faggy" the tough gang members appear by today's standards. Jeeze ditchin' a few classes, some fresh talk and prancing around with pocket knives.... I often update these scenes (in my head) on long road trips to keep myself awake.

questions

wonderful movie. great music by bernstein and green but who wrote the words?

Love it

This is so stagey I love that about it. It is a little raw and not over produced (I hear some of you laughing). Precious Natalie and beautiful Rita were wonderful. What can I say about my crush on George Chakiris and Russ Tamblyn? But, when your a Jet your a Jet all the way . . .

Brilliant score!

"Life is all right in America, if you are white in America!" - and therein George Chakiris, as Bernardo, sums up this film. The racial prejudices of the day and the aftermath of acting on them are brilliantly brought out in the film. There is no other film that has dance sequences as good as this one. Jerome Robbins' Academy Award for the choreography was justifiably awarded. Natalie Wood is achingly beautiful as Maria and she shines here but Rita Moreno is brilliant and received the Academy Award for Supporting Actress for her work in this film. My favorite dance film is "Seven Brides for Seven Brothers" but "West Side Story" has, save for the axe scene in "Seven Brides..." more intricate dance moves. This is a must-see film for the dance sequences alone!

Unforgettable

This film holds a special place in my heart. Whenever the subject comes up, everyone I know, KNOWS I will start my rant, on how this film has the total package and leaves you thoroughly entertained. It leaves a message that everyone of us should heed about violence, prejudice and just mean spiritedness. All of it given to you with the most spectacular musical score, and sensational choreography. This is a must see of the must sees. I saw it in the theater at age 10 and some 50 years later, its like yesterday when I watch it. Ray R

One Thing about West Side Story:

West Side Story, in addition to being my all time favorite movie hands down, is a movie that's so special to me that I cannot or will not settle for seeing it in bits or pieces. To me, the film West Side Story must be seen in its entirety, from the very beginning to the very end, or it feels like a piece is missing, if one gets the drift. Another thing about West Side Story is that it's a very hard film for me to resist; something about this great, golden oldie but keeper of a classic beckons me to see it every time it comes to my area, or within reasonable distance of it, whether it be on TV or on a great big, wide screen, in a real movie theatre, with the lights down low, and a whole slew of other people, whether one knows them or not, to share this special experience with. Sure, one might say that I have a "weakness" for West Side Story, but, by heck, I may as well relax and enjoy it. It's a great film, imho, which earned every one of the Academy Awards that it won at the time of its initial release more than 50 years ago.

West Side Story--How I Came to Love It:

West Side Story is a timeless classic that never grows old. I was first introduced to this great, dynamic musical through the music of the original Broadway stage version of WSS back in the summer of 1962, while attending day camp out in the western part of the United States, prior to entering the sixth grade. A girl in the group that I was with, who'd just received a copy of the LP album of the original Broadway stage production soundtrack of West Side Story as a birthday present, brought it in and played it for the rest of the group. My love for West Side Story and the music took off right then and there. West Side Story-mania was in the air that summer. Kids often roamed the halls in packs, snapping their fingers and singing all the songs of WSS. The songs from West Side Story rang through the bus to and from camp five days a week. It was cool. My parents also had a copy of the LP soundtrack of the Broadway stage version of WSS, which I played every chance I got at home, plus I loved to bang around with some of the songs on the piano, much to the distress of my folks, who wanted me to be more emphatic on classical music.I did not get to see the movie version of West Side Story until several years later, at around Christmastime of 1968, during a national re-release of it, at a now-defunct cinema 45 minutes north of where I lived while growing up. I loved this film the minute I saw it. Four years later, when it went on TV, I watched it with my classmates in an evening jewelry-making class in a local art school nearby, and that summer, on a trip to Europe, someone had brought along a cassette tape of the movie soundtrack to West Side Story, which was played almost every evening during free hours. My love for West Side Story was re-awakened, and, shortly before Thanksgiving, when it aired on TV, I cut my evening class to watch it. West Side Story has been my all time favorite movie since.

I Guess I Disagree With Everyone

I have never liked "West Side Story," despite the fact that I love most "dance" musicals from the 30's, 40's, and 50's ("An American in Paris", " Seven Brides for Seven Brothers", anything Astaire and Rogers,etc). I realize I am in the minority here, but most of this movie actually makes me cringe. The "gangs", especially the bland Jets with their ridiculous pseudo-Broolyn/Bronx accents, just don't do justice to the choreography (although I don't think Jerome Robbins' work here is anywhere near his best). The Sharks are somewhat better, and I can actually watch the women dance with appreciation and enjoyment - and remember who they are, rather than try to forget who they are. I used to think my primary objection to this movie was the miscasting of Natalie Wood and the dubbing of a voice which does not resemble hers, but after seeing the movie again today, I find her performance fairly enjoyable. After all,Tony (Richard Beyman) does his own singing, but I just wish he had been dubbed as well. Even the original review by the New York Times (which raved shamelessly over the "sweep and vitality" of the dancers, the "pulsing persistance of rhythm," etc) ventured timidly to say that Beyman's portrayal was "a little thin and pretty-pretty."I am not (despite what some may be thinking) some cynical curmudgeon. There are so many musicals I adore,even sappy two star movies; I cannot watch most versions of "Romeo and Juliet" (the play, ballets based on the story) because they are just too sad. This movie to me is just terribly overrated. I will say that the opening sequence of the panaramic view of New York City is breathtaking. And, on a positive note, "The Band Wagon" is about to start......

awards

Wow.. 11 academy Awards///what a fantastic achievement...this movie is one of the all time great musicals thatexceeded the broadway production.

West Side Story

This is with out a doubt the best musical ever made. West Side Story is a true classic and will live on for ever. I have loved this movie ever since i first saw it in 1961. and have seen every time it's been on tv or in the movies, I do now enjoy my DVD's of this movie. it is a five star movie in my world.

West Side Story

this movie is a classic the music, dancing, the story line I watch this moving every time it's on TV or when I have time I put in my DVD listen to the music. West Side Story is the best movie be far.

Robert Wise : A Great Movie Musical

Rita Moreno has been quoted as saying she came in touch with genius once and that Man was Jerome Robbins who shares much of the credit for this great UA movie however the quiet subtle touch of a maestro Robert Wise is also evident. Rita Moreno deservedly won the Oscar for Best Supporting Actress for her searing portrayal. George Chakiris is fine and won an Oscar as well. UA needed a bona fide star to carry thie film and they found one in Natalie Wood who is lovely and enchanting but not always believeable as a Hispanic. Richard Beymer was the fair haired Man of the 20th Century Fox lot with a string of hit movies and I liked him in this film. One wished Beymer had ascended to the stardom I feel he deserved. Ironically, while the passion is felt between Natalie Wood on loan from Warner Bros and Beymer in fact the back story is that Natalie Wood refused to even talk to Beymer on the set; Years later it is said Natalie Wood apologized. This film handles inter racial themes brilliantly and daringly so for the early 1960's and much of the credit goes to Messrs. Wise and Robbins and the brave men at United Arists, at the time the place where independent film makers such as Stanely Kreamer, William Wyler, Frank Capra, Billy Wilder found a worthy home.

Good Movie ---But Not for the Faint Hearted

West Side Story has good music, a good cast and a good but sad plot. The ending when Tony gets shot by the rival gang member brings home the problem of gang warfare and why it must be eradicated...even though people being people, it won't happen but we can hope. I would recommend the movie for viewing but like I said in my title it isn't for the faint hearted.

Beautiful Classic movie that never grows old!

West Side Story is precisely that; the classic that never grows old. The MGM quote 'Unlike other classics, West Side Story grows younger" is so true!!

West Side Story-The Classic that Never Grows Old:

West Side Story is such a wonderful film that I enjoy it in the movie theatre, on TV and even on video or DVD and I never get tired of it.It always feels fresh and new to me, like I'm seeing it for the first time, and I never fail to notice things in the movie WSS that I didn't notice in a previous viewing of this great classic film. How I wish there'd be a great big national re-release of the film West Side Story on the great big, wide screen, in real movie theatres, nationwide. Hopefully, that will happen since 2011 will be the 50th anniversary of its release in the movie form. It's hard for me to put a finger on why I love this great film so much, but I do. The story of a guy and a gal from the opposite sides of the tracks meeting and falling in love with each other, amid conflict between two street gangs in 1960's West Side of Manhattan, the cinematography, the costumes, the cast, the great Bernstein musical score, and the beautifully-choreographed dancing by Jerome Robbins, as well as the great direction by the late Robert Wise are what make me love this film so much, in addition to the fact that it's done without excessive graphics, violence, profanity and sexually explicit behaviour on the part of the romancing Tony and Maria, or Anita and Bernardo, or any of the other Jets and Sharks and their girls. I'm no stranger to 'blue language" and profanity, but it would've definitely had no place whatsoever in a great movie such as West Side Story. How I wish this great classic would come back more often. I see it every single time it comes to our area, or even to a neighboring state. The only screening I had to miss was a screening of WSS in our area that directly conflicted with my late dad's memorial almost ten years ago, so I didn't go to that afternoon's screening, but I've more than made up for that one! WSS-my alltime favorite film.

West Side Story

I enjoy West Side Story no matter how many times I see it. I love the songs! But there is more to this musical!! It is a wonderful twist on Romeo and Juliet and every time, I cry at the ending AND still hope for a different end even though I know how it all turns out. In my eyes that means it is a movie that strikes the right chord. This movie uses dance,music and plot to draw you in and it does every single time you watch.

Great Musical!

One of the best musicals of all time! 5 stars! This is one of my favorite movies of all time. The songs are just wonderful. I just love the music of the musical number, "I Feel Pretty"!

AWESOME on so many levels

I just love this movie so much. I have the VHS and DVD and when you watch it again it feels like you are looking at it for the first time. No other movie can compare. I can watch this movie everyday. It moves me emotionally with each showing. A true MASTERPIECE in all of its glory!!!

Pure Art!

West Side Story is pure art! It absolutely reeks of creative genius--from the innovative choreography to the subtle symbolism of the window-turned-into-holy-cross in the mock marriage scene to the "END of road" sign used to signify the movie's end. Like a previous reviewer, I saw this movie when it first came out in 1961, when I was a teenager. I walked out of the theater literally stunned, as if I'd just stepped out of fantasy world--a world where everything ugly is somehow transformed into everything beautiful and magical. To me, no other movie ever made compares to West Side Story, and no movie ever will. Even the location where it was filmed, which is now Lincoln Center, is sacred ground to me--and I'd rather stand on that ground than visit the Louvre.

A Classic American Musical

"West Side Story" to me is one of the top 10 musicals of all time. It's a vibrant modern adaptation of Shakespeare's "Romeo And Juliet", about two star-crossed young lovers who are doomed by their different ethnic backgrounds, and the conflict between two warring street gangs - the American Jets and Puerto Rican Sharks. It has great songs by Leonard Bernstein and Stephen Sondheim, lively dancing choreographed by Jerome Robbins, and brilliant performances. I watch "West Side Story" every time it airs on TCM. A true musical classic.

One thing about West Side Story:

West Side Story, to me, is a movie that has to be watched all the way through, from the very beginning to the very end, with no pauses or anything. That's one of the things that makes West Side Story so special to me.

Shakespeare with Music

This one of those rare times when the film improves on the stage play. Wise and Jerome Robbins restaging of the "America" number was sheer genius. It was Bernstein and Sondheim's masterpiece. From the opening sequence to the ingenius final credits, this film is unique in every way. Winning 10 Academy Awards (which it deserved), it is second only to Ben-Hur and Titanic. There has never been a musical before or since like "West Side Story"; it is truly one-of-a-kind!

WEST SIDE STORY - NO. 1 MUSICAL OF ALL TIME

I fell in love with "WEST SIDE STORY" when it first came out. So far, I have seen it over 60 times. No kidding.Music, dancing, casting -- just the best ever. The movie, after all these years, stll moves me, like no other, especially the end.

Amazing!

I saw west side story three years ago for the first time and have been in love with it ever since. The dancing is awesome(exspecialy in "Cool"), the score is beautiful("I Feel Pretty", "Tonight" and "Somewhere" are my top three favs) and having Natalie Wood as Maria is an added bonus. Bfore this turns into a novel, I just want to say, I LOVE THIS MOVIE! and recomend it to anyone

Wonderful Classic

The classic story of romeo and juliet was portrayed amazingly. It is a must see for anyone. My marching band I used to be in did a West Side Story show, and it was a great musical show!

This A Review of my FAVORITE Movie

This movie is really awesome and I love it and I will make a part 2 and it will different that it will be continued from the first. And Natalie Wood and Richard Beymer they was excellent in the flim but I still wish they didn't lip sych in the movie and it would be great. But I loved Natalie's singing voice in it. But I watched it 39 times and I'll never stop watching it until I get to 100 times to the limit of great times I watched but my mom loved it too because she was born in 1961 and she felt the same way I felt on the finale but everyone did and I always get a little tears when that tradgey scene came but the first time I watched it with my mom and I LOVE it now.

West Side Story: A golden oldie-but-goody:

Loosely based on the renowned Shakespeare play, "Romeo & Juliet", West Side Story is a beautiful movie-musical classic that, although fiction, is closer to reality in depicting urban gang warfare, racial/ethnic tensions, juvenile delinquency, drug & alcohol abuse, conflict with the law, and love and romance that develops amid conflict between two New York City street gangs on NYC's West Side. These are all things that regularly occur in real life, even today, making West Side Story as relevant as ever, even today. This great classic combines a wonderful story, a fabulous Leonard Bernstein musical score, great dancing, richly-colored costumes and photography by Daniel Fapp, and fabulous directing/choreography by Robert Wise and Jerome Robbins. Yes.... West Side Story is a golden oldie-but-goody.

West Side Story

I absolutely love this movie, and I constantly look for TCM to broadcast.Can you tell me if it will be broadcast soon and when. I was surprised that it was not part of the 31 days of Oscar, as it won many Oscar awards in 1961.

Opening credits

I have seen this movie a dozen times, and still find it lovely and entertaining. But even if I cannot see the whole movie the opening sequence panning NYC from overhead and the overture are worth 10 minutes of my time any day.
*We protect your personal infortmation and will not provide it to anyone without your consent. For a complete explanation, please refer to TCM's Privacy Policy. By submitting your contribution, you agree to TCM's Terms of Use.