DVDs from TCM Shop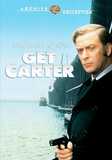 Get Carter A small-time gangster searches... MORE&nbsp> $14.95 Regularly $17.99 Buy Now blu-ray
NOTES
The working titles of this film were Bent and Carter. A modern source lists Carter's the Name as another working title. Some contemporary sources, such as the SAB, refer to the picture as Get Carter! The film's opening credits do not begin until "Jack Carter" is on the train for Newcastle, after the initial sequence with him in London. The opening and ending cast credits vary in order.
The film is mostly faithful to Ted Lewis' novel, with some exceptions, such as the fact that in the book, Carter does not kill "Cliff Brumby" and mails the pornographic film featuring "Doreen Carter" to a journalist, rather than to Scotland Yard. At the end of the book, Carter is wounded, presumably mortally, by a knife thrust from "Eric Paice," rather than being shot by an assassin hired by "Cyril Kinnear." Also, Eric is killed when he attempts to shoot Carter with Carter's own rifle, but the old weapon backfires and explodes. The book also contains numerous flashbacks detailing Carter's relationship with his brother "Frank," including an encounter in which Frank tells Carter that he no longer wishes to see him after learning from his ex-wife that Carter May be Doreen's father. Following the success of Jack's Return Home, the novel on which Get Carter is based, Lewis wrote other novels featuring Carter, including Jack Carter's Law and Jack Carter and the Mafia Pigeon.
According to modern sources, when director-writer Mike Hodges wrote the screenplay, he had Ian Hendry in mind for Carter, although in the finished film, Hendry plays Eric. Also, M-G-M initially wanted to cast Telly Savalas as "Cliff Brumby," but the filmmakers believed that the cast should have as many British actors as possible. As reported by contemporary sources, the picture was filmed almost entirely in Newcastle, England and surrounding areas. Many of the extras appearing in the public scenes were Newcastle locals, according to modern sources, which also note that a few scenes-those involving "Sid, Gerald and Anna Fletcher"-were shot in London and that the final beach scenes were filmed at Blackhall Rocks on the Durham coast, close to Newcastle.
Modern sources report that M-G-M executives protested Hodges' decision to kill Carter at the end, as they were hoping to make a sequel to the film, but Hodges insisted that Carter should pay for his crimes. Modern sources note that Caine served as the film's co-producer and add the following crew members: Michael Caine's stand-in Jack Carter; Cam grip Bill Geddes; Asst film ed Bryan Oates; 2d asst cam David Budd; Electrial Doug Byers; Musician Brian Daly and Judd Proctor; and Grip John MacAvoy. Modern sources also note that bassist Jeff Clyne and drummer Chris Karan, who performed the film's score along with composer-keyboardist Roy Budd, were former members of Budd's jazz trio.
Modern sources also add the following cast members: John Cavanagh, a real-life barman, calls Carter to the phone in the first pub scene; Reg Niven, producer Michael Klinger's real-life chauffeur, plays "Frank Carter," who appears in the film only as a corpse; Newcastle local Tracey Star portrays the woman who fights with the pub singer; and Tommy Early is the blind man placing a bet.
Get Carter marked the feature film debut of character actor Alun Armstrong and the motion picture directorial debut of Hodges, who previously had worked in television. Hodges and Caine reteamed for the 1972 picture Pulp. Ian Hendry received a BAFTA nomination for Best Supporting Actor for his work in Get Carter. Although the picture received mixed reviews upon its initial release, with some critics condemning its violence and misogyny, it has since become a cult classic and is regarded by film historians as one of the highlights of 1970s British cinema. Social historians also have praised the film's depiction of early 1970s class structure and life in the Northeast of Britain, and Budd's minimalist, jazz-oriented score is highly regarded by music lovers. The picture had a limited theatrical re-release in 1999, and tours of the location sites are conducted regularly.
Lewis' novel was used as the basis for two other films. The first, Hit Man, was released in 1972 by M-G-M and featured mostly African-American actors. Set in Watts, the picture was directed by George Armitage and starred Bernie Casey. Hit Man was based more on Get Carter than on Lewis' novel, and was produced by M-G-M specifically for the "black market," according to a December 1972 Daily Variety article, after Get Carter performed well financially in foreign markets. In 2000, Warner Bros. released Get Carter, which was directed by Stephen Kay and starred Sylvester Stallone as Carter, who returns to his hometown of Seattle. Caine appeared in that film as Brumby. Director Steven Soderbergh has stated that the original Get Carter also influenced his 1999 film The Limey, in which a London gangster (Terence Stamp) travels to Los Angeles to avenge his daughter's murder.