DVDs from TCM Shop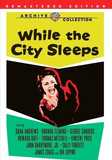 While the City Sleeps Reporters compete to catch a... MORE&nbsp> $15.96 Regularly $19.99 Buy Now
NOTES
The working title of this film was News Is Made at Night. On May 19, 1954, Hollywood Reporter reported that producer Bert Friedlob and writer Casey Robinson's "new firm" had purchased the rights to Charles Einstein's novel. According to a November 3, 1955 Hollywood Reporter news item, United Artists was set to distribute the film, but Friedlob and fellow producer Eliot Hyman had sold the finished picture to RKO, thus "affording an immediate release for the film."
As noted in a June 9, 1955 Variety article, Friedlob announced that the film would address one of the concerns currently publicized by Senator Estes Kefauver, that of the effect of comic books on "juvenile delinquency." Daily Variety reported on June 13, 1955 that Friedlob had invited Kefauver to view the film, suggest dialogue changes and use the production as a "weapon in the growing battle against the corrupting force of comic books on young minds." The publicity sparked a rebuttal from film producer and comic book publisher Tony London, who, in a June 13, 1955 Daily Variety article, censured Freidlob for "picking on an entire industry just because there are a few bad books." Just before the film's release, Dell Pocket Books published a paperback edition of Einstein's novel, changing the title from The Bloody Spur to While the City Sleeps. That edition, as noted in a April 3, 1956 Hollywood Reporter news item, included RKO credit information on the cover.
A April 12, 1956 Hollywood Reporter article states that Joseph and Irving Tushinsky made a deal with RKO to convert the film to SuperScope for foreign distribution. Although Hollywood Reporter announced in June 1999 that producer Michael Steinberg had signed with RKO subsidiary Radio Pictures to produce and direct a remake of While the City Sleeps, that film was not made. Modern sources add Andrew Lupino to the cast.