DVDs from TCM Shop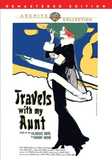 Travels with My Aunt A stodgy young man gets caught... MORE&nbsp> $16.95 Regularly $19.99 Buy Now
NOTES
DVDs from TCM Shop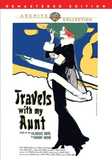 Travels with My Aunt A stodgy young man gets caught... MORE&nbsp> $16.95
Regularly $19.99 buy now
John Box's onscreen credit reads: "Production design and second unit direction." The Hollywood Reporter review erroneously lists a running time of 154 minutes. According to a July 1972 Los Angeles Times feature article, producer Robert Fryer, who headed a production company with Maggie Smith and her then-husband, Robert Stephens, bought the rights to Graham Greene's novel Travels with My Aunt two years before the production. In May 1970, Variety announced that George Cukor would direct the film for Metro-Goldwyn-Mayer, for whom the director had worked over twenty times, beginning in the early 1930s. At that point, Katharine Hepburn and Angela Lansbury were being considered to play "Augusta Bertram." Hepburn was officially announced as the star in July 1971, when Hollywood Reporter noted that the film would roll on 1 Oct.
Cukor had directed Hepburn in her feature film debut, 1932's A Bill of Divorcement, and they subsequently worked together nine more times. By March 1972, however, Variety reported that the film had just begun shooting with Maggie Smith in the lead role. Variety stated on March 23, 1972 that Hepburn had been frustrated by budget cuts and demanded several script alterations, but after the studio refused to make any more changes or to cast Joy Bang at Hepburn's request, she quit the production. As noted by Filmfacts, Cukor confirmed in New York Daily News that Hepburn demanded too many changes and finally agreed to withdraw from the film. Although some modern sources list Hepburn as a contributor to the script, this is probably based only on the changes she requested, some of which were granted by Cukor.
As noted in the onscreen credits, the film was shot on location in England, France, Italy, Morocco, Spain, Turkey and Yugoslavia. The Los Angeles Times article, however, reported that "90% of the shooting" took place in Spain, with the railway station of Delicias standing in for the stations of Paris, Milan and Istanbul. The film's budget was reported as $3.2 million in a July 1972 Daily Variety news item.
Although Filmfacts stated that the film ends with "Henry Pulling"and Augusta searching for "Tooley" in Nepal, and the Los Angeles Times article described the film's "last scene" as a "deity dance with 'Nepalese' tribesmen and foreign hippies," the viewed print did not include a Nepal sequence. Modern sources state that Cybill Shepherd was considered for the role of Tooley.
While Cukor was universally lauded for his direction, Maggie Smith's flamboyant performance and old-age makeup received mixed reviews. Anthony Powell won the Academy Award for Best Costume Design, and the film received the following Oscar nominations: Best Actress (Smith), Best Art Direction (John Box, Gil Parrondo and Robert W. Laing) and Best Cinematography (Douglas Slocombe).