DVDs from TCM Shop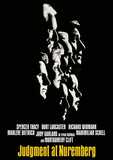 Judgment at Nuremberg An aging American judge... MORE&nbsp> $18.71 Regularly $24.95 Buy Now
USER REVIEWS
See Detailed Ratings
Acting of Lead Performers

Acting of Supporting Cast

Director

Music Score

Title Sequence

Screenplay

Cinematography

Historical Importance

Would You Recommend?

0 Member Ratings
Rate the acting of the Lead Performers

Rate the acting of the Supporting Cast

Rate the Director

Rating of the Music Score

Rating of the Title Sequence

Screenplay

Creatively uses the camera to tell the story

Importance in Cinema history

Would you recommend for fans of this genre
Submit Ratings
Cancel
Write a Review
Read Reviews
NO REVIEWS AVAILABLE
The title has not been reviewed. Be the first to write a review by clicking here to start.
judgment on clichae

As someone whom TCM has censored for employing modest profanity let me join with Oliver Hart and OH below in urging you guys to censor the bigger obscenity of Clichae's Holocaust denial poison in the guise of a "review," (even though I realize such odiously moronic opinions are becoming more mainstream, thanks to the last election.)

One of the greats

No space people, no roaring car around chases, but a totally solid movie concerning justice in the face of evil. Was there collective Guilt? This is an outstanding film with pitch perfect acting. The importance of the message is up there with "Citizen Kane."

Clichae,H.A. 's comment on this movie

Please remove it. It is not a comment on the movie at all, and will be offensive to many people. The Germans may have suffered during and after the war but to compare their suffering to the actual holocaust is outrageous.

Responding to Clichae,H.A.

The comment by H.A. Chichae is a non-review, and it should be taken down (as should mine since it is also a non-review). The Germans may have suffered during and after the war but to compare their suffering to the actual holocaust is abominable.

Judgement At Potsdam

It's too bad that the ever unbiased & historical experts of Hollywood failed to make a sequel to this sorry saga with tha same star studded pageantry enacting the hellstorm unleashed indiscriminately onto the German nation during & especially after the war by the U.S., U.K, & most notably the U.S.S.R. which included (but not limited to) incendiery carpet bombing melting 100's of thousands of German noncombatants (a holocaust ignored) ,the gang raping of German women from ages 9 through 80 & the corralled Grrman POW's with no shelter & insrfficient food & water in direct violation of the Geneva Convention!

astounding

This film is a must see. There are some incredible performances including Spencer Tracy (always outstanding), Montgomery Clift (demonstrating his very best talents), Judy Garland (in what may be her best role), Maximillian Schell (whose intensity is incredible) and Marlene Dietrich (who plays the widow of a Nazi murderer--the very people she opposed during the years of the Third Reich) are all at their best. This film captures the terror so many Germans felt in the years prior to 1945 and the guilt they when the truth came out in the years since. This film is remarkably passionate in its efforts to remind the audience of the brutality of the Nazi regime

judgement at nuremberg

An amazing film, never was a Judy Garland fan, at least not on film, Greatest female singer of the twentieth century, Yes. In this one she shines. Her nervous natural energy is perfect for this part. A human train wreck on the stand with a great inner strength. Perfect casting. Montgomery Clift again perfect casting. I think this was his greatest role. As with all of the cast. Burt Lancaster subdued Maximum Schell ranting and the great Spencer Tracy looking world weary in an out of control nightmare world. Stalin would have had all of these Nazi human monsters destroyed. After reading the Results of the Nuremberg trials, I cant help thinking, maybe he was right.

Still Reeling!

I sent a review and it wasn't posted. Would you be good enough to tell me why. Thanks

Still Reeling!

WOW! So worth watching - on every level - acting - drama - history - suspense - judgment - direction - productionverisimilitude - psychology - sociology - and all the details in between which I left out.One that I want to highlight is how there are 3 main parallels, Ernst J's choice during the Nazi era; the moral choices and dilemmas of Richard Widmark, and Judy Garland - and the pen-ultimate one of of Spenser Tracy - all of which are tested and which heighten the suspense of this powerhouse of a film. And finally the moral choices that each of us faces every day in one way or another.

Many outstanding performances

Max Schell, Burt Lancaster, Montegomery Clift, and Judy Garland give really outstanding performances. Some not so much, but a movie that gives you an understanding of post war and during the war Germany. Helps us understand things that seemed not understandable before.

As Gripping Today as in 1961

I first saw this movie as an adolescent and hadn't seen it since before I caught it part of the way through this evening. I came in just in time for Richard Widmark, as the prosecuting attorney, to comment on the film of liberating the concentration camps. Parts of that actual footage of World War II genocide in Europe reminded me why I have never doubted there was a Holocaust. But it's more than that film within the film which impressed me with the grave reality that such horrors occurred. The courtroom trial in JUDGMENT AT NUREMBERG is about the Holocaust and who was responsible for it. It's an intense drama--I couldn't stop watching it. And the question of whether the German judges on trial should be held responsible isn't easily answered, because the defense attorney played by Maximilian Schell points out how far the guilt spread during Hitler's rule--beyond Germany to the Vatican, England, and the United States. This is the most thought-provoking of Stanley Kramer's movies I've ever seen. Spencer Tracy eventually speaks for the majority opinion of the tribunal, and the passion tempered by moral conviction in his speech is riveting. But the question remains, even today, how far the responsibility for persecution goes.

Excellent move on several fronts.

This movie is an excellent look at the many aspects of life in post-war Germany. This picture shows the many emotions, ethical sublties, moral questions, and general psychological impact of the Nuremberg trials. Used in a history classroom, this provides several class periods of intense discussion and stretching of higher level thinking skills.

Need this film on DVD

This film is a valuable tool for teachers. As a High School Social Studies teacher I find this film presents the historical question of doing things in the name of the state. Moral issues are present through out the film. The issue of "I was only following orders" is the center piece of the film.Spencer Tracey, Burt Lancaster, Richard Widmark simply never made bad films this is one of my favorites.

Spencer Tracy

When Max Schell won the Oscar for his great performance in this great film, Schell thanked "that great old man of film Spencer Tracy". Tracy was also nominated and to me should have won the Oscar for his legendary peformance. Likely the Academy voters had become accustomed to perfection from Tracy and voted for the newer candidate Max Schell who is superb. Stanley Kramer assembled a great cast of Spencer Tracy, Burt Lancaster,Richard Widmark, Judy Garland, Montgomery Clift and two stars of German heritage Marlene Dietrich and Max Schelll who dsplayed great bavery in performing their roles.Tracy's great long detailed impassioned speech at the end of the movie is one of the great acting performances in cinema history and per legend was done in one take and to resounding bravo's by the cast and crew alike.

When They Show Film From Dachau Liberation

Great to see WERNER KLEMPERER and Howard Hoch from Hogan's Heroes in such a serious movie,since both had families affected by Hitler and his gang,Klemperer's family making it out of Germany before the thugs in the night,and Maj Hochstedder's (Howard's) family perishing in the camps.Burt outstanding as a true man owning up to his actions while others tried to justify themselves as bullies always will.Judy unbelievably effective,as was Marlene.Must watch next time it's on in entirety.Not just Tracy's pic

Powerful indictment!

This is one film I watch each time it is aired. It serves to remind me how very precious our freedom is and how well it must be guarded and defended. IMO, this is Spencer Tracy's finest performance. The final speech he gives in this film is so powerful that it is online at a site called AmericanRhetoric.com. It is worth reading! I am particularly struck with one phrase: "...the value of a single human being." In esse, this is what this entire film is about and what the Nuremberg trials were about. The German judges on trial forgot about this value of one life and left their spines at the doors of their courtrooms. Burt Lancaster is particularly inspiring through his performance in this film. While he has never been one of my favorite actors, he is immensely strong here. This is a very compelling film and well worth your time. I never find it "overly long," as some reviewers do, because it fills every moment with relevant background to the story. If you do not wish to see the film, please do read the speech I referenced earlier and take it to heart for today!

I suggest you watch it, but do so in the afternoon

The prosecutor (Widmark) and defense attorney rant and rave repeatedly, as if to liven up this important but overall dull film. Widmark's spittling during his opening statement (much more like a closing argument) was a good way to show what the world wanted to do with Nazis after WW2 - chew them out (millions wanted to chew them up), and in so doing spit in their faces. It was good of TCM to restore the infamous Holmes scene in "Judgment at Nuremberg," a necessary film for all of humanity that actually helped Germans restore some of what they lost in the eyes of the earth's inhabitants after such an infamous 12-year span (33-45) they have yet to outlive for mankind (and especially Hollywood) will not allow it to die (like it has with Japanese atrocities committed over the same time period).

Judgment at Nuremberg

Like his previous "Inherit the Wind," Kramer returns to real-life trials for this mighty film. Powerful performances from ensemble, Schell sole actor to win, beating fellow nominee Tracy; Clift & Garland have brief & memorable performances. Mann won for adapting the TV play, the film is overlong but always engaging. A great film to watch from one of Kramer's "Message" films. I give it a 4.5/5.

Monty and Judy

I have seen this movie many times. Always interesting and thought provoking. One of the few pictures by Stanley Krammer that works extremely well as entertainment and philosophical discussion. Some of his films try too hard to be "message" pictures. I could go on about the excellent performances. Tracy and Marlena Dietrich are both good. Even William Shatner turns up as a young officer and he is good too. But the work of Judy Garland and Monty Clift deserve special notice. Both were emotional wrecks at this time and they really used that pain in their performances. Too bad neither won the Oscar that year. I know Monty really wanted one. It is a shame the Academy never chose to award him an Oscar. Judy shows as she did in A Child is Waiting and the much earlier The Clock that she was a fine (not great) but fine actress.A good and sturdy film, somewhat long, and one might quibble with a few lines of dialogue here and there. But well worth viewing.

Judgment at Nuremberg deleted scene

This is just a wonderful dramatic movie with excellent performances by many great actors. I would like to know why TMC deleted the scene after Montgomery Cliff testifies as the "slow minded" laborer when the German Defender (Maximillian Schell) reads a quote pertaining to the protection of the state by Oliver Wendell Homes that basically says that three generations of "idiots" is enough and the state, in order to protect itself, should sterilize them so that no more are produced. Justice Holmes was a respected jurist and that scene was so dramtic and pivotal as it shed some doubt to the Americans that what was done was wrong. Why was this scene deleted? We stayed up late to see this scene and it was gone. Is it not PC? I would like to hear the reasoning behind the deletion of this scene. TMC? You listening? http://en.wikipedia.org/wiki /Judgment_at_Nuremberg includes this quote in the second paragraph stating "The film examines the questions of individual complicity in crimes committed by the state. For example, defense attorney Hans Rolfe (Maximilian Schell) raises such issues as the support of U.S. Supreme Court justice Oliver Wendell Holmes Jr. for eugenics practices, ". If it was important enough to get in the synopsis, it should have been in the movie.

Judgement At Nuremberg Rocks!!!

Awesome Movie! Awesome Actresses! Very Cool Actors!Spencer Tracy plays the Judge; very, very awesome like!

Always at the top of the list

I was 11 years old when this movie came out. My Dad loved it and I looked at it through his eyes first. He was in the war and closely followed the Nuremburg trials. I have watched this movie several times. There are nothing but great performances in it. from the character actors playing the german "servants" to the staffs of each character- to the very strong performances of the first and second tirer stars. Of course Tracy and Lancaster are at their very best. If I were to compare this to a more modern movie- the Kin's speech comes to mind. Both film's know when "enough" is right. When I first saw this movie, I was largely ignorant of the Holocaust. I only wish I had known more at the time. This movie was first class all the way.

Great message

The best part of this movie is the way it presents the outcome of moral cowardice. All of the Nazi judges were moral cowards. The worst is the senior judge played by Lancaster. He lied to himself, believing he could make a deal with the devil, so to speak, by working with the Nazis. In the end, his self delusion is shattered by Tracey who reminds him that the Nazi judge was guilty of his crimes the first time he sentenced an innocent man to death. In short, moral courage is rare and hard to achieve when the stakes are high. The end never justifies the means. Great movie.

Impeccable Tracy heads gifted star cast

Two years in a row, Tracy is just superb and mind bendingly greatin two of the all time best performances in the history of movies!Inherit the wind (1960) and this film, Judgment (1961) featurethe wonderful Spencer Tracy at his zenith. His performance,always effortless and understated, is so excellent, it is just astonishing. This Court room drama of the trials for war crimes of the Judges in wartime Nazi Germany features an awesome cast which includes Burt Lancaster, Marlene Dietrich, Judy Garland, Montgomery Clift, Max Schell in an oscar winning role as the German defense counsel, and always reliable Richard Widmark in his second movie opposite Tracy. The performances of the stars are uniformly excellent, especially Clift and Garland. It is the best picture that Widmark has ever appeared in and is gratifying that he was cast as the Prosecutor among these screen legends and he more than holds his own.This feature is not to be missed.

The Best Courtroom Drama Ever

"Judgement At Nuremberg" (1961), director/producer Stanley Kramer's powerful account of the 1948 war crimes trials is to me the greatest courtroom drama ever made, including Billy Wilder's "Witness For The Prosecution" (1957), Otto Preminger's "Anatomy Of A Murder" (1959) and Kramer's own "Inherit The Wind" (1960). The film focuses on the trial of 4 German judges who served during the Third Reich, and were accused of sentencing innocent people to concentration camps and ultimately to their deaths. At the beginning of the film Spencer Tracy as the head judge on the American tribunal comments that some people think the German judges' role in the atrocities was questionable and that they shouldn't be tried at all, since all of the major Nazi war criminals like Hitler, Goebbels and Goering are dead, but then says the trials should go on. Great performances from an all-star cast that includes Tracy, Burt Lancaster, Judy Garland, Montgomery Clift, Marlene Dietrich and in his Oscar-winning performance as the German defense counsel Herr Rolfe, Maximillian Schell. The casting of Schell, Dietrich and Werner Klemperer (in a chilling role as evil Emil Hahne) adds authenticity to the film, since they are themselves German, and since the film also deals with the issue of whether or not ordinary Germans really knew about the death camps and the atrocities being committed. My father served in the U.S. Army in Europe during WW2. He was in Germany right after the was was over, and while he wasn't involved in the liberation of the camps, he brought back horrifying photos of concentration camp victims. I saw them and wondered how a civilized country could ever do such things. Re: Paul Maher's review - at the end an epilogue says the criminals sentenced by the American tribunal were free by the film's release in 1961, so in a way maybe they did get away with their crimes.

A Gripping, Historic Courtroom Drama.

Spencer Tracy leads an all-star cast including Burt Lancaster, Marlene Dietrich, Richard Widmark, Judy Garland, Montgomery Clift and Maximilian Schell in an Oscar-winning performance in Stanley Kramer's superior film adaptation of Abby Mann's (who wrote the adapted screenplay) original 1959 TV play surrounding one of history's greatest war crimes trials. Tracy plays a U.S. Supreme Court Justice, who travels to war-scarred Nuremberg to preside over the trial of four Nazi judges. A tense emotional post war melodrama, moody in it's appearance. One of the greatrest films of the 20th century. Also starring William Shatner, Virginia Christine, Werner Klemperer, Alan Baxter, Olga Fabian, Karl Swenson, Howard Caine, Edward Binns, Jana Taylor, Bernard Kates, Kenneth MacKenna, Sheila Bromley, Ben Wright, Torben Meyer, Joseph Bernard, Ray Teal, Otto Waldis & Martin Brandt.

make your teens and kids watch this movie

this movie shows that no one is above the law and the consequences of it, this movie should be shown in civic classes. after the last president we had i thought bush and cheney should be tried as war criminals as they have done what hitler did, overtaking poland like they did with iraq, so if this movie hits home start calling your congressman and tell them to prosecute our war criminals

Judgement at Nuremberg is like Great Literature

I never miss watching this film. The content of the subject matter is as important today as it was 50 years ago. The acting is outstanding. Some say Burt Lancaster gave a less than great performance in his roll. I disagree. It is rare to have a movie with such a cast of outstanding performances. Movies like this are what make TCM such a valuable asset to the arts.

Kramer's Best

Stanley Kramer made a lasting impression on the history/herstory of film, although he was not in the pantheon of great directors, because the content of his films, although charged w/ an activist disposition, were often clumsy & pandering. Still, he got it right w/ JUDGMENT AT NUREMBERG, aided by an effective screenplay by Abby Mann & a deluxe cast of actors. I loved Max Schell's work, but his Oscar ought to have been in the supporting actor category, while Spencer Tracy, who was really the heart of the film, was that year's Best Actor, or Paul Newman in THE HUSTLER.

Great Movie and a must see for everyone

What a powerful film and I agree with all of the user reviews except I must take issue with m reichard's 04/10/2010 post. To say that Obama is taking us in the direction of National Socialism is simply wrong. In postWorld War I Weimar Germany, the Nazis were among a few right-wing political parties defining their ideology as National Socialism. In 1920, the Nazi Party published their 25-point National Socialist Program, the key tenets being: racism, anti-Semitism, social Darwinism, eugenics, totalitarianism, and opposition to economic and political liberalism. Obama is doing nothing of the sort. It was the Bush administration that, for the first time in U.S. history preemptively invaded another country not unlike Hitler invaded Poland. It is like people such as Rush 'Obama, the Magic Negro' Limbaugh and the Glenn 'Obama has a deep-seated hatred for white people' Becks of the world continuously spewing racist rhetoric and outright lies that has gotten a lot of Americans scared.

JUDGEMENT AT NUREMBERG

Remarkable, outstanding, historical film; marvellous, emotional.thought-provoking clips; Class A cast. All should watch, particularly considering America's political climate, and the current administration--which frightens many of us.Thank you for showing.

Excellent Choice!

So excited to see this will be shown. Dynamic, thought provoking, superb acting....can't wait!

Wonderful film! Inaccurate synopsis.

One of my all time favorites, since I was a child. The writing and acting is incredible, as are the film clips of post-war Germany and the films of the liberated concentration camps. The post-script at the end of the film is crucial, I think to framing the movie and the historical time period. I've used clips from this in the Western Humanities class I have taught. Truly a wonderful film. But, who writes the synopses for TCM? Not once in the whole movie did Maximillian Schell, who played Hans Rolfe, *sneer*.

Gripping epilogue with fabulous acting

Would be a great show for Veterans Day. The truths shown in this movie are why our soldiers serve.

show judgement at nuremburg

in these times of a white house like we just got out of, the bush group, we should show this movie to show that no one is above the law

best of the courtroom dramas

blilliance,from beginning to end,superb cast,lancaster was never better.

Powerful!

This is an outstanding film in so many ways. Not only does it haunt you with the images of the actual victims in some of the scenes of the liberation of the concentration camps, it grabs you with the intensity of the acting. Montgomery Clift is a wonder as a victim of sterilization. And, Judy Garland, making a comeback to films after a severe health crisis of her own, devastates you with the sincerity of her performance as a German housewife retelling the horrors of the persecution/death of a family friend who was falsely accused of being intimate with her and thus "poluting the Aryan race". Both were Oscar worthy performances, yet both were denied this prize - yet, their performances still light up this film. It should be mandatory viewing for all High School students as part of their studies of world history to better understand the Nazi party and it's mission to get rid of the Jews.

Everyone's Dilemma

Probably my favorite movie, one that should be mandatory viewing for all law schools in my opinion. The movie presents the moral dilemma that we all face in our lives, do what is expedient or follow our conscience. In the case of Judgment at Nuremberg it was a whole country that was put on trial as represented by the German court system and it's judges. For me, the movie is all about Hans Rolfe, the role played by Maximilian Schell. As the German defender he asked questions that reach to the heart of the matter and forces us all to search within ourselves. The role is played artfully by Mr Schell as he smirks his way through the trial making everyone uneasy by his persuasive logic and enthusiastic zealousness. The issue as defender Rolfe knows so well is not whether atrocities were perpetrated by the Nazi regime but whether we can blame the judges of Nazi Germany for such acts.

Emphasis on Judgment

A movie that makes you think, not only about how a monster like Adolf Hitler could have come to hold such sway as he held, but also about how you judge men who held the law in their hands, and about whether you uphold principles of justice when expediency weighs heavily against it. As compelling as is Spencer Tracy as the judge, or Maximilian Schell as the defense counsel who nastily re-prosecutes victims of Nazism as though the Nazi laws were just, or Burt Lancaster as a Nazi defendant who can't stomach his own defense any longer, my vote for the best performance goes to Richard Widmark as the prosecutor who refused to relent in his prosecution even when generals told him that he risked losing Germany to the Russians if he persisted.

Watch this just for Montgomery Clift!

Powerful movie filled with fine performances, but even though Schell won an Oscar, the truly memorable performance from this movie is Monty Clift's.Though onscree less than ten minutes, Clift is haunting as a castrated mental defective. It's almost sad to see this once impossibly handsome man appearing as he does in this film less than ten years after A Place in the Sun. The two men hardly seem the same.Clift turns in what might be the most powerful scene in his amazing career as he speaks in a believable German accent, filled with the nuance of a man judged to be retarded, but unwilling to accept that judgment. He is heartbreaking and it is a testament to his talent that the rest of the movie becomes a blur as he stays imprinted in our minds.This was the last chance for the Academy to honor one of the most criminally overlooked actors in history. He so obviously deserved Best Supporting Actor that in retrospect it seems he must have won it. He didn't.
*We protect your personal infortmation and will not provide it to anyone without your consent. For a complete explanation, please refer to TCM's Privacy Policy. By submitting your contribution, you agree to TCM's Terms of Use.