DVDs from TCM Shop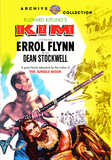 Kim Rudyard Kipling''... MORE&nbsp> $14.96 Regularly $19.99 Buy Now
Home Video Reviews
By the end of the 1940s swashbuckling action hero Errol Flynn had grown very tired of those types of roles and longed to prove himself as a "serious" actor. Years of hard living and heavy drinking had also taken its toll, and with his older, somewhat puffier and dissipated look, he wasn't quite as convincing as a dashing, sword-fighting figure. But he could still be counted on to add a certain amount of flamboyant gusto to a period adventure, so MGM cast him as the roguish horse trader Mahbub Ali in
Kim
(1950), an adaptation of Rudyard Kipling's classic novel (which is now on DVD from Warner Video). And it was up to makeup artist William Tuttle to make Flynn "look" believable in his role.
However, the real star of
Kim
is child actor Dean Stockwell, later known for his adult roles in David Lynch's
Blue Velvet
(1986) and the television series
Quantum Leap
(1989 -1993). Stockwell plays the title role, a rebellious British orphan in 1880 India who disguises himself as a native and wanders through the marketplace seeking adventure. He is befriended by a holy lama on a spiritual quest and by a horse trader who is also a secret agent for the British. The three become involved in espionage, foreign intrigue, and an explosive political situation involving the encroachment of Czarist Russian troops into the Khyber Pass.
Stockwell adored Flynn, seeing the older actor as "the ultimate father figure for me." About 12 or 13 years old at the time of filming, the child star also looked up to Flynn as "a truly profound, non-superficial sex symbol," he later said. So notorious for his romantic escapades he gave birth to the popular expression "in like Flynn," the actor lived up to that image by asking the boy on their first meeting if he had had his first sexual encounter yet (in somewhat more graphic language) - in front of Stockwell's mother and on-set teacher. Soon after, he presented the boy with one of his trademark wing pins: three interlocking F's (for "Flynn's Flying F*ckers") that attached to lapels with a device shaped like male genitalia. An infamous practical joker, Flynn also bet the crew he could make the remarkably disciplined Stockwell laugh in the middle of a take. In the scene where Mahbub Ali is supposed to hand Kim a bowl of food for the dying lama, Flynn passed the boy a bowl of camel dung still steaming. Stockwell delivered his line - "Is this okay for the lama to eat?" - with a perfectly straight face, and Flynn lost $500. "I had a hell of a good time shooting that picture," Stockwell admitted.
Stockwell said Flynn was likely to show up on the set "a little blurry-eyed," but the after-effects of the actor's nighttime activities weren't the only challenge for make-up artist William Tuttle. Most of his magic went into convincingly transforming Flynn, Lucas, and Stockwell into, respectively, an Afghani, an Indian holy man, and a British child disguised as a local. Considerable magic also went into matching on-location shots of India with the bulk of the film's exteriors, shot in Lone Pine, California. The studio had attempted to adapt the story to the screen twice before, once with Freddie Bartholomew and Robert Taylor in 1938 and several years later with Mickey Rooney, Conrad Veidt, and Basil Rathbone, but World War II and the Indian struggle for independence from Great Britain repeatedly forced postponement. With liberation finally achieved in 1948, India gave full cooperation to the production. But although Flynn and Lukas both traveled there for location work, the child actor playing
Kim
never set foot on Indian soil.
The Warner DVD of
Kim
looks smashing; the brilliant Technicolor hues are a reminder of just how visually stunning this process could be when applied to a period adventure. Obviously the best available elements were used from the TEC library for mastering this DVD and it's a keeper for any Errol Flynn fan. There's not much in the way of extras, though, except for two Fitzpatrick Traveltalk featurettes -
Ancient India
and
Land of the Taj Mahal
- plus the theatrical trailer and an essay on Rudyard Kipling (Does anybody really bother reading these things on their TV screen?).
For more information about
Kim
, visit
Warner Video
. To order
Kim
, go to
TCM Shopping
.
by Rob Nixon