DVDs from TCM Shop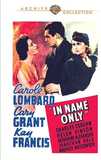 In Name Only A wealthy man falls for a... MORE&nbsp> $15.96 Regularly $19.99 Buy Now
USER REVIEWS
See Detailed Ratings
Acting of Lead Performers

Acting of Supporting Cast

Director

Music Score

Title Sequence

Screenplay

Cinematography

Historical Importance

Would You Recommend?

0 Member Ratings
Rate the acting of the Lead Performers

Rate the acting of the Supporting Cast

Rate the Director

Rating of the Music Score

Rating of the Title Sequence

Screenplay

Creatively uses the camera to tell the story

Importance in Cinema history

Would you recommend for fans of this genre
Submit Ratings
Cancel
Write a Review
Read Reviews
NO REVIEWS AVAILABLE
The title has not been reviewed. Be the first to write a review by clicking here to start.
Compelling Performances

I admit I am an old foggy, the actresses of the preWWII are still my favorites, with a few later additions. Carole Lombard and Kay Francis are beautiful and even more compelling as actresses. Add the likes of Stanwick, Hepburn, Dunn, Oberon, Goddard, Dehavilland, Colbert etc, awesome. Grant ain't shabby either.

My Favorite of Ms. Lombard's films

This is one of my most favorite of Ms. Lombard's films, perhaps my most favorite of all. I love tug-at-your heart romances and this rates high on that list. The only other film I saw of Ms. Lombard's prior to this one was, "My Man Godfrey" in which her portrayal as the zany, high-society gal was a bit over the top at times to watch; my preference is to see her in more serious roles which I understand were limited but showcased her true depth of what she could achieve as an actress. Ms. Kay Francis's performance is superb with Mr. Cary Grant always turning in a great performance as well. When I am in the mood for a weeper, and it is in the TCM program guide, I set the "TCM reminder" to watch. Get out your handkerchiefs -- it's that kind of film.

only in a name for the wealthy...

IN NANE ONLY was directed by John Cromwell.It featured a great cast led by Cary Grant,Carole Lombard & Kay Francis.Other first rate cast member included Charles Coburn,Helen Vinson,Katherine Alexander,Jonathan Hale,Grady Sutton & Peggy Ann Garner,amoung others.As released in 1939,a banner year for (later) film buffs,this 'womans picture' was more so a soap opera with substance,many times pulled out of sleep mode from the excellent acting provided for the cast (noted above).While it's a bit of a stretch that (Cary Grant) likes to picnic outside with a hot widow (Carole Lombard),without even taking off his shirt & stuff tie,& he doesent even sweat?He also has to deal with ,at least 2 other women,through out the entire picture.That's why he's Cary Grant? Kay Francis plays her part of a snobby & married gold digger (married to Grant) to perfection.It takes until the end of this this drama queen to be found out!For the most part,she wants to keep her marriage for the NAME,& the social 'garder party' identity-as well as a little fun with Grant-sometimes.(Helen Vinson) also wants some of (Grant),but who could blame her?Later in the film she find (charactor actor Grady Sutton)for some of her needs-until she runs into (Grant) again.What a guy!/No one in this flick seems to cry & sob (for real) unless (Grant) is not smiling,smirking or sick.Is his life saved by an un-mailed Christmas card? Later in the film (Lombard-who is also wealthy,has a child,& sister & career) tells (Grant) what he wants to hear to save him-per medical advise?She seeming knows what to what to say-indeed knows what she wants!.This tale of high brow snobbery& associated seperation problems (sob,sob) was written FOR women, by a woman ,(Bessie Brever) as in her book 'Memory Of Love".Luckily,John Cromwell put it all together very well.Or if Cary Grant would have killed Kay Francis,would it have erased the boring parts?What woman could have convicted him?

Kay Francis at her best

I love this movie for several reasons. Stars Gary Grant and Carole Lombard are wonderful and it is fun seeing them play serious roles. Carole Lombard was trying to branch out and do more dramatic roles. Made For Each Other (39) with James Stewart was a good choice. Vigil in the Night (40) was a bad one. This creaky George Stevens drama about a nurse who takes the blame for her sister's error is just a bad movie. Lombard was fine but could do nothing with this dreary material. They Knew What They Wanted (40) was fairly good but apparently audiences wanted Carole Lombard back in comedies. Her 1941 Alfred Hitchcock comedy Mr and Mrs Smith was ok but not first rate. Carole Lombard's last film To Be or Not To Be was released after her untimely death in 1942. This great Lubitsch comedy is one of the greatest films ever made. Heavily criticized on its release for using humor and Hitler together the film is the final testament to Carole Lombard's great talent.Back to In Name Only. Kay Francis had been a huge star at Warner Brothers in the early 30s but when her pictures started to lose money, Jack Warner tried to break her contract by giving her lousy films assuming she would go on suspension rather than making them. Kay who was making $5000 a week accepted this junk and finished out her contract. Fans and fellow actors were horrified that Warner had subjected Kay Francis to such treatment. Carole Lombard stepped in and made sure the juicy role in In Name Only went to Kay Francis. Kay is brilliant as the bitchy wife who wants money and social position at the expense of a former true love and current husband Gary Grant. Kay Francis steals this movie with her take no prisoners performance. Plus the famous clothes horse of Warner Brothers looks great in all her expensive gowns. I think Kay Francis deserved a Best Supporting Oscar nomination for her great work in this film. She is truly outstanding and watching her witchery makes me watch this film every time it is on TCM.

in name only

God, this movie annoys me. I mean, you have arguably the two greatest comic actors of the 1930s and what do you do with them? Put them in a creaky melodrama that's even mediocre by Lifetime standards. What a waste of talent! I sure hope audiences stayed away. Give it a D. P.S. Kay Francis is kind of sexy, though.

Great Cast,Great Film

While it didn't reunite Cary and Kate,it is a great movie,Kay does well in supporting role.

A Soaper

Soapsuds. Couldn't get through it, not enough to it.

In Name Only

My favorite Cary Grant movie

In name only

**** I've seen this film many times, still intrigued every time I see it. A great cast especially Helen Vinson,Carole Lombard and Kay Francis.

In Name Only

One of the best dramas with a spectacular cast! Kay Francis is the woman you love to hate in this film! She should have received an academy award for the role of Maita! It is so well written and truly touches your heart. Cary and Carole are wonderful in it and Charles Coburn plays the Dad. I just love him. I hope they put this on dvd. This is one of my favorite films of all time.

In Name Only

Such a wonderful classic with Cary Grant and Carole Lombard. We need to get this out on DVD. I could watch this everyday!!!! I loved the way Cary interacted with the rest of the cast, and how he was such a natural to watch. He made everything look so easy. Please, please try and get this released so we can all add this wonderful film to our collection.

Eu amo este filme

Este filme muito bom. Carole Lombard era uma diva e o Cary Grant est super charmoso neste filme adorvel.

See it!

What is interesting about this pc is that it was made during the years of THE CODE. Rules that the movie studios promised to follow and did for the most part but sometimes managed to work around. I don't mean to make it sound that this picture is shocking, but that the rules were in so many ways silly, although a really good film maker would and could successfully manage to deal with.

In Name Only (1939)

75/100. When in the cast you have Cary Grant, Carole Lombard and Kay Francis, you know you are in for a treat, and indeed, In Name Only is just that. Surprisingly, Kay Francis outshines the top billed performers. She gives a very fine performance. Helen Vinson is memorable as one of Francis' catty friends. Good art direction, the costumes are quite well done. This is one of Peggy Ann Garner's earliest roles as Lombard's daughter. She is such a natural actress. Well written and a bit of a tearjerker, but it showcases Lombard's versatility in her ability to play dramatic roles as well as the comic roles she is best known for. John Cromwell's careful direction pulls it all together.

My Number One Favorite Movie

Watch this movie--you won't be disappointed. Cary Grant is my favorite actor and Carole Lombard is one of my favorite actresses, and here they are together! It is a little-appreciated movie and is rarely seen, but I think it's the best thing they both did, although they did other wonderful movies, too. I am hoping to find a copy of this movie one day to add to my classic movies.

Wonderful

This is an excellent film, and with two of the greatest movies stars together only on this film, it is a shame not to have it available to the classic film viewer.Cary Grant is my favorite actor and I have nearly everyone of his films, except this one. Carole was not with us long so please make this available on DVD. I eagerly wait for the release.Thank you

What IS the holdup?

I love this film so much. Cary is at his very loveliest! So charming and sad at the same time. Every character in this film is so wonderfully flushed out. Maida is eeeevil and so is her slinky best friend (if you could actually call her a friend.) This film and ROOM FOR ONE MORE must be immediately put in DVD format. I always copy this to vhs when it plays (seldom as it does.), but ROOM FOR ONE MORE never seems to show up anywhere. Anyway...I'm a die-hard Cary Grant fan. I love everything he does from his dashingly young self in I'M NO ANGEL with the ever-crazy Mae West to his HUH-larious professor in BRINGING UP BABY. I love you, Cary.

PLEASE PUT ON VIDEO!!

This movie is one of the greatest love stories ever put to film! It seems to be flawless! The cast & director are superb!I would purchase this movie before any other!

I loved this movie from start to finish

I believe this was the first Lombard film I had ever seen, Ive been a fan since. the chemistry on screen was fantastic to behold, the story line tore at your heart. It's a shame not to have this on dvd. its one of my favorite classics.

Can't believe not on video...

In Name Only is one of the best movies made. A true love story with a great cast of major stars. How can so much junk be put on video and many great black and white movies not.

One of Grant/Lombard Great Movies

This is one of Grant's/Lombard's greatest movies! I remember seeing this movie 1 late night when I was in my 20's. I been waiting for this to release on VHS back then. But that never happened. And I am still waiting for it to release on DVD! I want this in my collection. Since it is not coming out soon, TCM please show this on your network soon!!! I have not seen it in 20 years.

In Name Only

This is one of the finest films made by Carole Lombard. It has a fabulous supporting cast with Cary Grant and Kay Francis. It really holds your interest all the way through and is a real tear jerker in the end. I love this movie and can't wait for it to come on DVD.

Just an OK movie

While both Grant and Lombard are part of my 'top 5' (per gender) this movie is only 'OK' since it isn't much of a drama or comedy. This is really the fault (nature) of the script (story). Since the movie moves from comedy to drama over and over one doesn't get a great laugh from the comedy since one knows the negative nature of the drama (true love denied) is just around the corner. Now take a movie like The Awful Truth. Now this movie was about divorce but it was clearly a comedy. Yes, the middle of In Name Only when the lovers feel they are free is fun since we are seeing 2 of the top funny actors (as well as great looking), but the drama didn't get to my heart. See Dodwood for a similar story and true drama that gets to the heart. I see the rating question ASSUMES a genre. Again the problem with this movie is it doesn't stick to 1 genre.

Brilliant

Penny Loken-Evans

10/28/08

Carole Lombard, Cary Grant and most of all Kay Francis hit all the emotion in this incredibly well written movie. Please release this to DVD or play it a bit more often because there are some who truly appreciate this incredible level of talent.

Fabulous movie

This is such a great movie having two great stars as Carol Lambard and Kay Francis. The're movies are so great. It is shame that they are not available on DVD's.

Please release on DVD SOON

I first saw this movie as a teenager many years ago. Since then I have seached every video rack I've seen, but to no avail. This is one of the best Lombard and Grant have ever made. Kay Francis is fabulous. Please release this to DVD soon. Never miss it when it makes it's way to TV. One of the best little known classics ever made. Truly a love story not to be missed. The ending is the best. One of Miss Lombard's best.

Please show in Prime Time

I have only seen this movie once and loved it. I wish it was on DVD,I would buy it in a minute. I just love Cary Grant Please show this movie more and in prime time

In Name Only

This is one of my favorite films of both Cary Grant and Carole Lombard. Kay Francis plays the bad girl so well in this film you really hope she gets hers. This film has a wonderful supporting cast and is very entertaining and haeartbreaking all at the sametime. But it also has a happy ending. I highly recommend this film and pray it gets on DVD soon because I really want to own it.

Kay Francis Steals the Show

The thing which distinguishes this excellent melodrama is the performance of Kay Francis as Grant's nasty, manipulative wife. Francis is, sadly, not well-known today, although in the 1930's she was one of the top stars in Hollywood in terms of box-office numbers as well as her big salary. A bitter falling out with Jack Warner, a lawsuit, and a series of very bad B films assigned to her by Warner in an effort to get her to quit the studio (which she did not; she wanted the money), derailed her career. Playing the heavy as second lead in this film was a change after enjoying prima donna status at Warners and the sympathetic roles which came with it, but she makes a great success of it. Moment after moment of Kay's suave, sneaky nastiness stick in my mind. Grant and Lombard are fine, as usual. But it is Kay's performance and the unusual role itself (the wife turns her in-laws against their own son1!) that make this soap opera rise above others of the genre. Clearly, I am a Kay F. fan. It was this film that introduced me to her. I hope that you enjoy this fine film and use it as a springboard to enjoy more of this lovely lady's fine work.

A True Classic

Although it's been a while since I've seen this movie, it is still one of my all time favorites. This is one film I would love to add to my collection. If I can't get it on DVD I would love to see it again on TCM.

Lombard and Grant

this is one of Lombard's best movies,although known for her comedic skills,she gives a superb performance.Cary and Carole's chemistry is charismatic.Kay Francis's role makes her the woman you love to hate.all in all,this is one movie that should be put on DVD.

what a wonderful actress

ONE OF MY FACORITE MOVIES OF ALL TIME IS IN NAME ONLY WITH CAROLE LONBARD AND CARY GRANT. I LOVED TO WATCH THOSE TWO ACTORS TOGETHER IN ANY MOVIE. I THINK CAROLE LOMBARD IS ONE OF BEST ACTRESS I HAVE EVR ON SCREEN.

In Name Only..

Is the ultimate love movie in history, and I have watched most all of them...I just wish it was shown more or it could be put out on dvd..I seen it on one time this whole yr and it was 3am, but still set alarm to watch it lol. TCM plz show it MORE!!!

IN NAME ONLY - Carole Lombard/Cary Grant

This has got to be my favorite movie of Carole Lombards films. She is not only beautiful but extremely talented in the way she carries her character throughout this film. The movie is amazingly captivating & deep. As I watched I felt the desperation they portray as their characters. The frustration of not being able to be with the one whom you truly love. I am very surprised & hoping that TCM will release this movie on dvd or even VHS. This is one title my collection cannot do without. I would definitely recommend this movie to Lombard or Grant fans. One you watch it you too will be deeply saddened of its absent release.

Great Romantic Movie

I am surprised that TCM doesn't show this movie more often - especially during the evenings. This movie is a hidden gem. When I first saw this movie I was so surprised because I thought it was supposed to be a comedy seeing that Cary Grant and Carole Lombard were in the film. Instead it is a wonderful romantic drama with strong credible and touching performances both by Cary Grant and Carole Lombard! Kay Francis' performance as the greedy wife is top notch. I can't understand why this film is not more well known. Please release this film on DVD!!! It is a winner!

Great Cary Grant and Carole Lombard Film

I happened to see this movie on VHS. I loved it and can't understand why it has not been released on DVD. For some reason this film is not as well known as the other Cary Grant and/or Carole Lombard films. However I am sure once fans see it they will love it. Great acting! Please release this movie on DVD!!!

Romance to the Limit!

Of all his leading roles, this is the TOP! Please release this on DVD or at least run it on TMC!!!

Wow

I was a little reluctant to watch this movie when I read the summary. While I love Grant in romantic-comedies or in Hitchcock's films, The thought of him in a melodrama such as this raise some questions.But WOW!!! what a movie this is. It only goes to show how great a actor grant really was. He blew me away. Lomabard and Francis too were exceptional. This movie is definatly worth watching.

HOW CAN YOU NOT LOVE THIS MOVIE!

This has to be the greatest movie I've ever seen in my life! This is the movie that started my love for the classics. The minute I saw this movie 20 years ago, I rushed out to purchase it, but even at that time, it was unavailable in the stores and had to be special ordered. Nevertheless, I waited 3 months for it to come in and still have the VHS. I adore Cary Grant...I love Carole Lombard and they are seamless in this movie. It has one of the most innocent portrayals of love and deceit. The movie also opened my eyes up to Kay Francis and has made me one of her newest fans.

Wonderful

Being that I have always been a fan for the classics, I feel that In Name Only was definitely one of the best movies that I have seen. The story line was wonderful the lines were well executed by all of the cast members. The ending did not leave it to the viewers imagination another mark of the great classic movies. No one who sees this movie could ever be dissapointed.However I am dissapointed that I cannot get this movie for my classic movie collection.

GREAT

CYNTHIA HUTCHERSON

3/14/06

I THINK IN NAME ONLY WAS ONE THE THE GREATEST FILM CARY GRANT PLAYED IN. I HAVE TRIED TO GET IT ON DVD UNABLE TO. I WATCH I EVERYTIME IT COMES ON. IT IS TRULY A LOVE STORY AND IT GIVES HOPE.
*We protect your personal infortmation and will not provide it to anyone without your consent. For a complete explanation, please refer to TCM's Privacy Policy. By submitting your contribution, you agree to TCM's Terms of Use.