DVDs from TCM Shop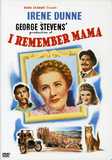 I Remember Mama Norwegian immigrants face the... MORE&nbsp> $15.79 Regularly $19.98 Buy Now
USER REVIEWS
See Detailed Ratings
Acting of Lead Performers

Acting of Supporting Cast

Director

Music Score

Title Sequence

Screenplay

Cinematography

Historical Importance

Would You Recommend?

0 Member Ratings
Rate the acting of the Lead Performers

Rate the acting of the Supporting Cast

Rate the Director

Rating of the Music Score

Rating of the Title Sequence

Screenplay

Creatively uses the camera to tell the story

Importance in Cinema history

Would you recommend for fans of this genre
Submit Ratings
Cancel
Write a Review
Read Reviews
NO REVIEWS AVAILABLE
The title has not been reviewed. Be the first to write a review by clicking here to start.
time tested perfection

All the women nominated for the best actress award for 1948 deserved their nominations.But, seventy years later, which one is still regarded as the best????Irene Dunne, that's who. Given the fact that she was often criticized for mannered acting, her performance in I Remember Mama is that much more stunning. No vocal mannerisms, no so-so singing, no facial tics, her interpretation of Mama Hanson is incredibly honest, winning her audience with an accurate depiction of a "good woman"....a feat not often achieved, especially in 1948, when noir, with it's less than honorable women capturing the hearts and minds of the viewing public.Dunne should have walked away with the award, but like I said, there was heavy competition that year.

Barbara at Her Best

No, not Bel Geddes, though she's good, too, but Ms. O'Neil, whose quiet dignity and classic beauty - recall her boudoir scene in "All This & Heaven Too" - has always impressed me. The other comments on this film are all so fine, this is all I have to add. Thanks to all involved in the making and preservation of this film.

One of the Best..

One thing that I miss about movies today is that they do not portray real life. This director allows mis-steps, and trips, and the every day issues people still face in living. From the boy who falls, to the window-weights, to alcoholism and plain old every day family behavior, this movie moved me like none other in a long time. A true classic, and a deserving inclusion to the "TCM Essentials" list. I want to see it again soon.

One of the best

Susanne N Cavendish

5/16/15

It's a five hankie movie and worth every tear. I didn't see one bad performance from the cast. Irene Dunne played Mama so effortlessly. That there was love in that family, was almost overlooked, as if all families were born out of love. Just see it and remember the times, around the turn of the twentieth century. Bel Geddes was marvelous as the daughter, who was the most dramatic, according to her father. It was a cast representing so many different aspects of family, parents who let their children dream and then found ways to help guide them, to make them come true. And when they didn't always work out, it seemed what became of them was even better for what it taught the children, and sometimes, I think, the parents.

i remember mama

I think it was Dostoevsky who said that the hardest thing for an artist to do was to make good people interesting. If that is true, and the more I think about it the more I agree with old Fyodor, then this movie is truly an awesome achievement. Director George Stevens and screenwriter DeWitt Bodeen have asked us to spend over two hours with the kindly, thoughtful, responsible and extremely moral Hansen family of San Francisco, circa 1910, and, lo and behold, it is not a chore! Even at its most sentimental (and I would say this movie is at least a three hankie job) "Mama" is never dull. There is always a stray perception or bit of the unexpected to catch your interest, like the father's deft characterizations of his four children in the great coffee drinking scene or the sudden humanity shown by the hitherto bossy and obnoxious Aunt Jenny following the death of her brother. Irene Dunne, in the title role, is amazingly good. Is her character, as written, too perfect? Of course. Do you mind? Not a bit, because of the subtlety of her acting. Never does she overdo it or resort to theatrics, a la Crawford or Davis or Hepburn. She completely immerses herself in the role of Martha Hansen to the point where Irene Dunne disappears after the first ten minutes or so. And she didn't need disguises or a makeup job to do it. That Jane Wyman beat her out for the Oscar for the maudlin "Johnny Belinda" is absurd. Are there flaws in the film? A couple. it's twenty minutes too long, and I sure would have shortened Uncle Chris' death scene and made him a bit less peppy, since he's dying and all, and Barbara Bel Geddes' looking at the audience while narrating isn't needed, but all in all this is a great one. Give it an A.

family valiues

rosemarie aguirre

3/21/15

the first time i watch the movie, i could not leave my chair......i recorded it in order not to miss it...everything was there that's in real life..... the parent's love for their children......the children's loyalty to their parent's.... family relatives that stick hard to old values..... and the chance to tell one's life story in such a special way .... i would love to know what hospital they used for the background......i believe they used a real hospital......they left the name of the hospital out of the movie....i am sure i have seen the hospital foyer in one of the ghost adventure sequels......i am 100% sure....... they went to a abandoned hospital called buena vista hospital....... the circcular couch is there....along with the nurses station right by the front door.......it's amazing to go back in time...... thank you.....rosemarieaguirre65@gmail.com

Love

This is one of my all time favorite movies. I never miss it (if possible) and record it while I watch it so I can watch it again later. I always cry through it and it always makes me think of my great grandparents who were my only grandparents (but so do the Beverly Hillbilly's and Ma and Pa Kettle) because of the love and the care, taking care of everyone and making everyone feel welcome and at home. There isn't a movie today that can stand up and compare to this one. It is truly a classic and everyone should see it at least once.

Heartwarming Performances by All

I truly just love this film!!! Ms. Dunne gives a simply superb performance as the matriarch of this heartwarming story. Every actor/actress is top notch and I especially love the characters - irascible Uncle Chris, and timid Aunt Trina. A pure delight from beginning to end.

Thank you

Thank you for the gift of showing I remember Mama.Gift for me for Mothers Day. Outstanding film,much like my growing up days.Brought back wonderful memories of more simple times. Love,respect,manners & proper disciplineconsideration of others,& joy. Uncle Chris was a kind soul,helped others.Irene Dunne 10 .Thank you.M. M

Five stars!

This film is so much more than just a "story." It is a glimpse into the past of our immigrant ancestors. It teaches us what the mores of the times were and how things were so different. I was especially touched by the performance of Oscar Homulka as "Uncle Chris," the supposed drunk of the family, who had many secrets but who also lived a life of remarkable sacrifice helping dozens of crippled children. We are all products of people just as these. I remember so very many of these exact circumstances happening in my own family of immigrants. I went to funerals of great-aunts and uncles who also did this sort of thing. I attended wedding "shivarees" and one was even thrown for my own wedding in the 1960s. I view this film each time it is shown on TCM and it always serves to make me believe that we have forgotten so many of what our immigrant ancestors tried to teach us on how to live and how to die. We are all the poorer for it too!

Stunning Irene Dunne!

I Remember Mama is a wonderful film with a stunning performance by Irene Dunne. The premise of an immigrant mother devoted to raising her family is simple but timeless. Rich, universal movie moments include going to any length to see a sick child in the hospital, counting the family money on a strict budget, self-sacrifice for the good of her family and scrubbing floors to keep her home a proud place. What transcends and ennobles this film is the deep mutual love between a mother, her husband and children as narrated by a beautiful young Barbara Bel Geddes. Thank you TCM for showing this on Mother's Day!

JUST WONDERFUL

As wonderful now as it was decades ago when I first saw it. Funny, heart-warming, tear-inducing, it's got it all!And the black and white photography is beautiful. Somehow, the profile of the sleeping nurse and later, the deathbed scene are magnificent. This is one good movie.

i remember mama

probably one of the best movies ever. i have watched it many times. i watch it every time it is on tv.

Love it!

A charming, sentimental film. For the most part very well acted, though Steve Brown as Nels was somewhat wooden. The story is a snapshot of in the life of the Hanson family. A refreshingly functional family struggling to make ends meet and the mother who keeps everything together. In movies like this the father is often marginalized as a drunk, or an abuser, or otherwise incompetent, but Mr. Hanson is a hard working, loving dad whose worst vices are a love for tobacco and coffee. He struggles at times to connect with his children but its not for a lack of trying. Very much like millions of other fathers out there. Irene Dunn is outstanding as "Mama". An indulgent, but not overly so, mother whose common sense and level head keeps everything running smoothly even through difficult times and allows the children to focus on growing up.

I Love This Movie

I love this movie. I remember seeing this movie when I was a teen-ager. I saw it again this year and it is still the greatest movie ever. So enjoyable. It reminds me of my grandmother.

i remember mama

i first watched this a year after my own mother passed away, and i cried throughout the whole movie, but it has since became one of my favorites...fantastic movie, touching and charming...a true classic

I Remember Mama

I saw this movie on Mother's Day and oh what memories it brought back. I had forgotten this wonderful movie. It is beaituifully done and the acting is superb. I remember not only this movie growing up but especially the TV version in the 1950's. I told my husband as we were watching that I strongly remember a series on TV and sure enough the commentator indicated that after the movie was over. There are few movies these days that can compare with the acting, diecting. cast, cinematography and the wonderfula script this movie had. The character development was especially wonderful.

Wonderful

This is the first time I've seen this movie all the way through and all I can say is that it is a wonderful film. The sentimentality, the sweetness and the loving family is just something that you don't see today. I agree with some of the other reviewers in that this should be shown in schools today. Kids today just don't know what it was like in the old days when people had to scrape money together to make ends meet. And they don't see too many movies these days without special effects and great acting. This was a fantastic cast and they portrayed immigrants so well, I really felt that they were from Norway. Irene Dunne should have recieved an Oscar for her performance. Mama's will do anything for their kids as this film shows and she was a wonderful Mama.

I Remember Mama (1948)

90/100. A very heart warming film, wonderfully written and believably done. There is a fine attention to detail and the film has a loving feel of the time. Superb cinematography, good art direction but it is the marvelous cast that makes this film work, as well as George Stevens sensitive direction. Irene Dunne is so perfect in the title role and gives one of her best performances. The movie boasts an amazing supporting cast, Barbara Bel Geddes, Oscar Homolka, Ellen Corby and Edgar Bergen. The scene with the cat is a classic! Bel Geddes, Homolka, Dunne and Corby were all nominated for Oscars, as was the fine black and white cinematography.

Great Movie

I love this movie. A commentor said this movie should be shown in schools, how right they are!

Heartwarming Story

This is one of my favorite movies of all times. Every character in this film reminded me of a family member of mine. It is a heart warming story with great lessons in life and I only wish it was mandatory for every student in every school in America to watch. Great lessons in compassion for fellow human beings and the importance of family sticking together in happy, sad, and hard moments in life. Great family movie for the whole family to watch!

what a good movie really is!

tears of joy, sadness and wonderment everytime i see this movie. i wish i could recommend the whole family to see it, but in this day and age people's senses are dulled by special effects, bad big name actors and few new ideas. back to the old i say. this movie shows old family values, regular people making it through life as it really comes...easy sometimes, hard at others. i can't pinpoint one outstanding cast member, since they all played equally off each other. maily the use of camera angles got me. in particular when katrin get her rejection letter as pappa fixes the window, dagmar dusts, and momma does her thing.

Great Mother Day movie

I fell in love with the movie the first time I watched it. It shows how much a mother will sacafice for her children and family. No matter what happen she was proud of her children. Always willing to help someone, also showing how important it was to saving money and have an education. I felt it was a great honor to all mothers. That's why I love it for Mother day, it great for the whole family to watch. Ireen Dunne was great. I was also surprise to see Barbara Bel Geddes( Mrs. Ellie from Dallas fame)as the oldest daughter/narrator. I saw a whole different side to her acting.

Irene Dunne SHINES!!!

This is one of my favorite movies of all time. This movie is truly a classic. I think Irene Dunne should've won the oscar for her performance in this movie. The story of this movie is excellent. I highly recommend this movie for everyone to see. You will fall in love with it, like I did....and " we won't have to go to the bank. This is a good family movie,also.

superb acting

superb acting by Irene Dunne. She should have won the Academy Award for this part. You felt like you were sitting in mama Hansen's kitchen instead of watching a movie.

Warm Movie

I Remember Mama is a nice movie. The story is a real slice of life in the various situations that occur. Sometimes heart warming--sometimes sad--sometimes humorous--I regard this as one of Irene Dunnes' best films. And the character Uncle Chris is great too--as are his three sisters. Watch for one of these sisters Aunt Trina (Ellen Corby) of "Waltons" fame! Her shy and sheepish character is neat!
*We protect your personal infortmation and will not provide it to anyone without your consent. For a complete explanation, please refer to TCM's Privacy Policy. By submitting your contribution, you agree to TCM's Terms of Use.