DVDs from TCM Shop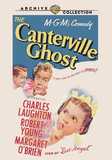 The Canterville Ghost A ghost who died a coward... MORE&nbsp> $15.96 Regularly $19.99 Buy Now
Articles
SEE ALL ARTICLES
The Canterville Ghost (1944)
Charles Laughton was heavily criticized in England for spending the World War II years in the U.S. The charges were unfair. Like many in Hollywood's British colony, he spent most of those years making films that helped the Allies' propaganda effort, including The Canterville Ghost (1944), a rather unlikely adaptation of an Oscar Wilde short story.


Wilde's story focused on a cowardly ghost forced to haunt the family manse until someone in his family became a hero. But where the original story played up the hypocrisy of an American minister who buys the Canterville castle, MGM turned the film into a flag-waving effort in which the ghost is confronted with a troop of American soldiers stationed in his ancestral home. Released a month before the D-Day invasion, it was one of many popular films designed to foster good relations between the U.S. and Great Britain. With Laughton as the lovable specter and Margaret O'Brien, the studio's top child actor of the 1940s, as the castle's modern-day owner, it couldn't help but generate good will, along with some impressive box-office returns.


Laughton had signed with MGM, at an impressive $100,000 a film, to work with production chief Irving G. Thalberg. With Thalberg's untimely death, however, he found few productions of any interest at the studio until this one came along. But during the first week of shooting, he had a major problem with director Norman Z. McLeod. Although McLeod had an impressive record working on comedy - having worked with the Marx Brothers on Monkey Business (1931) and Horse Feathers (1932) and W.C. Fields on It's a Gift (1934) - Laughton didn't think he had the right approach and insisted he be replaced.


Fortunately, MGM had a young director under contract who had already worked well with Laughton as an assistant on They Knew What They Wanted (1940). So Jules Dassin, who had only recently graduated from shorts to feature films, got his first shot at an "A" film with The Canterville Ghost. After all his trouble with McLeod, Laughton was totally accommodating of Dassin. He offered the young director all the insight he could, but always did it in private, never contradicting him or offering suggestions in front of the crew. Dassin would go on to successes in the film noir genre, most notably the prison drama Brute Force (1947) and the police thriller The Naked City (1948). When the blacklist cut his Hollywood career short, he would move to Europe and resurface as the director of such international hits as Never on Sunday (1960) and Topkapi (1964), both starring his wife, Melina Mercouri.

Laughton had no problems with the rest of the cast. Old friend Reginald Owen played his father, who in the film's prologue walls him up to die after an act of cowardice. And he found child star Margaret O'Brien enchanting. Some biographers have suggested that his warm on and off-screen relationships with such young actresses as O'Brien, Maureen O'Sullivan (The Hunchback of Notre Dame, 1939) and Deanna Durbin (It Started With Eve, 1941) reflected his frustration at not having a daughter of his own. (On learning that he was homosexual, Laughton's wife, Elsa Lanchester, decided not to have any children - something he resented all his life). But he was also clearly enthralled by the pint-sized star's talent. According to Lanchester's memoirs (Elsa Lanchester Herself, Michael Joseph: London, 1983), "He thought she must have been a changeling, somehow descended from royalty; perhaps, kidnapped from a Persian king."

Producer: Arthur L. Field
Director: Jules Dassin
Screenplay: Edwin Harvey Blum
Based on the Short Story by Oscar Wilde
Cinematography: Robert Planck
Art Direction: Cedric Gibbons, Edward Carfagno
Music: George Bassman
Principal Cast: Charles Laughton (Sir Simon de Canterville/The Ghost), Robert Young (Cuffy Williams), Margaret O'Brien (Lady Jessica de Canterville), William Gargan (Sgt. Benson), Reginald Owen (Lord Canterville), Rags Ragland (Big Harry), Una O'Connor (Mrs. Umney), Frank Faylen (Lt. Kane), Mike Mazurki (Metropolus), Peter Lawford (Anthony de Canterville).
BW-96m. Closed captioning.

by Frank Miller
back to top
---