DVDs from TCM Shop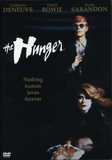 The Hunger A centuries-old female vampire... MORE&nbsp> $15.79 Regularly $19.98 Buy Now blu-ray
Home Video Reviews
The Hunger
(1982), based on Whitley Strieber's 1980 novel, seemed to have all the right ingredients for a breakout horror hit - the ultra hip casting of Catherine Deneuve and David Bowie as an elegant vampire couple on the prowl in Manhattan, equal doses of violence and eroticism (a lesbian seduction sequence between Ms. Deneuve and her new recruit, Susan Sarandon), arty cinematography, posh settings and a storyline that bore similarities to Anne Rice's immensely popular
Interview With a Vampire
, written in 1976 but not made into a film until 1994. But when it opened theatrically most critics dismissed the film as glossy trash while many horror fans found the film erratic and pretentious. Yet for some, the film was a total guilty pleasure and now, more than 20 years later,
The Hunger
(new on DVD from Warner Video) still exudes a certain fascination that teeters between pure camp and a serious attempt to revitalize the vampire genre.
The opening sequence is still striking and sets the appropriate ominous tone for what follows. While Balhaus performs "Bela Lugosi's Dead" in a trendy goth bar, Deneuve and Bowie cruise the dancers on the floor and set their sights on a pair of decadent club kids. They lure them back to their lair where Bowie and Deneuve pair off with their victims, dispatching them with knife-like pendants during sex. It becomes apparent that Bowie's constant need for blood is a sign of his body's rapid deterioration. Unlike his lover Deneuve, who vampirized him in an earlier century, Bowie is not blessed with eternal life and his demise is imminent. Of course, living forever has its setbacks too. Deneuve is condemned to watch her lovers wither away one by one but the cycle never ends; she continues to reinvent herself with each new conquest. By the time Bowie is finally put to rest in his coffin, Deneuve has already started circling her new object of desire, Susan Sarandon, a best-selling author and medical specialist on aging. Their mutual attraction and the consummation of it forms the second half of the film, leading to a denouement that is ripe for a sequel.
One can easily see now the problems moviegoers may have had with
The Hunger
. Despite its stylishness, and there is too much of it like icing on a cake, it lacks tension and genuine scary scenes, except in a few isolated cases. Part of the problem is Tony Scott (this was his debut feature) who often works at cross purposes in his editing decisions. Suspense and even narrative cohesiveness is often sabotaged by his insistence on telepathing information to the audience via his frenetic intercutting - Sarandon preparing to cross the street and a speeding truck barreling down the avenue; Bowie's entrance into the subway and an oblivious skateboarder practicing alone in a darkened corridor. Probably the crudest instance occurs when Scott cuts from vampire sex to a shock close-up of a bloody rare steak being sliced open. Dick Smith's makeup, usually the highlight of any horror film he works on, is not so impressive here, looking like parodies of the work he did for
House of Dark Shadows
(1970) and
Little Big Man
(1970). Admittedly, the sequence where Bowie ages rapidly in a doctor's office is well executed but other scenes - Deneuve being attacked by the mummified remains of past lovers - is laughable. Of course, the biggest controversy surrounding the film was the not very explicit lesbian seduction scene between Deneuve and Sarandon. Here we have two of the screen's sexiest actresses cavorting in bed in a scene that resembles a Helmut Newton photograph (Tony Scott admits the sets and the staging were inspired by the photographer's work). While it might not have shocked urban audiences at the time, it wasn't exactly the sort of thing that Middle America wanted to see at the mall cinema.
On the plus side,
The Hunger
is a fun pop culture relic of its era from the iconic presences of Deneuve and Bowie to its now dated sense of fashion. The film's smoky, light drenched cinematography was obviously inspired by
Blade Runner
(1982), but also a visual influence on
Flashdance
(1983) and
9 1/2 Weeks
(1986). It's also fun to spot the numerous movie homages (
Peeping Tom
, 1960,
Daughters of Darkness
, 1971, etc.) that pop up throughout the film. And look for Willem Dafoe in a tiny cameo outside a phone booth and New York performance artist/musician Ann Magnuson appears as a victim in the opening sequence.
The Warner Video DVD of
The Hunger
presents the film in its original aspect ratio in an eye pleasing transfer that accents the film's muted color scheme and diffuse lighting effects. The commentary track with Tony Scott and Susan Sarandon is fairly revealing as Scott notes his own ambivalence toward the film, one that goes from admiration to defensive at the drop of a hat; "Too trendy, too esoteric, too weird," he states at one point. He also admits the look of the film (which was set in NYC but filmed in London) was heavily influenced by the work of Stanley Kubrick and his own brother Ridley (who directed
Blade Runner
). One can see that Tony's own background as a producer of television commercials is obvious in every frame of the film. Sarandon, who only participates sporadically in the commentary, admits that
The Hunger
"changed my fan base." Of course, she had already made
The Rocky Horror Picture Show
(1975) so this wasn't exactly her first exposure to cult fandom. For fans of
The Hunger
, this is a worthwhile library addition though it might have been a genuine cult classic if Scott had opted for a more direct horror approach.
For more information about
The Hunger
, visit
Warner Video
. To order
The Hunger
, go to
TCM Shopping
.
by Jeff Stafford