DVDs from TCM Shop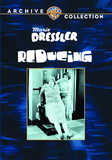 Reducing A beauty-parlor manager brings... MORE&nbsp> $14.95 Regularly $17.99 Buy Now
Articles
SEE ALL ARTICLES
Reducing (1931)
The snobbish Madame Pauline "Polly" Rochay (Polly Moran) operates an exclusive beauty parlor in New York City that specializes in weight reduction. When she learns that her sister, Marie Truffle (Marie Dressler), is destitute, Polly decides to take her, her husband Elmer and their three children, Vivian, Jerry and Marty, from South Bend, Indiana, into her home. As expected, this decision leads to one comic disaster after another in Reducing (1931).

"Life for Dressler had begun to change even after the release of Anna Christie in 1930," wrote biographer Betty Lee in The Unlikeliest Star. "But by the time Min and Bill was dominating the national box office, followed in January 1931 by the release of the less-successful Dressler-Moran comedy, Reducing, MGM was delivering fan mail to the Bedford Drive house in sacks. Social invitations from such Hollywood luminaries as Mary Pickford and Douglas Fairbanks, Marion Davies and William Randolph Hearst, and Norma Shearer and her powerful husband, Irving Thalberg, began to roll in. Dressler dutifully turned up at some of the parties, but as Claire Dubrey made clear in her memoir, the actress was essentially a homebody who preferred to arrange her own small dinner parties at Bedford Drive, always followed by a game of bridge or backgammon."

Although Reducing was a boxoffice success for MGM, it was not a hit with the critics. Variety complained that "the film is only saved by the genius of Marie Dressler." The studio didn't care, however, and hustled Dressler and her comedy sidekick Polly Moran into another farce, this one about two women who take on some small-town racketeers and corrupt politicians. It was called Politics (1931).

Director: Charles F. Riesner
Screenplay: Beatrice Banyard, Robert E. Hopkins, Willard Mack, Zelda Sears
Cinematography: Leonard Smith
Art Direction: Cedric Gibbons
Film Editing: William LeVanway
Cast: Marie Dressler (Marie Truffle), Polly Moran (Polly Rochay), Anita Page (Vivian Truffle), Lucien Littlefield (Elmer Truffle), Buster Collier Jr. (Johnnie Beasley), Sally Eilers (Joyce Rochay), William Bakewell (Tommy Haverly).
BW-76m.

back to top
---