DVDs from TCM Shop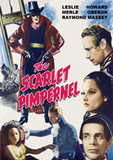 The Scarlet Pimpernel A British aristocrat's... MORE&nbsp> $5.97 Regularly $8.99 Buy Now
NOTES
DVDs from TCM Shop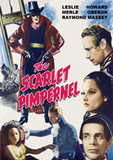 The Scarlet Pimpernel A British aristocrat's... MORE&nbsp> $5.97
Regularly $8.99 buy now
The onscreen credits mistakenly spell actor Morland Graham's first name as "Moreland." Although onscreen credits list Walter Rilla as "Armand St. Just," studio publicity materials spell his name Walter Rillso. Onscreen credits list the character played by Edmund Breon as "Colonel Winterbottom," but the Variety and New York Times reviews list the character as "Rene de Grammont." The Scarlet Pimpernel opened at New York's Radio City Music Hall on February 7, 1935, and was reissued in 1942 and 1947. According to the pressbook, publishers Grosset and Dunlap issued a special edition of the novel with a cover illustrating the movie. The Scarlet Pimpernel was first written as a play, then upon its stage success transformed into the first of a series of novels by Baroness Orczy. Onscreen credits incorrectly spell well-known playwright S. N. Berhman's name "Sam Bermann." According to modern sources, S. N. Behrman was employed for three weeks to write a treatment, of which only the scene in which "Percy" gives instructions to his tailor was used. The script was based on an adaptation of the novel by Robert Sherwood and Arthur Wimperis. A pimpernel is a type of flower. The poem that "Sir Percy Blakeney" composed in his "fop" mode reads: "They seek him here, they seek him there, those Frenchies seek him everywhere. Is he from heaven is he from hell-that damned elusive Pimpernel."
The following information was obtained from modern sources: Alexander Korda himself conceived the ending as "Percy" and his wife see England from their ship. Korda intended Charles Laughton to play the role of "Percy." Shooting began in September 1934, under the direction of Rowland Brown, who was replaced after a few days by producer Korda before Harold Young was assigned to take over direction. Modern sources add to the cast Roy Meredith (Viscount de Tournay), Billy Shine (An aristocrat), Brember Wills (Doman), Kenneth Kove ('Codlin,' a fisherman), Renee Macredy (Lady Q), Philip Strange, Carl Harbord, Philip Desborough, Hugh Dempster, Peter Evan Thomas, Derrick De Marney (Members of the Pimpernel League), Harry Terry ('Renad'), Douglas Stewart ('Merieres'), Arthur Hambling (Captain of the Guard) and credit Bernard Browne as assistant photographer.
In 1941, Leslie Howard starred, produced and directed an updated version of The Scarlet Pimpernel, entitled Mr. V, but released in the U.S. as Pimpernel Smith. Korda later oversaw two other films of The Scarlet Pimpernel, a sequel, The Return of the Scarlet Pimpernel in 1938 with Barry K. Barnes and directed by Hans Schwartz, and The Elusive Pimpernel in 1950, starring David Niven and directed by Michael Powell, who had wanted to make it into a musical.
Other film versions of The Scarlet Pimpernel include a 1917 Fox picture starring Dustin Farnum and directed by Richard Stanton (see AFI Catalog of Feature Films, 1911-20), and its sequel, The Elusive Pimpernel, a 1919 British production by Stoll Pictures, directed by Maurice Elvey and starring Cecil Humphreys. A 1928 British and Dominions production starring Matheson Lang and directed by T. Hayes Hunter was entitled alternately The Scarlet Pimpernel, The Scarlet Daredevil and The Triumph of the Scarlet Pimpernel. Television versions have included a 1955-56 British series, The Adventures of the Scarlet Pimpernel, staring Marius Goring; a 1960 CBS telefeature on Family Classics titled The Scarlet Pimpernel, starring Michael Rennie and Maureen O'Hara; Battle of Wits, a 1973 British Anglia production for Great Mysteries, with Ian Bannen and Brewster Mason; and a 1982 CBS production The Scarlet Pimpernel, directed by Clive Donner and starring Anthony Andrews.