DVDs from TCM Shop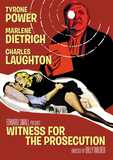 Witness for the Prosecution A British lawyer gets caught... MORE&nbsp> $14.96 Regularly $19.95 Buy Now blu-ray
USER REVIEWS
See Detailed Ratings
Acting of Lead Performers

Acting of Supporting Cast

Director

Music Score

Title Sequence

Screenplay

Cinematography

Historical Importance

Would You Recommend?

0 Member Ratings
Rate the acting of the Lead Performers

Rate the acting of the Supporting Cast

Rate the Director

Rating of the Music Score

Rating of the Title Sequence

Screenplay

Creatively uses the camera to tell the story

Importance in Cinema history

Would you recommend for fans of this genre
Submit Ratings
Cancel
Write a Review
Read Reviews
NO REVIEWS AVAILABLE
The title has not been reviewed. Be the first to write a review by clicking here to start.
Wonderful Murder Mystery

Charles Laughton is brilliant in this film. In fact, the film has terrific actors and actresses. Tyrone Power as the accused killer, Elsa Lanchester is quite remarkable as Laughton's nurse (and she adds humor to this mystery), Marlene Dietrich as Power's rather bizarre wife, John Williams as the junior attorney--all work very well together and it is always fun to watch this story unfold. The conclusion is a total surprise and even if one has seen the film other times, the ending remains very enjoyable. Laughton is incredibly talented and is just perfect for his role as a legendary London barrister working on what he believes will be his final case. He is so natural in this role and it is almost as if the part was created just for him. He is impassioned, funny and totally believable. It seems as if he never had to memorize a line; he just knew what to say and do in each scene. He is that natural. His running battle with his nurse adds a great deal to the story and to Laughton's character. The trial scenes are intense and powerful. And Marlene Dietrich is outstanding in her role as the wife of the accused. This is a must watch for anyone who enjoys creative and twisting murder mysteries.

Yes.

Hauntess A. Clichae

6/24/16

The spirit of this mystery/movie's plot is true as is its execution which means youth can watch it too in good faith. Too bad such is the usual exception & not the rule.

All Star Cast Fantastic Ending(1957)

Witness for the Prosecution displays a truly All-star cast that delivers a very entertaining film, except for the truly fantastic ending. Billy Wilder directs.(go figure). First of all is Tyrone Power as the accused Leonard Vole, murder one you know, and Marlene Dietrich as his wife ?, that is the question. Vole is being tried for murder and needs the help of Charles Laughton ,barrister Sir Wilfrid(Robarts) to come to his defense. Being tried in English court is different , especially 1950's style. and American Tyrone Power is on the hot seat for murder of Mrs. Emily Jane French. The who dunnit is based on mostly circumstantial evidence and the audience along with the jury is asked to judge based on what is presented. This is a great device as you vacillate upon your decision. Great cast of Tyrone Power, Charles Laughton, Marlene Dietrich, John Williams,Elsa Lanchester, Ruta Lee, Ian Wolfe,Una O'Connor,Torin Thatcher et. all deliver terrific performances!!! Wonderfully filmed in B & W. What I had trouble with was the punchline ending, which plays out like a Billy Wilder joke. Some people were exhilerated with all of the twists and turns while I found it troubling ,trite, not believable. Still, the film holds the test of time and most will find it quite enjoyable. 4 stars out of 5. Run time 114-115 minutes.

Dietrich is dynamite

Another wonderful Wilder classic, WFTP is a must see with great scenes and a twisted twist-times-two at its end. Great lines as well, with the best being O'Conner's character testifying that she has national health insurance, it's very expensive, and she applied for a hearing aid, only to still be waiting for one 6 months (!) later. Government. Do you laugh or do you cry? I laughed.

Been out on DVD for years!

While TCM might not carry this great film, many other sites most certainly do and have done for years!

movies not yet on dvd

another great movie!waiting for it to come out on dvd to purchase!

Great Flick !!

Just watched this movie last night on TCM and what a movie. Charles Laughton and Ty Power shine. Another Billy Wilder masterpiece. (has he ever made a bad movie?) I dont want to get into the story as you need to go into it knowing nothing of the plot. This is a must see. JUST WATCH IT! You wont be disappointed.

So Good

Everyone and everything about this movie is excellent. Great cast, great story and great direction by the wonderful Billy Wilder. Dietrich, Laughton and Lanchester are super. Tyrone Power in his last completed film role shows the extraordinary range he had at his command. He is utterly charming first as he flirts with Marlene and then with the wealthy woman he is conning. Suddenly at the end of the film he turns completely cold and menacing. A tour de force yet bittersweet in that he died leaving this great performance as his last movie role. Wilder's artistry in fashioning this wonderful entertainment and directing his extraordinary cast is undeniable.

Witness for the Prosecution

Overall-3 1/2 out of 5Lead Performers-4/5Supporting Cast-3/5Director-5/5Score-4/5Titles-2/5Screenplay-3/5Cinematography-3/5Importance-2/5Recommendation for fans of genre-3 1/2 out of 5

Witness for the Prosecution

This is an excellent film that I can watch over and over again. Acting is excellent and Marlena Detrich at age 56 is so gorgeous. She should have won an academy award but alas she did not even get nominated. Tyrone Power still looks dashing, and this is one of his best films.

Superb!

IMO, this is the best courtroom drama ever filmed! It is also Tyrone Power's and Marlene Dietrich's best film. Power was well-suited for this film as he was handsome enough to make us believe he was a real ladies' man. Dietrich had the real-life ethnic pedigree to make us believe she was a German war-bride. Perfect casting! The "star" of the film is the irascible Charles Laughton who could not have been cast any better. His wife, the ditzy Elsa Lanchester, was beautifully cast as his nurse, Ms. Plimsoll (British slang for a shoe with a rubber bottom and canvas upper). The ending is a real shocker that practically leaves you breathless! I've seen this film at least three dozen times and it never has grown old for me. It is just one of those grand "essential" films that will live forever!

Outstanding

As a lawyer, there are several films that I find especially outstanding, and this is one of them, along with "Anatomy of a Murder" and "The Verdict". Laughton portrays a criminal defense attorney at his very best. The cast and the plot are wonderful, too. Don't miss this one.

What a gem!

It is always just a thrill for me to watch this poignant movie, I love everything about it, and of course the incredible cast is always a plus. After TCM aired it last time I logged on to see if I can order the DVD since I can never get enough of this movie and I was surprised to see the it is still not out on DVD. Come on people, what are you thinking about? Surely it is time to bring this gem to DVD. PLEASE PLEASE PLEASE get to work!!! And as always thank you so very much TCM for bringing gems like these to our viewing delight, cannot do with out you!

Great Performances

Loved this movie the gent who played the attorney and his nurse were great. Liked everything about the movie and everyone's performance. Definitely a five star.

Witness for the Prosecution

An overlooked film from Wilder that should be seen. Laughton & his wife, Lanchester were nominated for their great performances, Dietrich deserved a nomination & Power is good, but sometimes too melodramatic. Wilder improves upon Christie's story by adding flashbacks & fluid camera movements, bringing originality to this courtroom drama. A great gem from Wilder that's worth the viewer's time. I give it a 4.5/5.

Spectacular!

One of the greats of all time in cinema- they don't get much better. In the top 20 of all time folks made with a 24k gold cast from Laughton, Power, and Dietrich, to Lancaster and John Williams and all the other supporting members. Billy Wilder hit the jackpot on this movie in every detail in every scene.

One Of My Amer Favs

First picture to command my attention.Loved Marlene.

Laughton's Picture

Power seemed awful whinny.Dietrich takes her well-deserved revenge,loved Daniell,but this picture belongs to Laughton.

Nothing doesn't work! It's perfect!

Or to put it another way: everything works. Casting, writing, atmosphere, pacing (so missing from so many of today's movies!), it's all incredibly cohesive and most importantly, incredibly entertaining. A tour de force performance from Charles Laughten and a knock-out finale. One of my 10 favorite films of all time. A masterpiece!

Just So Awesome!

This is such a fun, well written and throughly entertaining movie -even in 2012. Everyone is on their most excellent game here, including Mr. Billy Wilder. How lucky we all are that this fabulous picture was made.This film should be a must for anyone, from teenagers to film school Please TCM, please do a "Billy Wilder Day", or better a " Billy Wilder Week " and show this film. It's never on!

Witness for the Prosecution - 1957

I saw this movie on Georgia Public Television recently, however it had alread started when I viewed it. What I saw was great. I give it a minimum of 4 stars given I did not see it from the beginning. When will it be shown on TCM?I watch TCM frequently, but have never seen it presented. It should have been scheduled for 3l days of Oscar if it received any nominations. If it didn't ot should have!

Great Movie

If they made movies like this today I wouldn't be so content to just stay home and watch TCM!!

Thrilling!

Phenomenal filming of the Christie masterpeice. Laughton is excellent- riveting and Marlene Dietrich is astounding in her "dual" role. Elsa Lanchester and the amazing and amusing scene stealer, Una O'Connor, are both real treats. So glad this was shown!

witness for the prosecution

one of the all time greats, everyone especially charles laughton, they don't make them like that anymore, nor are there any young actors or actresses like the cast of witness anymore. too bad, but at least we have the films to enjoy

perfect

I've always loved witness for the prosecution because when I first saw it I was a kid and I just loved it. It just is an excellent process of movie making. Charles Laughton and Elsa Lanchester are just terrific in it they were just an excellent duo. Also the fact that they were married too,I don't even think that it was that hard for them to be on the same movie set it must have been great watching them act together and to be able to act together they must have had a great relationship! They both were very diversified in what movies they did! Well you can tell that I loved the movie so theres my review. A little long but oh well I just love the movie!!!!!!!!!!!!!

Witness for the Prosecution (1957)

What an awesome mystery. Charles Laughton delivers one of the greatest performances of all time. It always holds your interest, filled with delicious plot twists, compelling, exciting, mysterious and funny. The entire cast excels. Expertly directed by Billy Wilder, I have seen this film many times and could never tire of watching it. Good score, editing. Incredible.

Marvelous Marlene

Although this film is wonderful on all counts, Marlene Dietrich's contribution is nothing less than astonishing. This remains the gem of courtroom dramas.

Mind Boggling!

I cant say enough about this movie. You watch it and then the last 10 minutes of it just blows your mind. Never saw a movie with a twist like that at the end. Watch it just to see the ending. The actors are just great and you can never watch this film enough because it is just mind bending. A must see!!

Loved the ending! [or is it endings?]

talan steubenville

1/25/09

The multiple ending twists in the last 10 minutes is the best! Makes you want to watch the whole "greated acted & well written movie" over and over again.

first rate

Anatomy of a Murder was a good movie. The Paradine Case was a good movie. Witness For The Prosecution was a great movie.The the interaction between Charles Laughton and Elsa Lanchester alone made it something special.After seeing this "gem" I said to myself, "damn that was good" could they please make more movies like this? With people like Billy Wilder,Charles Laughton,Marlene Dietrick,Elsa Lanchester,and Tyrone Power,they could save the money spent on special effects.But alas,few people would come to a movie that just had talking.If I'm starting to sound like an old person now, so be it,this movie was first rate.

agatha christie

I loved this movie over and over again!I didnt know till after the movie on "the essentials" with Rose and Robert that Charles and Elsa were married at that point and originally she being his nurse was not originally in agathas writing, she was added in to the movie.Mr.Wilder is my favorite or in the top five.This movie made me take my mind off my troubles from our past hurricane and all it leaves behind, thank you for showing me one of the best classics there is. "susan in texas"

A MASTERPIECE

THIS IS CHARLES LAUGHTONS FINEST HOUR.THIS IS A FILM THAT IS FILLED WITH ONE GREAT MOMENT AFTER ANOTHER.MARLENE DIETRICH AND TYRONE POWER ALSO GIVES GREAT PERFORMANCES. IT GOES DOWN IN THE ANNULS OF TIME AS A MASTERPIECE.

A master of directing directs a master of acting

Billy Wilder's film version of Agatha Christie's play provides the great actor, Charles Laughton one of his very best film roles. His portrayal of the barrister allows him the opportunity to showcase different aspects of his talents. Often playing for comedy, sometimes for bombast but in crucial scenes, gravely dramatic, it is a virtuoso performance by a thespian at the very top of his craft. The rest of the cast is also top-notch, especially notable are Laughton's wife, Elsa Lanchester as his nurse and the always entertaining Una O'Connor as a courtroom witness. This is as fine as film entertainment as anyone could hope for. Ranks up there with Double Indemmity, Sunset Blvd., Some Like it Hot and Ace in the Hole as one of Billy Wilder's finest films.

Witness for the Prosecution

Why in the world wasn't Marlene Dietrich nominated for an Oscar for her performance in this movie? It is one of her best.

The Spousal Privilege

A great film, very entertaining, literary, and a great evidentiary study of the spousal privilege. The legendary Charles Laughton shows wonderful comedic timing, and his real life wife Elsa Lanchester is properly grating as the annoying nurse Miss Plimsoll. The acting is grand and Una O'Connor steals the show as the murder victim's maid.

Vintage

My grandmother got me started with vintage movies as she calls them. I think that this movie is one of those, with a great acting group and suspence.

Great Movie

This movie is one I highly recommend, twist turn suspence as well as great acting.
*We protect your personal infortmation and will not provide it to anyone without your consent. For a complete explanation, please refer to TCM's Privacy Policy. By submitting your contribution, you agree to TCM's Terms of Use.