DVDs from TCM Shop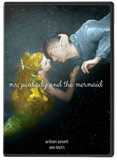 Mr. Peabody and the Mermaid A middle-aged man accidentally... MORE&nbsp> $14.35 Regularly $24.95 Buy Now blu-ray
Articles
SEE ALL ARTICLES
Mr. Peabody and the Mermaid (1948)
Despite remaining enduring figures in mythology and fairy tales for generations, mermaids - the beautiful half-women, half-fish creatures popularized in Peter Pan and "The Little Mermaid" -- didn't take center stage in major films until 1948, when a pair of features were released sporting very similar stories. In England audiences were treated to Miranda, with a married doctor having his life turned upside down by a man-chasing mermaid.

Meanwhile Hollywood offered the more family-friendly option of Mr. Peabody and the Mermaid, featuring urbane comedy veteran William Powell (of the Thin Man series) as the titular Arthur Peabody, whose trepidation over turning fifty is handled by his wife, Polly (Irene Hervey), with a Caribbean vacation. One day out fishing he catches a mermaid (Ann Blyth) whom he nicknames "Lenore," as she's incapable of speaking, and finds his crumbling romantic self-worth revitalized by this supernatural creature - whom no one else can actually recognize as anything other than a fish. Multiple complications ensue, with Peabody entreating the help of a psychiatrist to sort it all out and salvage his endangered marriage.

Shot mainly on the back lots of Universal Studios where the Caribbean getaway was simulated with plenty of exotic palm trees and architecture, Mr. Peabody and the Mermaid features some striking underwater mermaid imagery which set the pace for future similar films like Splash (1984). These sequences were actually filmed in Weeki Wachee Springs, Florida, whose popular nautical attraction featuring a mermaid swimming routine had opened a year earlier in 1947 (and went on to largely inspire a recurring plotline on the TV show Pushing Daisies). Lenore's water dance seen in the film was actually a performance originated by the Weeki Wachee mermaid performers, who double for Blyth's swimming scenes. As noted in Susan Doll and David Morrow's Florida on Film, Southern theaters even used popular mermaid attraction Nancy Tribble to promote the film in a water tank at several engagements!

The Southern aspects of Mr. Peabody and the Mermaid don't stop with the mermaid swimmers, however. One of its most prominent promotional aspects was its screenwriter, Nunnally Johnson, who was even given possessive credit of the film's title on many of the theatrical posters. Born in Columbus, Georgia in 1897, Johnson became a screenwriter in the early sound era after a stint as a newspaper reporter in New York and, after his acclaimed work adapting The Grapes of Wrath in 1940, had most recently penned a pair of successful thrillers, The Woman in the Window in 1944 for director Fritz Lang and The Dark Mirror in 1946, still the definitive good and evil twin movie. His work on Mr. Peabody, adapted from a novel by Guy and Constance Jones, was a lighthearted change of pace before he returned to headier dramatic material like The Mudlark (1950) and Phone Call from a Stranger (1952); however, his most famous work was yet to come with a string of very different Cinemascope films at Fox: How to Marry a Millionaire (1953), Black Widow (1954), The Man in the Gray Flannel Suit (1956), and the Oscar®-winning The Three Faces of Eve (1957), the latter two of which he also directed. However, for his final feature film he made the leap to action/war territory with one of the genre's most enduring classics, 1967's The Dirty Dozen. Another reason for Johnson's prominence on Mr. Peabody and the Mermaid is its status as one of a pair of films produced by his Nunnally Johnson Productions, by this time undergoing a name change to Inter-John Productions after the release of the only other released title, Casanova Brown, in 1944.

Though not as much of a household name as his screenwriter, director Irving Pichel also had a diverse career beginning in Hollywood as a frequent character actor (usually villainous) including notable supporting parts in Cecil B. DeMille's Cleopatra (1934), the sinister sidekick in Universal's Dracula's Daughter (1936), and Huger in the antebellum drama Jezebel (1938). However, in 1932 he began a parallel career as a director beginning with the breakneck horror/action classic The Most Dangerous Game (1932) and the outrageous pulp fantasy She (1935). His penchant for florid visuals and tight, psychologically trenchant narratives are his most obvious attributes in Mr. Peabody, which he continued to expand in different genres with a notably peculiar film noir, Quicksand, and ground zero for the '50s sci-fi film, Destination Moon (both 1950).

Producer: Nunnally Johnson
Director: Irving Pichel
Screenplay: Nunnally Johnson (screenplay); Guy Jones, Constance Jones (novel)
Cinematography: Russell Metty
Art Direction: Bernard Herzbrun, Boris Leven
Music: Robert Emmett Dolan
Film Editing: Marjorie Fowler
Cast: William Powell (Mr. Peabody), Ann Blyth (Mermaid), Irene Hervey (Mrs. Polly Peabody), Andrea King (Cathy Livingston), Clinton Sundberg (Mike Fitzgerald), Art Smith (Dr. Harvey), Hugh French (Major Hadley), Lumsden Hare (Col. Mandrake), Fred Clark (Basil), James Logan (Lieutenant).
BW-89m.

by Nathaniel Thompson

Sources:
Doll, Susan and Morrow, David. Florida on Film: The Essential Guide to Sunshine State Cinema & Locations. University Press of Florida, 2007.
The Internet Movie Database.
back to top
---