DVDs from TCM Shop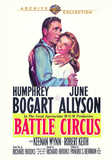 Battle Circus A doctor fights for his life... MORE&nbsp> $16.46 Regularly $21.99 Buy Now
FULL SYNOPSIS
At a mobile Army surgical hospital in war-torn South Korea, nurse Lt. Ruth McCara, who has just transferred in from Tokyo, reports for duty moments before a bombing raid. While risking her life trying to move wounded soldiers, Ruth is intercepted by Maj. Jed Webbe, the wry, pragmatic chief surgeon. The unit is ordered to move to a new location that night, and when Ruth sees the tents come down, she naively assumes that the war must be over. The other nurses wearily begin packing and explain that the hospital moves when the front lines do, adding that they have moved seven times in the last few weeks. Later, during the evacuation, Jed makes a pass at Ruth, but she rebuffs him good-naturedly.

At the new site, the company sets up the camp with great speed and efficiency, and Jed resumes his campaign to win Ruth over. Later, while giving inoculations to South Korean refugees, Ruth finds a child who has been badly wounded by shrapnel. Jed operates, and when the boy's heart stops, performs open-heart massage and saves him. Jed's skill impresses Ruth and she begins to warm to him, but informs the amorous doctor that she will only consider a serious relationship that leads to marriage. Although Jed shows no interest in settling down, Ruth soon falls in love with him, and is crestfallen when another nurse jealously speculates that Jed may already be married. Ruth tries to question Jed about his civilian life, but he refuses to tell her anything.

Later that night, as fierce winds whip through the camp, Jed learns that helicopter pilot John Rustford, who is delivering much-needed blood to the unit, has left the air base without enough fuel. He sets up an improvised landing strip some distance from camp, and John and the blood arrive safely. Jed celebrates by getting drunk in his tent, and Lt. Col. Hillary Whalters, the unit commander, is outraged. The next morning, Whalters tells Jed he must swear to abstain from alcohol, threatening to court-martial him if he gets drunk again. Ruth asks Whalters for a transfer to another unit, but Whalters, aware of Ruth's feelings for Jed, advises her to adopt more aggressive tactics instead. That night, Ruth takes Jed for a drive, and he tells her that he was married but his wife left him for another man. Later, at the hospital, a group of wounded North Korean prisoners are brought in, and one becomes hysterical with fear and produces a concealed grenade. Stifling her own terror, Ruth speaks soothingly to the man and manages to disarm him.

The next day, the unit has just received evacuation orders when the camp is bombed, and both Whalters and Ruth are injured. With no time to pack up the tents, Jed and his men set fire to them, then form a convoy to transport the patients to the base hospital. Jed bids Ruth goodbye, promising to find her again, and sets out on the perilous mission. When guerrilla attacks close the road, Jed orders his men to unload the patients, drive each vehicle down the side of the steep hill and carry the wounded downhill in their arms. Finally, the arduous task is completed, and when the weary cavalcade reaches the nurses on the side of the road, Ruth and Jed are joyfully reunited.