DVDs from TCM Shop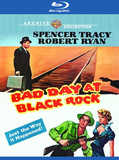 Bad Day at Black Rock A one-armed veteran uncovers small-town secrets when he... MORE&nbsp> $18.95 Regularly $21.99 Buy Now
USER REVIEWS
See Detailed Ratings
Acting of Lead Performers

Acting of Supporting Cast

Director

Music Score

Title Sequence

Screenplay

Cinematography

Historical Importance

Would You Recommend?

0 Member Ratings
Rate the acting of the Lead Performers

Rate the acting of the Supporting Cast

Rate the Director

Rating of the Music Score

Rating of the Title Sequence

Screenplay

Creatively uses the camera to tell the story

Importance in Cinema history

Would you recommend for fans of this genre
Submit Ratings
Cancel
Write a Review
Read Reviews
NO REVIEWS AVAILABLE
The title has not been reviewed. Be the first to write a review by clicking here to start.
"The rule of law has left here ..."

said the protagonist. The rule of law is important, as is this film starring Tracy (2-time Oscar winner), Brennan (3-time Oscar winner), Jagger (Oscar winner), Borgnine (Oscar winner), Marvin (Oscar winner), and Ryan, whom never won an Oscar (?!). This film is important for it reminds us that it is wrong to criticize, hurt (or worse) one or some for the actions of another or others, only because the innocent party or parties share a trait or traits with the offender(s). There are countless examples in the past and present, and likely in the future there will be countless examples as well, of the innocent being victimized for the sins of others all over the world. The rule of law is important.

the atlas of change.

by the standards of today.. patronizing.. quaint. by the 50s point of view.. maybe not so. the idea of the story was interesting..and the cast was a roster of hall of fame acting talent. if you do not respect the lead actor for his ability.. maybe you should think about your relationship with tcm. this is a story that was part of the shift in movie making Hollywood was going through. you got to travel this train in 55..before you ride the late 60s motorcycle in easy rider.

excellent film

This is a great movie. Spencer Tracy is outstanding. From the opening scenes with the locomotive racing across the desert to the final moments as Tracy's character is leaving Black Rock, this is a powerful film. Robert Ryan plays a villain about as evil as they come. Ernest Borgnine is perfect as the town bully. Walter Brennan pays the only doctor/undertaker (he has sort of cornered the market) and one of the very few in town who has a conscience. The one odd character is that of Anne Francis playing what appears to be the only female in town and possibly the entire state. Her presence is peculiar especially in the final scenes when she is supposedly trying to drive Tracy's character out of town and to safety. She is all dolled up but it's not clear who she is trying to impress. She knows Ryan's character is planning to kill Tracy's character but that doesn't explain her make-up, clothing or hair do. But it is the mystery Tracy uncovers in that creepy little town that matters. And the mystery is all the town has going on. It is a dried up, sun burned, isolated and forgotten desert town. In ten more years it would be a ghost town. But it provides the perfect backdrop for the mystery and Tracy's efforts to cover the truth. This is one of Tracy's best solo performances. No love interest or female with whom to banter, he steals the show on his own and he does solve the mystery of what happened to Komoko. Watch this movie!!

One Way at Black Rock

This hard-hitting movie acts out well its theme of nonracial hygiene.

One Of My Favorites

Bad Day At Black Rock is a strong, bold film. The cinematography is perfect, the direction perfect, cast perfect, too. I had to watch this film 3 times to start liking it and now, I am really hooked. I have to watch it every time it's on.Lots of bad guys to hate, and a true hero played by Tracy. Ann Francis is great as the strong female presence who gets involved in this drama. Everybody does the film justice, especially Tracy who is tough as a boot and not scared of anybody or anything. Watch this film with an open mind. It's set in 1945 and the film made in 1955 has stood the test of time. It's a deliberately paced film. No hurry. No looking away from the ugliness of bigotry either. It's a great film with a taut script. And the spare direction fits with the wide open western location. The landscape is truly one of the characters in the film. It's just plain cool!

Bad Day At Black Rock: Strong Story

Robert Ryan steals the show as Reno Smith- villainous adversary to the level-headed former soldier Spencer Tracy who is only trying to see that a fallen warrior's medal is delivered to his surviving family. Who is the real American is the centerpiece of this strong film directed by John Sturges as duplicity in murder based upon ethnic resentment shatters a barren desert village. Ernest Borgnine, Lee Marvin, Walter Brennan, Dean Jagger, Anne Francis and John Ericson provide terrific supporting performances. The German-born Ericson would resurface 10 years later to once again play alongside the sweet Miss Francis in the 1965 television action series Honey West, considered the first TV show with a female lead private eye. (Or was it private eyeful ?) Native Kentuckian Francis J. McDonald appears uncredited, a sad commentary considering he made his first film in 1913 and had over 350 movie and TV credits when he appeared in producer Dore Schary's Bad Day At Black Rock in 1955.

Great film and moe

The film is quite a great film. Great performers and good performances. I recommend this one at least a 4.5. Tracy, Ryan, Francis, EB are first class.On the Japanese Americans issue, no doubt that they were mistreated by a liberal president. In spite of this they served well in the war in spite of FDR's handling of them.We need to unite, not divide. We have had enough division. As a Native American, we have seen huge abuse of minorities but is one minority the only one? Absolutely not. This discrimination is largely over in the US. Move on and make the best of one's life. Do not use your race or whatever classification for an excuse. Unite as Americans. We air our dirty laundry, unlike most countries. We hide nothing and do not need to apologize. Unite behind the United States and get over the hyphenated American thing. We must be Americans, not hyphenated whatever Americans.

bad day at black rock

"Yojimbo" meets liberal Hollywood. Not a good combination. Even though it's got maybe my two favorite actors from the 1950s, Spencer Tracy and Robert Ryan, and even though the screenplay's got some good lines (like Lee Marvin's saying to one armed Spencer Tracy when he first meets him, "You look like you need a hand") I gotta give this one a C plus.

How did the Japanese -Americans Get to Black Rock?

Were the evil characters, who were probably representative of most good Americans the day after Pearl Harbor any different. What was it that made so many young men enlist? They wanted to kill Japanese. Has Hollywood ever made a film about the callous decision of FDR to intern, most legal, some citizens of the US? It was done for political purposes. If you ever see films regarding this dark event, it was not the FBI who made the decision, but a President who did so for a political reason. The Irish Republic had harbored German spies, refused to allow Allied ships use their harbors, and interned Allied Air and Naval crews that landed in Ireland. Millions of Italians and German's some who were not citizens were not interned. The practical reason they were not interned was they were voters, who predominantly voted Democratic and for FDR. To make a film about one community's few bigots who appeared to have flunked out of Grade school, seems harsh when the decision to send them to this desert was made by men who had attended Ivy League schools.As Actors, within what I think is a contorted plot, were terrific, although I found Tracy's one armed character and White Hair a little disconcerting considering that the men he fought were young and large. Did they not go on to play superheroes in future films? I love the comedies of Director John Sturgis. They are improbable farces. I never enjoyed any of his films such as this, because they were farces of serious subjects.

Sturges Strikes Again

Bad Day one of the great American filmsFilled with Oscar winnersTracy,Marvin,Brennan, Borgnine, Jagger(and nominee Ryan)It is a remarkable filmPerhaps the earliest reference inAmerican popular culture of thedeeply unjust massive Japaneseinternment it marks ,along with Magnificent SevenMystery street and The Great Escape , yet another remarkableSturges FilmHow great must a film be , one must ask,For it to receive Mr. Maltin's highest ranking??

The Rock is hard to forget

Good movie. Wonderful cast. But like some of the other users the film has a few quibbles or problems that seem to get in the way of fully enjoying it. For example, the town has a rather odd demographic distribution of citizens. There are no children, no teens. Except for Anne Francis and her brother, no one under the age of 30. I admit its a small town but hard to remember a town with no children. Also no one ever seems to be doing anything other than loitering around and drinking beer or pop. I know its suppose to be sleepy. But seems a bit too sleepy.And throughout the picture we just seem to see that same 8-10 people all day and night. I mean aren't there any other women in town? All this contributes to the picture's static quality. Seems to be a morality play in a western locale.But that all said, it well-acted, directed, and moves at a good clip. Good viewing and its message of standing up for community values in the face of prejudice and bullying is always timely.

Bad Day at Black Rock

A taunt mixture of the western & film noir genre. Tracy deserved his Oscar nomination among a group of superb supporting players including Ryan, Brennan, Borgnine, Francis, Marvin & Jagger. Director Sturges & screenwriter Kaufman create tension in the sun-drenched landscape, which also serves as a straightforward message about racism towards the Japanese. A quick-paced, entertaining & engaging film. I give it a 4.5/5.

Mystery at Black Rock

I had interest in this movie after Ernest Borgnine died. I mean saddest day of my life. I heard good things about it and bad things. The bad things I heard were how the townsfolk weren't 3 dimensional characters and the complaint of being dated. The dated part didn't bother me because well a lot of movies are and I don't care really because the time setting fascinates me to death. Well before I watched it I thought how will they pull this off? I mean a one armed man goes to a town and is antagonized by toughs such as Marvin and Borgnine. I watch the film. The after thought was oh man this is one of the most amazing films ever made. The direction was incredible and the storyline was perfect. The acting was flawless. I consider Spencer Tracy and Robert Ryan some of the most fascinating heroes and villains in cinematic history. The support fit perfectly even the menial characters such as Anne Francis (the only female in the cast) and John Ericson worked. I recommend this film to everybody. It's an excellent masterpiece and everyone should see it. I will say thanks to Ernie for being in this film or else I wouldn't have heard of it or seen it. On a side note wait for the scene when Tracy is confronted by Borgnine in the saloon. It shows the great prowess of action by director John Sturges (The Magnificent Seven, The Great Escape, Gunfight at the O.K. Corral, Ice Station Zebra)

Good Day when you see Bad Day at Black Rock

Though a bit dated what wasn't dated was just how good the actors of the 50s and 60s were. Compared to most of the intensely shallow people who are cast as our modern stars the cast of this movie were not only great actors most of them were also good people who were patriotic and had served in WWII. This gave them some depth of character sadly lacking today. I recently watched The Big Country last week for the fourth time and was impressed with that cast as well. Bad Day at Black Rock is in my library and I plan to watch it again later this week. The plot is well developed and as the plot unfolds the real talent of the cast just floods across the screen. In my Top Ten of movies.

Perhaps my favorite movie of all time.

Spencer Tracy is great as always, and what a cast of well known actors. One movie I can watch again and again.

Bad Day at Black Rock (1955)

Wow, did I ever expect this movie to be better than this. Spencer Tracy is in stone-faced acting mode for this one as he drifts through this tediously slow, tension-less film. This movie was ahead of its time ... but only in that it feels and looks like it was filmed in the early-70s and not 1955. In other words: cheap and disjointed.

Bad Day at Black Rock

Christine Hoard Barre

1/30/11

Not a false note or wasted moment in "Bad Day at Black Rock" and one of my favorites. Great acting, writing, cinematography, score, directing. One of Tracy's best, especially from this period in his career. Robert Ryan is great, too. Lots of suspense, plenty of action - all in under 90 minutes!

Good men playing bad men

"Bad Day at Black Rock" is a suspenseful, mature, masculine movie (something Hollywood does not really produce anymore) laden with talented actors and patriotic veterans. Tracy plays a man who served our country in WW 2, while Ryan, Marvin, and Borgnine actually did. They all contributed in the Pacific Theater to defeat the hatred and aggression of totalitarian Japan (Marvin was awarded the Purple Heart). In this movie, they all play characters who contribute in trying to defeat Tracy (in town to visit a man of Japanese descent) with hatred and aggression in totalitarian Black Rock. Tonight was the 2nd time I have enjoyed this short, engrossing film. Tracy is terrific. Marvin is marvelous. The bar scene is unforgettable.

Fantastic Movie!

I debated whether to watch this movie or not but went ahead and did so. Wow! I had no idea what a great picture this was going to be. The fight scene was amazing and it goes to show you how well a determined and trained man can make his point. I will be adding this movie to my collection!!!

Don't Mess With Vets

Loved how Macreedy showed the towns"men" in the bar why it wasn't wise to mess with a vet, even if he was older and without the use of one of his arms. Bad Day At Black Rock rocks!

Tracy stands out

Spencer Tracy proves why he is one of the top two greatest actors of all time. He can take a low budget film with a great script and turn it into a all time suspense classic.

Classic Contemporary Western

"Bad Day At Black Rock" is a suspensful, well done thriller that except for the cars and costumes looks like it could have taken place in the 1880's instead of the 1940's. Spencer Tracy gives one of his best performances as McCreedy, the stranger who comes to town looking for his dead war buddy's father but finds hostile townspeople who are keeping a sinister secret. Robert Ryan is also very good as Smith, who has the town under his influence and who will stop at nothing to keep McCreedy from learning the truth. The rest of the cast, cinematography, music and script are all excellent. However, I have just one question - if Black Rock is supposed to be in Arizona why does the jeep have California plates? I have the DVD and watch it often.

Great 50's movie

Wonderful movie loaded with stars,i think this movie has to be one of the best of all time,great color and scenery from the desert,wished it was on more often..

An Ensemble Cast and a Wonderful Thriller

A really good film with suspense building right up to the climax scene. Spencer Tracy visits a small town and everyone acts like he's from outer space. Their non-friendly attitude towards him leads Spencer (the one armed war vet) believe that the town-folk have something to hide. Spencer's smarts has to keep himself alive from these estranged people. This film has the viewer engulfed with it's suspense. A good thriller from the 1950's.
*We protect your personal infortmation and will not provide it to anyone without your consent. For a complete explanation, please refer to TCM's Privacy Policy. By submitting your contribution, you agree to TCM's Terms of Use.