DVDs from TCM Shop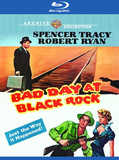 Bad Day at Black Rock A one-armed veteran uncovers small-town secrets when he... MORE&nbsp> $18.95 Regularly $21.99 Buy Now
NOTES
The working title of this film was Bad Day at Honda. A July 24, 1953 item in Hollywood Reporter's "Rambling Reporter" column stated that the film was originally planned as an independent feature for Joel McCrea, and added that McCrea might star in M-G-M's production. According to a August 13, 1953 Hollywood Reporter news item, Sam Zimbalist was originally assigned to produce the film for M-G-M, and George Sidney was to direct Don McGuire's screenplay. The extent of McGuire's contribution to the final film, if any, has not been determined. A September 23, 1953 Hollywood Reporter news item stated that Charles Schnee would serve as producer, and Paul Douglas was cast in an unspecified role. By November 11, 1953, though, Hollywood Reporter reported that the picture was being put off "indefinitely."
M-G-M production head Dore Schary wrote in his autobiography that he originally offered the script to Zimbalist and Pandro S. Berman, but both men declined to produce it. A biography of Spencer Tracy adds that Richard Brooks was assigned to direct but was replaced with John Sturges. When the production began on July 20, 1954, Sturges was at the helm. As noted in Hollywood Reporter news items, portions of Bad Day at Black Rock were shot on location in Lone Pine, CA. Prior to the film's release, According to a November 30, 1954 Hollywood Reporter news item, M-G-M and Fawcett Gold Medal Books had reached an agreement for the publication of a book based on the film to coincide with the picture's theatrical release.
According to materials contained in the MPAA/PCA file on the film in the AMPAS Library, Joseph Breen, Vice President of the PCA, suggested that the filmmakers reconsider their use of expressions such as "Jap-lover" and "lousy Jap," but these expressions were used in the released film. Sturges received an Academy Award nomination for Best Director; Tracy for Best Actor; and Millard Kaufman for Best Adapted Screenplay. Tracy won a Golden Globe Award for acting. Bad Day at Black Rock marked the final M-G-M film for Tracy, who had been under contract to the studio for more than twenty years. The 1956 M-G-M release Tribute to a Bad Man (see below) initially starred Tracy but he withdrew during production and was replaced by James Cagney.
Modern critics have pointed to Bad Day at Black Rock as a metaphor for the reaction to the House Committee on Un-American Activities. The 1960 M-G-M film Platinum High School (see below) was loosely based on Howard Breslin's story.