DVDs from TCM Shop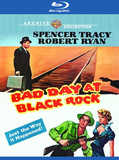 Bad Day at Black Rock A one-armed veteran uncovers small-town secrets when he... MORE&nbsp> $18.95 Regularly $21.99 Buy Now
Home Video Reviews
Ah, to be a fly on the wall during the presumably lubricated nights between the daylight shooting hours of 1954's
Bad Day at Black Rock
. With Spencer Tracy, Robert Ryan, Lee Marvin, Ernest Borgnine and Walter Brennan all in the cast, one can only imagine the bawdy carousing and colorful tales this group of Hollywood troupers must have shared. One need not merely imagine the formidable work these guys could create together, though. John Sturges' potent
Bad Day at Black Rock
is Exhibit A, and it's now on DVD.
Like
High Noon
,
Johnny Guitar
and
Silver Lode
, Sturges' movie is one of the better condemnations of bullying and mob rule made during the years in which Senator Joseph McCarthy bullied enough reactionary and apathetic politicians, businessmen and citizens into going along with his repressive Communist witch hunt. A similar atmosphere of fear and conformity fills the California desert town that gives Sturges' movie its name. War veteran John J. Macreedy (Tracy) gets off the train there one day in late 1945 - the first time the Streamliner has stopped in four years, according to the conductor - and immediately sparks the easily-aroused suspicions of the ranch hands and locals who hang around the dusty one-intersection town. Macreedy is initially bemused by the wariness and thinly-veiled aggression of the swaggering characters played by Borgnine, Marvin and John Ericson. But when those young bucks discover Macreedy wants to go out to the land belonging to a Japanese-American farmer who mysteriously vanished just after the attack on Pearl Harbor, the veil drops from the aggression and Smith (Robert Ryan), the bigoted ranch owner who keeps these henchman-like characters on a tight leash, soon appears to keep a very close eye on Macreedy.
There's nothing very tricky about
Bad Day at Black Rock
, which combines its modern-day western setting with a noir-like man-stepping-into-danger premise. Its heavies may as well wear black hats, and its conscientious stranger is clearly the hero all the way. There is, however, some great slyness to the movie. Like Tracy's performance, its 81 minutes include no wasted motion as it delves into notions of masculinity and patriotism. While Smith and his men strut around with chips on their shoulders, apparently none of them served in the war effort (we know for a fact Smith tried to enlist but was deemed medically unfit). Macreedy did serve, and has returned from Italy with one bum arm. He treats the macho men with complete deference at first, since he knows they're just trying to pick fights (acquiescing to them only frustrates them, he's happy to learn). But when he has to defend himself, Macreedy does. The mob isn't so tough when taken as individuals, most memorably in the scene in which Macreedy levels a shocked Coley (Borgnine) with a series of well-placed karate chops and a judo throw.
Between Macreedy and the heavies are the pivotal fence-sitters: the town dissipated doctor (Walter Brennan) and Smith's do-nothing, hand-picked sheriff (Dean Jagger). The visitor eventually inspires each to take a stand, especially when it's clear Smith means to have Macreedy killed. If there's a message to the movie, it's that even the apathetic can tilt things to the positive and thwart hatemongers like Smith (or McCarthy or Hitler or...) if they exercise a little backbone. But it's skillful enough to defy pigeonholing as a one-note "message movie." Screenwriter Millard Kaufman keeps the action fast-moving, the issues free of sermons and the dialogue to the point, with Tracy's head-to-head scenes opposite Ryan and Brennan being especially vibrant, as the actors trade lines like good tennis players volleying back and forth.
Bad Day at Black Rock
is the rare studio production that blends conscientiousness with action, eye-popping location cinematography and a cast of tough-as-nails actors (Anne Francis, who plays the proprietor of the local garage, is the only woman in director Sturges' movie). Since today's studio movies so often tout selfishness,
Bad Day at Black Rock
is all the more remarkable for anyone approaching it for the first time today.
The widescreen cinematography of William C. Mellor - whose views of rugged locations here recall his similar work in
The Naked Spur
and
Giant
- looks great on the
Bad Day at Black Rock
DVD, while Andre Previn's score contributes to the movie's muscular boldness. Extras are minimal, with the trailer and a commentary by USC film professor Dana Polan included. I have no gripe at all with anything Polan says, and he makes some interesting observations. But, as is often the case with academics' audio commentaries, you start to feel as if he's draining all the fun from the movie after a while.
For more information about
Bad Day at Black Rock
, visit
Warner Video
. To order
Bad Day at Black Rock
, go to
TCM Shopping
.
by Paul Sherman