DVDs from TCM Shop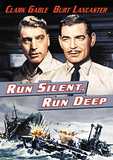 Run Silent Run Deep Officers on a WWII submarine... MORE&nbsp> $14.96 Regularly $19.95 Buy Now blu-ray
NOTES
DVDs from TCM Shop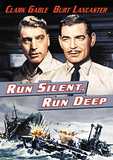 Run Silent Run Deep Officers on a WWII submarine... MORE&nbsp> $14.96
Regularly $19.95 buy now
Following an onscreen title card denoting that the setting is 1942, in the Bungo Straits off the coast of Japan, a brief sequence unfolds that in which "P. J. Richardson's" submarine is sunk by a Japanese destroyer. The credits then appear, followed by the main story, which takes place approximately on year later. The following written statement appears at the film's conclusion: "Our appreciation to the Department of Defense, the United States Navy, and the officers and men of submarine Flotilla 1 for the cooperation extended." Although most contemporary reviews refer to the film as Run Silent, Run Deep, the onscreen title contains no punctuation. The film's production company, Jeffrey Productions, Inc., was a subsidiary of Hecht-Hill-Lancaster, headed by producer Harold Hecht, writer James Hill and actor Burt Lancaster.
According to a May 1955 Daily Variety news item, the purchase of Commander Edward L. Beach's novel, Run Silent, Run Deep marked the first time that United Artists acquired a property outright with production assignment to be arranged later. Previously, the company had aligned with independent filmmakers who already had developed their own story properties. According to September 1955 Hollywood Reporter and Los Angeles Times reports, Cary Grant was to star in Run Silent Run Deep, which was to be directed by Delmer Daves. Grant and Daves previously had teamed for the Warner Bros. 1944 World War II submarine drama Destination Tokyo (see AFI Catalog of Feature Films, 1941-50). A May 22, 1957 Hollywood Reporter news item states that Nigel Balchin was writing the screenplay with John Gay, who is credited onscreen as the screenwriter.
Hollywood Reporter news items add the following actors to the cast: Albert Salmi, Robert Vaughan, Vince Edwards, Jim Murdock, Vince Williams, Joe Kelsay, Russell Thorson, Jimmy Hayes, Patrick Colby, Paul Busch, Rollin Moriyama, Dale Ishimoto, Jim Yanagi, Joe Awaki, Robert Kino, Jack Sterling, Joe Brooks, Roger Terry, William Angelo, Bob Moechel and Teru Shimada. Salmi, Vaughan and Edwards were not identifiable in the viewed print, and the the appearance of the other actors in the final film has not been confirmed. The film was shot in part on location at a naval base in San Diego, CA. An August 1957 Hollywood Reporter news item indicates that some location filming was to be done on board the U.S.S. Redfish.
Nick Cravat, a longtime personal friend of Lancaster, had appeared in numerous films with the star and was known for never speaking a line. Following a reconciliation of the friends after a long estrangement, Cravat reunited with Lancaster in Run Silent Run Deep, in which his character, "Russo," had several lines of dialogue and provided comic relief.
A September 1957 Los Angeles Times article reported that the Navy Department had shipped more than $500,000 worth of instruments and equipment for use in the submarine interior sets for Run Silent Run Deep, resulting in no "mock-ups" or "dummy" instruments being used in the underwater combat scenes. According to an April 1958 Los Angeles Times article, Run Silent Run Deep was the first film to have an underwater submarine premiere, when the film was shown to a group of navy and press guests aboard the U.S.S. Perch just off Terminal Island in the Pacific. A modern source adds Wayne Dahmer to the cast and Robert J. Schiffer (Makeup artist) and Irving J. Moore (Assistant Director) to the crew. According to modern sources, after constant script rewrites throughout production, co-producers Hill and Lancaster decided to re-edit the film after director Robert Wise submitted his cut, prompting Wise to withdraw completely from post-production. A 1965 Daily Variety news item indicates that a television series based on the movie was being considered, but the show was never produced.