DVDs from TCM Shop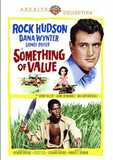 Something of Value Childhood friends end up on... MORE&nbsp> $14.95 Regularly $17.99 Buy Now
NOTES
The following written prologue precedes the onscreen credits: "When we take away from a man his traditional way of life, his customs, his religion, we had better make certain to replace them with Something of Value." Although a principal actor in the film, Sidney Poitier's name is last in the opening cast. Prior to the beginning of the film's action, six of the main white characters are introduced by written names and brief character descriptions. The film concludes with the following quote credited onscreen to Sir Winston Churchill: "The problems of East Africa are the problems of the world."
As noted by several reviews, Something of Value was the first motion picture produced in Hollywood that attempted to describe the events of the Mau Mau insurrection in Kenya, then a British colony. According to historical sources, the Mau Mau was a militant African nationalist movement that originated in the early 1950s among the Kikuyu people of Kenya. The Mau Mau, which advocated violent resistance to British domination, was particularly associated with the ritual oaths employed by leaders of the Kikuyu Central Association despite that fact that Kikuyu custom prohibited the administering of oaths by force or to women. As the Mau Mau grew in number, their oaths grew in brutality. The rebellion ended by 1960, and Kenya became an independent nation in 1963. For more information about the Mau Mau see the entry above for the 1955 documentary Mau Mau.
According to a January 5, 1955 Hollywood Reporter news item, author Robert C. Ruark was to serve as technical advisor for the film. A September 28, 1955 Hollywood Reporter news item states that Ruark was initially considered to direct the film, but was later replaced by Richard Brooks. Portions of the film were shot on location in Kenya, Africa with studio work taking place on the M-G-M lot in Culver City, CA. A August 10, 1956 Hollywood Reporter news item claims that the Kikuyu tribe ceremonial dance included in the picture had not been photographed previously.
According to a biography of Rock Hudson, during filming in Africa, Poitier had to contend with most establishments, including hotel and restaurants, refusing to serve him because he was black. The book also noted that the film was banned in many countries; however, censor reports contained in the film on the film in the MPAA/PCA Collection at the AMPAS Library indicate otherwise. British and Australian territories requested certain violent scenes be cut from the film, but do not appear to have banned it. No censorship information was found for other countries. According to modern sources, the film was reissued under the title Africa Ablaze.