DVDs from TCM Shop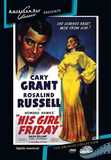 His Girl Friday An unscrupulous editor plots... MORE&nbsp> $11.95 Regularly $10.99 Buy Now
USER REVIEWS
See Detailed Ratings
Acting of Lead Performers

Acting of Supporting Cast

Director

Music Score

Title Sequence

Screenplay

Cinematography

Historical Importance

Would You Recommend?

0 Member Ratings
Rate the acting of the Lead Performers

Rate the acting of the Supporting Cast

Rate the Director

Rating of the Music Score

Rating of the Title Sequence

Screenplay

Creatively uses the camera to tell the story

Importance in Cinema history

Would you recommend for fans of this genre
Submit Ratings
Cancel
Write a Review
Read Reviews
NO REVIEWS AVAILABLE
The title has not been reviewed. Be the first to write a review by clicking here to start.
Masterpiece

I can't get over all the reviewers here who found the pace too fast and couldn't "process" what was going on. Seriously? I found it all perfectly clear and reveled in the expert ensemble playing, the fun of the slang-laced English employed, the perfect pairing of Grant and Russell as each one meets his/her match in the other, and the flawless direction of the great Howard Hawks. One of the great classics of the American canon.

love Cary, but not this movie

Sheralyn C DeSebasco

6/4/18

Seen this before because I love Cary soooooooo much. But I have never been a fan of Rosalind so this was a poor casting for me. The movie was too goofy to become interested in a plot if you can even find one. Oh well, can't win them all. Better luck next time folks.

Rat-a-tat-tat

The machine-gun patter throughout has got me exhausted! I would watch this again simply to listen to the one-liners. Too much manic speed-talking throughout to be really enjoyable. I love the character players in the Press Room, like Regis Toomey and, often a cab driver or Marine, Frank Jenks. And remember the obnoxious guy giving Colbert the come-on in 'It Happened One Night'? Roscoe Karns. "Shapeley's the name..." In 'Girl Friday' the one-liners happen all the time, like Karns saying "Hey this is big. An old lady called up the Detective Bureau and said Williams is hiding under her piazza." Toomey -"Tell her to stand up."

love Cary, but not this movie

second time I watched this movie. Too goofy for my taste, but loved how Cary slipped in his real name, Archie Leach in one line. He was haunted by his childhood and I just love him for living through it very successfully. RIP handsome Cary/Archie.

Running off the mouth.

Digesting the dialogue was extremely difficult. I lost what the main plot of the movie was. Cary Grant and Rosalind Russell are wonderful actor/actress, but this movie did not do their abilities any justice. All I was focused on was how much they were "running off the mouth" and "talking a mile a minute" The context of their dialogue was completely lost in all the wild bantering. With all the rapid paced actions by all the actors, it was difficult to keep track of the characters as well as the story line. The only reason to watch it was to critique it

fashion and thinking forward.

part of the story.. does involve the idea.. of two reporters making a story.. based on the notion.. that a man who was a black police officer killed..may not be that big a thing.. for someone who is white..to be executed for.maybe different time..maybe the writer did not think about it..but kind of has a bad vibe..a little cramp the good time.. for the movie thing. I do not think this means mr.grant was a racist..i mean white sheets and pillow cases..no way he would wear that.

brilliant and hilarious

This remarkable film contains what may bee the absolute best banter between two main characters in any film ever made. I swear Cary Grant and Rosalind Russell never memorized a line. They jus knew what to say and their chemistry is perfect. Ralph Belamy as the poor sap who thinks he is going to marry Ms Russell's character is absolutely wonderful. He is such a lost soul surrounded by a whirlwind of all too funny activity. The plot is wonderful (The Front Page) and one cannot blink because the action and dialogue are too vital for following the breakneck speed of this comedy. Nobody but Rosalind Russell could have played this part so well. Alma Kruger as Mrs.' Baldwin (Bellamy's mother) is hilarious and the scene where she is carried out of the newsroom is film comedy at its best. What a great movie.

Fast Comic Banter

Classic must-see comedy by the great Howard Hawks. Rosalind Russell steals the show but Grant and cast provide plenty of one liners too. Comedy with news reporters, who would've thought? Although 1931's 'The Front Page' is an excellent film, this version is one of the best comedies ever. I wish Russell and Grant would have made more films together. Top 20 film in my book. Enjoy.

HAIL HOWARD HAWKS !

As any serious scholar or student of the studio system in Hollywood's heyday knows, Howard Hawks is in the top 3, of the most successful directors. Intelligent people worldwide are still fascinated by John Ford's westerns. Alfred Hitchcock's suspense-filled mysteries intrigue five-generations of the intelligencia. Rivaling these two aces, is the ace of aces among world-class film directors, Howard Hawks. He created more 4-star films (the highest of ratings among most critics) in many more genres than any other director in the history of film. Howard Hawks is famous as a movie-making maverick with a distinctive talent for creating sassy female characters that enchant male bosses. Please consider his hits: "A Girl in Every Port" (1928), "The Dawn Patrol" (1930), "The Crowd Roars" and "Scarface" (1932), "20th Century," "Barbary Coast," "Bringing Up Baby," "Only Angels Have Wings," "His Girl Friday," "Sergeant York," "Ball of Fire," "Corvette K -255,", "To Have And Have Not," "The Big Sleep" (1946), "Red River" (1948), "A Star Is Born," "I Was A Male War Bride," "The Thing From Another World," "The Big Sky," "Monkey Business," "Gentle Prefer Blondes," "Rio Bravo" (1959), "Hatari" (1962), and "El Dorado" (1967). Twenty-three successes. Who else compares to this heroic champion, across so many different genres, among film directors? Hail Howard Hawks!

Weird movie

I tried numerous times to watch this movie, due to the great reviews it got. Honestly, this movie doesn't do anything for me and I find it rather silly and not in a good way.

His Girl Friday

The funniest, the fastest-paced, the best! Everything scores in this **** screwball comedy. Just try to keep up with the brilliant, mile-a-minute dialogue delivery. Everything works.

His Girl Friday

I listened to what Robert and Cher had to say about the rapid fire dialogue of this movie and it did give me a new appreciation as to how difficult it must have been. I am a huge Cary Grant fan and I think he was wonderful in this movie. The film did seem to drag a bit in the middle when he disappears and then it goes full guns a blazing to the finish. I like the beginning of this film better than the ending. The beginning is more playful, then there's a lull, then its rush rush rush. I do think it's amazing they could spout out their lines one over the other and all around, but it can be a bit nerve wracking. Especially when trying to wind down for the evening.

Like a 40's version of Seinfeld

Fans of Seinfeld should enjoy this movie with its dialogue pace tipping the speedometer at 100mph. Often during in the movie several characters are talking about several subjects at the same time. If Hollywood ever did a remake the former Seinfeld cast would be primed and ready for the roles. This movie looks shallow at first glance but is much more complex in its makeup requiring the viewers to pay attention. This movie should be on your Must See list. Rosalind Russell shines like a new penny.

His Girl Friday

When Hawks' decided to direct this adaptation of "The Front Page," he made a screwball classic. The second lead was turned into a woman, perfectly played by Russell and the romantic sub-plot with Grant & Bellamy heightens the comedy. The main key to this films success was the witty screenplay with rapid-fire delivery, overlapping dialogue & snappy insults. A masterful battle of the sexes. I give it a 4.5/5.

Too wound up for my taste

I am a big fan of Cary Grant and love most of his films but this was not one of them. Not because he wasn't great in it, but because the movie itself drove me crazy. I didn't like the fast pace of this movie and its dialogue. It left me little time to process. All of the actors appeared to have consumed way too much caffeine and the plot was too ridiculous. I never felt like I connected with the characters because it was "a race to the finish" through the entire movie and the plot just didn't captivate me, as others with Cary have. Rosalind Russel is a great actress as well, but the plot was a let-down, in my opinion, and no actor could change that for me. Check out Cary's films with Katharine Hepburn and "Charade"with Audrey Hepburn instead.

Strange mix of comedy and drama

Rosalind Russell is the best thing in this fast-talking news reporter film. But the movie is too strange a mix of humor and drama for my tastes. One scene is played for laughs and the next second someone is trying to kill themselves by jumping out a window. Also, I know the film is based on a play but does it have to look like one? There is very little camera work or motion and, coupled with the excessively loud, rapid-fire dialogue, the movie really seems to drag.

Friday and all the days of the week

A few things strike me about this film: first, Grant and Russell never made another film together (maybe this is because she kept up so well and challenged him so much, that he thereafter chose 'easier' costars); second, Roz Russell is able to steal the film because she is in it all the way through (CG's character disappears for about twenty or twenty-five minutes in the middle); and third, it is very progressive for its time (lampooning Hitler; mentioning Reds and foreshadowing the communist scare in America; and of course, there's the feminist angle of a woman in the workplace). I know a lot of people are bowled over by the rapid-fire dialogue (Hawks and his team are compressing a two hour movie into the space of ninety minutes); but the exchanges work between the two main characters because their relationship is so believable. Plus, they are very well supported by people like Ralph Bellamy and Ernest Truex who enhance the production.

A movie for every day of the week

Ladies and gentlemen, Howard Hawks cordially invites you to a world where women wear the pants and men are the trouble-makers. A movie that literally changed the way people talk (whenever kids/teens complain that old movies are too slow, show 'em this), this is a professional peak for stars Rosalind Russell, Cary Grant and director Howard Hawks. Cary Grant will do anything to keep his star reporter (and ex-wife) Roz Russell from re-marrying, and when a hot story falls into her lap, she has to reconsider her impending marriage to Ralph Bellamy (hmm...Ralph Bellamy...Cary Grant...Bellamy...Grant... such a dilemma) and the home life she wants or the fast, unscrupulous business she knows she belongs in. Cary Grant is perfect and in top comedic form as the lovable rogue. He was--and probably remains--the greatest comedic actor in Hollywood. That's why it takes a hell of a woman to match him shoulder-to-shoulder, but somehow Rosalind Russell accomplishes just that, in a way that even Katharine the Great (that would be Hepburn) or Irene Dunne could never have done. She walks away with the show and is the ultimate Hawksian Woman (sorry, Lauren Bacall). This is a perfect cynical romantic comedy for the ages.

Lots of Talk

The thing that resonates with me about this movie is the rythym of the dialogue. There are lots of words in this story about news reporting. It clicks along like an old manual typewriter. I have fun watching because the actors appear to be having fun with the pace and dialogue. It is a joy to just watch Grant & Russell shoot words at each other. The underlying theme would be serious, but is ignored by all as just background. The viewer should just sit back and enjoy the sparks that fly.
*We protect your personal infortmation and will not provide it to anyone without your consent. For a complete explanation, please refer to TCM's Privacy Policy. By submitting your contribution, you agree to TCM's Terms of Use.