DVDs from TCM Shop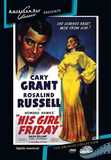 His Girl Friday An unscrupulous editor plots... MORE&nbsp> $11.95 Regularly $10.99 Buy Now
Trivia
Walter Burns (Cary Grant) refers to some horrible fate suffered by the last person who crossed him: Archie Leach. Grant's real name is Archie Leach. See also Arsenic and Old Lace (1944).
When Earl Williams tries to get out of the roll-top desk, Burns (Grant) says: "Get back in there, you Mock Turtle". Grant played the Mock Turtle in Alice in Wonderland (1933).
Burns tries to describe a character played by Ralph Bellamy. He ends up saying that he "looks like that film actor, Ralph Bellamy". See also Arsenic and Old Lace (1944).
One of the first, if not the first, films to have characters talk over the lines of other characters, for a more realistic sound. Prior to this, movie characters completed their lines before the next lines were started.
In the play the film was based on ("The Front Page"), the part of Hildy was played by a man. When director Howard Hawks was planning to make the film, he was going cast a man. While auditioning actors, a secretary would read the lines belonging to Hildy. Hawks loved the words coming from a woman so much, they decided to rewrite the part for a woman.
Contributions
Holz (2009-06-15)

Source: not available

In her autobiography, "Life Is A Banquet", Rosalind Russell wrote that she thought her role did not have as many good lines as that of Cary Grant, so she hired her own writer to 'punch up' her dialogue. With Howard Hawks encouraging ad-libbing on the set, Russell was able to slip her writers' work into the movie.