DVDs from TCM Shop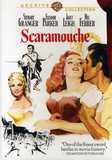 Scaramouche In 18th-century France, a... MORE&nbsp> $15.96 Regularly $19.99 Buy Now
NOTES
The opening title card reads: "'He was born with a gift of laughter and a sense that the world was mad.'-Sabatini." According to a September 1938 Hollywood Reporter news item, M-G-M had planned to film a new version of Rafael Sabatini's novel as early as 1939. Pre-production did not actively begin, however, until late December 1950. According to Hollywood Reporter news items in January and February 1951, Ava Gardner and Elizabeth Taylor were both considered for the "female lead" in the film. According to modern sources, Gardner was to portray "Lenore," while Taylor would have been cast as "Aline."
Contemporary news items also reported that Stewart Granger was initially to play a dual role, "Andre" and "Noel," and that M-G-M had planned to shoot the film in Paris. Modern sources indicate that Fernando Lamas and Ricardo Montalban were at one time considered for the two leads. Hollywood Reporter news items include Patricia Hawks, Crane Wilbur, Edith Happy, Joey Nichols and Conrad Martin in the cast, but their appearance in the released film has not been confirmed. In late August 1951, cameraman Robert Surtees took over filming for about two weeks from Charles Rosher when Rosher had to leave to check on hurricane damage to his Jamaica residence.
According to various news items, portions of the film were shot on location in San Francisco's Golden Gate Park and in Monterey, CA. It was also reported that atmospheric backgrounds were shot on the Isle of Man and the Channel Islands off the English coast, but that footage did not appear in the released film. According to items in the Hollywood Reporter column "The Rambling Reporter," the final cost of the film was $3.5 million and the jewels worn by Nina Foch as "Marie Antoinette" were the same as those worn by Norma Shearer in title role of the 1938 M-G-M film Marie Antoinette (see AFI Catalog of Feature Films, 1931-40). At the end of the film, "Lenore" walks off with a man dressed as a young Napoleon Bonaparte, but Napoleon's name is not mentioned. According to a news item, the actor who appeared in the role, Aram Katcher, also appeared as Napoleon in a commercial film produced for Western Sugar Beet Producers. Dancer and choreographer Barrie Chase, who became Astaire's dance partner on several popular television programs, beginning with the multiple-Emmy-winning 1958 special An Evening with Fred Astaire, made her motion picture debut in Scaramouche.
Other filmed versions of the Sabatini novel include a 1923 Metro production directed by Rex Ingram, starring Ramon Novarro, Alice Terry and Lewis Stone. Stone, who appeared as "Georges de Valmorin" in the 1952 film, appeared as "The Marquis de la Tour d'Azyr" in the 1923 version. A Spanish adaptation of Sabatini's novel was made in 1964 under the title The Adventures of Scaramouche, directed by Antonio Isasi Isasmendi and starring Grard Barray.