DVDs from TCM Shop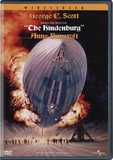 The Hindenburg Sabotage causes the airship... MORE&nbsp> $11.21 Regularly $14.98 Buy Now blu-ray
Trivia
A real-life tragedy nearly happened during the filming of the Hindenburg's fiery death. A full-scale section of the Zeppelin's nose was built for the film, and was set to be destroyed by fire for the film's final destruction sequence. A half-dozen stunt artists wearing fire-retardant gear were placed in the nose replica as it was set afire; however, the fire quickly got out of control, causing several stunt artists to get lost in the smoke, damaging several cameras filming the action, and nearly destroying the sound stage. Some of the footage from this sequence was used in the final cut of the film, but the full sequence, as it had been planned, was not included.
The film includes clips from the actual newsreel footage of the airship's explosion and fire. The recording played just before the closing credits is the actual eye-witness account of news reporter Herbert Morrison, describing the Hindenburg disaster.
Several of the depictions of escapes from the airship as it was crashing were based on fact. These include the cabin boy who was doused with water from an bursting ballast bag, and the circus acrobat who escaped by swinging from a loose mooring rope.
A miniature of the Zeppelin "Hindenburg" was constructed for filming. The "miniature" was over 25 feet in length, and was able to be "flown" by suspension cables in front of a backdrop. The miniature was donated to the Smithsonian Air and Space Museum in Washington DC, where it is on display.