DVDs from TCM Shop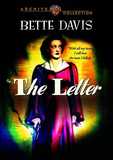 The Letter A woman claims to have killed... MORE&nbsp> $14.36 Regularly $17.99 Buy Now
USER REVIEWS
See Detailed Ratings
Acting of Lead Performers

Acting of Supporting Cast

Director

Music Score

Title Sequence

Screenplay

Cinematography

Historical Importance

Would You Recommend?

0 Member Ratings
Rate the acting of the Lead Performers

Rate the acting of the Supporting Cast

Rate the Director

Rating of the Music Score

Rating of the Title Sequence

Screenplay

Creatively uses the camera to tell the story

Importance in Cinema history

Would you recommend for fans of this genre
Submit Ratings
Cancel
Write a Review
Read Reviews
NO REVIEWS AVAILABLE
The title has not been reviewed. Be the first to write a review by clicking here to start.
Can See This As Noirish

Always happy to see good movies featured on Noir Alley.Davis the woman you'd love to kill for cuckolding hubby Marshall.Bruce Lester wasted as Asst DO Withers.Stephenson good.Had hard time sympathizing with vengeful Sondergaard.

the letter

Good study of venality, lust, murder, racism and dishonesty, set among the English rubber plantations, and directed, with his usual magisterial somberness, by William Weyler. Howard Koch's screenplay by way of a classic Somerset Maugham story and Tony Gaudio's moody night and shadow cinematography (call it Malaysian noir) contribute to an overall picture of a society in a state of moral ruin, in which all the major characters are, to a greater or lesser degree, weak or corrupt. Effectively playing key members of this society are Bette Davis, never more evil than in this characterization of a lying, bigoted murderess, James Stephenson, an actor I've not seen before but hope to see again, as Davis' ethically challenged lawyer, Gale Sondergaard, properly creepy as a vengeful Eurasian, and Sen Young as an unctuous, greedy clerk. Yes, the film is racist in its stereotyped view of Asians (although the most despicable character by far is the Caucasian Davis) and I wish the Hays Office hadn't been around to change the ending from how Maugham did it in his great story, and Max Steiner's score as usual won't be still for even a minute but, taken all in all, this is one of Warner Brothers' more memorable dark tales. Give it an A minus.

call jimmy the greek..

taking odds this will still have greater legacy than red sparrow with Jennifer Lawrence.

The Whatever

It is fitting that, in the epoch of the late God, the Roberts of the world (in which women are included)- those who honortheir vows & trust their Judus Iscariot spouses to do the same- get screwed!

The Letter

An excellent movie! Why is it not available as an individual DVD?? Please CAN it be??thank you

For The Big Screen

This is the Bette Davis movie that needs to be seen on the big screen. love the opening scene. what woman who has been cheated on by their lover would not what to shot him like Bette Davis shot her lover. The woman scorned. The scene is a catharisis, psychologically speaking. Then she tries to get away with it! then she admits she still loves the man she kills! Wow!

Bette Boffo!

One of the best opening moments in cinema, and a nice twist at the end. Bette at one of her several peaks.

The Letter (1940)

A great film! Gale Sondergaard is magnificent! I wish you would program this movie on a regular basis!

Classic Davis

This is one of my favorite movies. The filmography is amazing, especially the "moonlight" shots at the beginning and end of the picture. Great story - I love Davis' part - she truly almost overacts to cover her lies and fears. Great cast, great story, great ending and visually beautiful.

Ravishing masterpiece!

This masterpiece has it all: fabulous acting, photography, direction, script and one of the most haunting musical scores in movie history.William Wyler was at his peak in 1941 when he gathered together all these elements on the Warner Brothers lot and went to work. Bette Davis was also at the top of her career and her portrayal of evil in the form of Leslie Crosbie is mesmerizing. Equally good is the real-life tragic, James Stephenson, as the betroubed attorney. In real life, Stephenson died shortly after making this film of a heart attack. The luscious black-and-white photography, the sultry ambiance of tall glasses of drink, the never-ending heat, the summery fashions of white suits and large ladies hats, the tinkling of oriental wind chimes--it's all there. And providing a haunting base to the whole production is Max Steiner's powerful musical score--especially in the scenes where Bette Davis continually looks up at the moon throughout. In all the biographies of Davis, there is always reference to the tremendous battle between Davis and Wyler when it came to her confession to her husband about the man she murdered.. This scene was repeated so many times by the perfectionist Wyler that Davis remembers she was near exhaustion and this climatic scene was filmed the way Wyler wanted it. Sixty years later during a tribute to William Wyler by the American Film Institute, Wyler took the microphone and even HE referred to this scene and said; "I'm sure Miss Davis would still argue over this scene today." The camera shows Bette Davis in the balcony nodding her head forcefully. As she said in her memoirs, "I was the Marlon Brando of my time."

The Letter

A moody melodrama from the team of director Wyler and star Davis. Davis earned a Best Actress nomination as a woman who tries to defend herself for shooting her lover, Stephenson was nominated as her lawyer. Oscar-nominated cinematography and music create the exotic setting of Maugham's story, under Wyler's perfect Oscar-nominated direction. An engaging and enthralling drama. I give it a 4.5/5.

Superb Davis performance!

If you ever wondered where "Bette Davis eyes" comes from, you need only watch this film, particularly toward the end when it is night and she is looking up at the skies. Her eyes are riveting just as her performance in this film is. I first saw this about 20 years ago and it has stayed with me. It is eerie and keeps you watching throughout. Gayle Sondergaard, normally an actress I don't care for, is as vengeful as Davis is evil here. Herbert Marshall excels as the sap of a husband to Davis. Because this was filmed back in the Code days, you know Davis's character has to pay for her sin of murder but it isn't until the very, very end that you find out how she will pay. I hope Hollywood never dares to remake this film, as it would be a futile attempt. There is no substitute for the players of the play here. It is one of the best ever!

Stunning Performances

Thank you, thank you for showing this classic. Bette Davis is superlative as the cool, deceitful wife, and she looks lovely. Herbert Marshall and especially James Stephenson and Gale Sondergaard support her magnificently. Atmospheric and compelling throughout, brilliantly directed by Wyler.

A Woman Scorned

An outstanding film. A remarkable performance by Davis. A sinister evil woman driven by "love" to commit a heinous act of murder. After watching the movie I immediately put her on the top of list as "Best Actress of All Time"

A Great Movie

Riveting every time I see it. Good performances by all and Davis free of annoying mannerisms, but superb job by James Stephenson. What a pity he died so young. The film is among William Wyler's best.

The Letter (1940)

Simply the BEST! Gale Sondergaard thrills and Bette Davis is in her glory!

The Letter (1940)

Please, please please show this film more! It's the stunner of all stunners!Gale Sondergaard steals the show!

Layers of complication

The film builds beautifully from what appears to be a simple case of self defense. Leslie is comforted and relieved at first to learn she'll have an easy acquittal. But as the film unfolds, details surface which make her case--and her personal life more complicated: the appearance of the letter, the transaction to buy the letter from Hammond's widow, the truth about the price exacted, as well as Crosbie's discovery of the missing funds, Leslie's confession, and her ultimate murder by Mrs. Hammond all touch off the unraveling of what was thought to be an open-and-shut case. As secrets are unveiled, tension mounts, and builds to the inevitable climax. Bette Davis is cool and calculating while Herbert Marshall is superb as the devoted husband who receives the devastating news of his wife's affair with a pain that is palpable. But it might be easy to overlook the performance of Gale Sondergaard, who plays the widow Hammond. She says very little in the few scenes in which she appears, yet her expressions as well as body language portray an anger and hatred that is at once subtle, yet seething.

A timeless stunner

Every time I watch this movie, I am more impressed with the superb acting, the script, the direction, the sets, the ambiance. And of course, the suspense! It keeps me riveted, even on my fourth watching of it!

The Letter (1940)

Wow, what an incredible movie and one of Bette Davis' finest performances. Superb screenplay and cinematography. The score is excellent. The supporting cast is amazing, especially James Stevenson. A true classic in every sense of the word.

7 Oscar Nominated Wyler & Davis Classic

In the middle of the Wyler and Davis love affair, their work together reveals their love for one another. Critics have many theories about why they worked so well together; but, ask a woman in love with the man she admires beyond all others what she'll do for him and vice versa, and what you'll wind up with if they are director and actor is "The Letter." By now the two have won Oscars for their work together. By 1940, Bette Davis is thee actor to direct and Wyler is the master director of dramatic character actors. Be that as it may, Davis still fought with Wyler over this film's ending and walked off the set for 3 weeks! Then, came back and performed the end as "Willy" wanted it done. That is what a great actor does. They say what they feel for their character; but, ultimately abide by their director's decisions. This film could be the best one Wyler and Davis made together (& that's saying quite a bit).

Classic Wyler and Davis in Action

Director William Wyler grabbed my attention by setting an Asian atmosphere then starting the action with Bette Davis(Leslie Crosbie). Crosbie comes dashing out of a bungalow firing a pistol at a large man until the gun's emptied. Davis went immediately into such notable acting that I was entranced. "The Letter"is almost 70 years old and still a favotie film classic. Wyler and Davis keep it moving. Davis keeps the intensity going to the build up when she meets with the widow Hammond (Gale Sondergaard). God Bles Them All!

Third Review About the AFI Screwing Up

Seven Oscar nominations for this Wyler directed and Davis led film and no wins at all. Imagine that. Sixty-nine years later, "The Letter" stands out as a primary classic of Bette Davis' and William Wyler's. Beyond embarassing, pasthumiliation, the history of the AFI's decision making looks very questionable.

A Chinese American's Perspective

Viewing "The Letter" from a Chinese American's point of view, I was looking for the ways Asians are depicted. The film was released in 1940 when there wasn't much love for any type of Asian person in the US. All Asians were considered Japanese enemies, stereotyped and clumped together as if all the same (Singapore, an island, was occupied by the Japanese!). Director William Wyler manages to overcome that form of prejudice so often projected on screen. The beauty of the landscape in noir type cinematography is featured. Gale Sondergaard represents an Asian widow who's bitterly wounded by her non-Asian husband's infidelity and murder. There's only one scene that bothers me: when Bette Davis (Leslie Crosbie) goes to buy back her letter from Sondergaard (Mrs. Hammond. An opium-smoking carcicature of an Asian wheeler-dealer really has not purpose being in the scene unless it was to present a stereotype. This brief slip doesn't take away from the masterpiece stature of this film. Davis, Marshall and Stephenson do marvelous character acting. "The Letter" may have even flown in the faces of highly anti-Asian prejudiced audiences and still became a classic.

Classic Wyler and Davis

Thank you, TCM, for airing this film. It has been a long while since I last watched it. I'd forgotten what a masterpiece it is. Nowadays it is so easy to get lulled into the junk that is being programmed monotonously over the networks, including the ones we pay extra money for. Bette Davis is the actor who makes this film spellbinding. Her since of conscience, as Leslie Crosbie, comes across loud and clear saying that both adultery and murder are wrong. The way Davis portays shame and guilt, remorse and grief are spot on.

Tremendous Performance Art Work

In every sense of the word, "The Letter" is one of the most complete masterpieces of film art. Wyler's direction is stamped all over this production. Bette Davis' lead performance literally drives the cast's acting to its heights. Cast with Herbert Marshall is almost as good as being cast co-leading with Claude Rains. The plot's marvelously complex. The music is a Steiner mood maker. How can it be written when a film transcends being just a classic? Just watch it.

An Intrigue

"The Letter" has a very simple plot. A married women, Leslie Crosbie (Bette Davis), has an affair with a married man, Hammond (who isn't named or seen), then murders him. End of story? Certainly not. First, she's going to cover up the truth, especially from her husband, Robert (Herbert Marshall). She'll have to stand trial for murder; but, since she's a socialite in Singapore, no one expects she'll be convicted. The problem is there's a letter that the dead man's wife, Mrs. Hammond (Gale Sondergaard), has gained possession of. It reveals that Mrs. Crosbie invited Mr. Hammond to her home the night she murdered him and implicates her. Getting the letter she wrote to her lover back from his wife places her conscience in a perpetually guilt-ridden state. Ultimately, she can't live with what she did. rather than being a story about getting away with adultery and murder, it's a character study of the woman who did both. A marvelous production at every levevl.

Great Weekend Programming, TCM!

"The Letter," starring Bette Davis and Herbert Marshall, directed by William Wyler, is always a welcome classic to watch. It's clear that even though Davis plays, Leslie Crosbie, an adulterer & murderer, who then deceives everyone about it, is fraught with conscience over it. If she wasn't, I wouldn't like the film. Gale Sondergaard is perfect for the part of the widow Hammond of the man Crosbie unloaded a round on bullets into. Sondergaard is somber, severe, deadly looking and yet gorgeous in an ethnic fashion as a woman of Singapore. Max Steiner's score is atmosphere making so that watching is like being in Singapore. Great direction, camera angles, cast. Best of all though is a tour de force performance by the best person for the fluctations of the part: Bette Davis.

Thanks TCM! For Programming Bette Davis

Really appreciate it when TCM programs the real classics. "The Letter" is in so many ways. Wyler's keen direction, Davis' jaw-dropping acting, Steiner's moody tunes, Marshall's acting, Sondergaard's wondrous presence, a great screenplay, a supporting cast that seems like a family. So much is going on in this film that I could go on for pages (but won't). Thanks again!

Amazing Classic

Many toss around the term classic for the films they like best. I've wondered what qualified as a classic until I heard a director define what a classic is to him. He said the film has to be true yesterday, still true today, and will be in the future. I wasn't sure what he meant by 'true' until I asked. True classic is what he meant. "The Letter" qualifies in every respect as a timeless classic. From Steiner's mood-shifting music to Wyler's way of bringing all of the filmmaking elements together to the lead actor, Bette Davis, delivering a tour de force performance to her supporting cast keeping up with her (no small feat!). What can be said about this supporting cast, it's so packed with great performances. Marshall, Stephenson, Sondergaard all stand out. When it comes down to the essential acting that makes "The Letter" classic, it is the amazing acting capacity of Bette Davis.

Thanks for showing this movie, TCM

It would be hard to pick which one of the three Wyler and Davis movies TCM showed this weekend was the best. Each one seems like a major masterpiece in its own way. "The Letter" seems most unique because of how it was directed by Wyler. No doubt that Bette Davis' performance as Leslie Crosbie, an opening scene adulterous murderer, is the central performance around which all others revolve. Regardless, each performance seems so evenly balanced with the others. I have no idea if it's true, but it seems like the cast and crew of this movie acted as a well directed, beautifully functioning team. I liked how that felt afterwards. It felt like I'd just witnessed living artwork.

Response to "Q's" Question, Then More

Q--Cecil Kellaway's scenes in the film were severely cut in the final version. So he had a speaking part in the film that was edited out. Stephenson, as Leslie's lawyer, also wasn't wanted by Jack Warner, even though he'd suggested him to Wyler. Wyler insisted upon having Stephenson. Also the ending of this film has been changed from the original screenplay due to the censorship code. It wasn't okay for Leslie to get away with adultery and murder as was the case in the original version. On DVD, there are 2 different endings during which Leslie dies in both. Fabulous classic, if not a masterpiece for both Wyler and Davis.

Question about Cecil Kellaway in "The Letter"

Noticed that Cecil Kellaway is listed in film's cast as "Prescott", he is seen in the trial audience, sitting next to Adelle, and at the post-trial party given for Leslie, but has no speaking part nor mention of "Prescott" in this film. It doesn't make sense to me that he is noted in cast and even given a name, but no speaking part. After production was there a scene that he participated in that was cut later? Just curious.

Best Saturday on TCM: Wyler and Davis

Three cheers for TCM at least advertising"The Letter," and having Alec Baldwin commenting on 'The Erssentials'. Ever consider dumping Ben Mankiewicz and replacing his with Alec Baldwin? To "The Letter": Bette Davis, Gale Sondergaard, Herbert Marshall, Max Steiner, and Wm. Wyler. & Oscar nominations. One of Davis' 5 nominations in a row for Best Actress. Still one of the most publicly demanded films. A story about how marriage for a lifetime doesn't always work. Historical enough in reality and filmmaking history to be a classic, an essential, a masterpiece? you bet! Wyler nails the direction. Davis defines what doing character acting is switching from mood to mood with ease. Sondergaard's moody, exotic ethnicity lends to the aire of being in Singapore, the Crosbie's as foreigners. Steiner's music score starts the film off in a different culture and follows the plot through all of its variant moods helping to establish the aire (setting). Nothing short of a masterwork of performance art.

Wyler and Davis Collaborative Masterpiece

Wm. Wyler & Bette Davis co-created this film masterpiece. It's an ethnic atmospheric wonder of Singapore. Bette Davis (Leslie Crosbie) comes out firing a pistol, instead of a loaded script. Steiner's moody music swets the righgt pitch for each shift in the film's mood. When it come right down to what makes this film a classic masterpiece, Bette Davis is the centerpiece. She becomes a work of art as the murdering adulterer of the venerable Herbert Marshall (Robert Crosbie), who plays her betrayed husband. Gale Sondergaard (Mrs. Hammond, the murdered man's wife), creates an exotic ethnic elegance that challenges Davis' Crosbie in the letter exchanging scene. I'm sure "The Letter" (with both endings available on DVD) will remain a timeless work of fine art.

Atmospheric Tour de Force

A great date on TCM is with the incomparable artistic pair of Bette Davis and William Wyler. Wyler brings his crew together is such a way that they excell at creating the atmosphere of being in Singapore from the start to finish of the film. The cultural attributes are so well presented they can nearly be smelled because every other human sense is engulfed. Personifying Singapore is the grand Gale Sondergaard. Her moood as the recent widow who knows her adulterous husband's murderer is withheld bitterness that seeths through her very appearance. Her face says it all. Bette Davis comes out literally firing a hand gun which is what anyone who knows her performances expects. This is the first film during which she fires a weapon in her first scene instead of projecting a scripted killer line. Davis delivers this character on a golden platter.

William Wyler's "The Letter"

This is a William Wyler directorial masterpiece. The atmosphere that he creates in this film is extraordinary. Its exotic and intense mood of anticipated suspense is heightened by the great Max Steiner's essential music score that highlights the peerless, impassioned, and anguished performance of the incomparable Bette Davis as the doomed amoral and manipulative adulteress, Leslie Crosbie. Her outstanding co-stars, the very sensitive, articulate, and very underrated leading man, Herbert Marshall, as Robert Crosbie, the brutally cuckolded husband, the stunning and brilliant Gale Sondergaard as the murdered husband's Malaysian wife, Mrs. Hammond, and the nobly performed conscience-ridden characterization of the Crosbie's lawyer, played magnificently by the fine character actor, James Stephenson - the collaboration of all these personalities make for a wholly satisfying and totally absorbing film experience. As I said above, this is a truly imperishable masterpiece!!

Remarkable Classic By Wyler and Davis

Watching Bette Davis switch from the Leslie Crosbie who is emptying slugs into the already fallen body of the man with whom she's been having an affair to the Leslie Crosbie who's covering up the nature of the criminal activity she engaged in us what makes "The Letter" fascinating. Great acting and great direction, complimenting each other. This film should be considered a classic in ever sense of the meaning.

The Great Actor in the Great Film

I agree with Alec Baldwin, that an essential film has to have some value to the history of filmmaking. "The Letter" qualifies as such for several reasons that I can name. The lead actor's acting is incontravertibly and immortally astounding. This fact will not ever change. Just as the value of "Hamlet" will not ever change. The director, William Wyler has so mastered his craft that he was an artist who literally put on film what he pictured in his imaginary. That too is a timeless feat. Then, the story itself. This story was true in yester-years. It is true right now at the very moment it's playing on TCM on June 6th at 8:09PM. It will remain true for a multitude of tomorrows, for as long as there are married people who have affairs with lovers. I can't image that there will ever be a time when that doesn't happen. This film was nominated for 7 Oscars, including for Best Picture. Time has proven it is a better film now than anyone could have imagined then. It's historical value in filmmaking is immeasurable.

Brilliant Davis and Wyler Film

The atmosphere of Singapore is the first sounds of this film. Then the shots firing. The people of Singapore are first to be seen. Then a man flying down outdoor stairs. Then Bette Davis with a pistol, unloading the round into him. Wyler wastes no time establishing the mood, the culture, the central issue of the film. It's right there from the opening moments and that exciting. Bette Davis' portrayal of Leslie Crosbie is one of the most classic ever turned in. If unfamiliar with Davis' films, this would be a good place to start. Wyler and Davis had the chemistry to co-create fabulous films.

RE: Wyler's Ending

On the DVD of "The Letter" there is indeed an alternate ending. It goes like this. From the bar, after court, Leslie Crosbie (Bette Davis), abruptly leaves, returns to a dark, shadowy home and begins to nervously crochet. As if she's heard or seen something move outside of the slats in the back door, she exits into the back yard. The music which sounds like Singapore ques up as she walks through the lush plant life just before the moon goes behind clouds. She heads slowly to the barn. Once inside, she finds a very somber Mrs. Hammond (Gale Sondergaard) staring her down. Standing behind Crosbie is Hammond's man friend. He grabs Leslie covering her mouth with a dark cloth as she screams. A dagger emerges from the sleeve of Hammond's dress, clutched in her hand. The man hold Leslie while Hammond stabs her. The pair are seen by the audience only leaving Leslie's body by the barn. The last shot is of Leslie's doilie laying just outside the back door. There is no scene between Davis & Marshall when she confesses, "With all of my heart, I still love the man I killed." That's quite obvious when she's crocheting and slumps over in the chair sobbing. I don't know if that's the one Davis preferred.

Wyler's Ending

It was real good to watch "The Letter" again. It's such a classic. Did anyone else ever wonder what Davis had in mind for her preferred ending? Is it on the DVD? My favorite scene's between Leslie Crosbie (Bette Davis) and Mrs. Hammond (Gale Sondergaard), during their exchange of the letter Crosbie wrote to Hammond's husband. Davis' and Sondergaard's performances make their air so thick it could be cut with a knife. The tension's piqued. The expressions on both actors' faces are loaded with emotions. Wyler really brought this one together so that the ethnic differences aren't offensive, even by today's standards.

"The Letter"

Classic, true classic. From the moment the first sounds begin, director William Wyler's setting an ethnic mood. Then the first shot pops off in the background. When Bette Davis first appears she's firing off a whole round holding a smoking gun. Leslie Crosbie has come into my life and her form is the brilliant Bette Davis (1908-1989). From that moment forward all eyes will be focused on her every mannerism. Wyler and Davis disagreed over how "The Letter"ends throughout their lives. Theh director's ending is the greatest actress ever to grace the silver screen performed. As was one of her trademarks, Bette Davis did so with impeccable style."The Letter" is what I consider 'a Bette Davis classic for beginners'.

Beautiful Bette, Brilliant Bette

As a red blooded, American male who has just watched "The Letter," I don't get it when people say Bette Davis wasn't a beauty. Not that beauty is what matters to an actress/actor when they have developed their own acting methods. The men around Leslie Crosbie (Davis) in this classic film, her husband (Marshall)and lawyer (Stephenson), are so taken by her beauty that they believe her deception. Also, how she's treated as upper class lady blends into their vulnerability to be seduced into believing her. This is one film when Davis doesn't use any spitfire at all with any of the men. Without doing so, under William Wyler's keen direction, Bette Davis' outstanding acting makes"The Letter" her classic film.

The Murder, The Lies, The Acting

From the 1st scene with Leslie Crosbie (Bette Davis) walking down outdoor stairs firing a round of bullets into a man's body to the end when she admits to her husband that she's still in love with the man she murdered, the question remains, well then why the heck did she do it? Was it premeditated or a crime of passion? The murdered man's wife's scenes with Davis are chilling. Sondergaard's facial and body language makes Davis' seem innocent. I'd be afraid to cross her! I become nearly ashamed to hope Leslie isn't found guilty. Davis' knock out performance has me in the palm of her hands. This is another of her top ten all time performances and a true classic by Wyler. I keep thinking of Wyler as the great man behind the great woman, a gender reversal of sorts.

Davis' & Wyler's Timeless Classics

As Leslie Crosbie, Bette Davis doesn't play a southern character named Charlotte! Instead, she's a murderer from the moment the first frame of "The Letter" runs, unloading a round from a smoking pistol into an unknown target. There's no wondering what Mrs. Crosbie did. The question and plot wonders why. When the film ends, that question is left unanswered. What the film reveals so perfectly well is that a married woman had murdered another married woman's husband. Neither of them are the least bit happy about it and the widow has possession of a letter that Mrs. Crosbie sent to her husband just before murdering him. This is another Davis and Wyler classic collaboration. Davis' performance is magnificently camelion-like, depending upon with which person Leslie interacts. Who can claim which is the best Davis & Wyler classic? Each of them are timeless.

Intrigue

The contrast between Bette Davis and Gale Sondergaard is so stark that it's spooky. It's already known that Davis has shot a family 'friend' in the opening scene. She's considered a reputable lady until her lawyer's legal aid presents him with a blackmail scheme for a letter. Gale Sondergaard, the wife of the dead man, has the letter Davis' desperate to get. It's the meeting between Davis and Sondergaard, when they carry out the exchange of big money for the letter, that's the show stopper scene. The tension's been built into such a tight knot up to that moment that makes "The Letter," fabulous. The expert acting by Davis putting on many faces makes it impossible not to feel for the killer.

A Loveable Murderer

The film leaps forth into the shooting death of man by a woman, who unloads the entire round of bullets into him as she walks down outside stairs in the night. This scene is a classic one from the original trailer. There's no question"who done it." Instead the question is will the truth ever come out about why Leslie Crosbie (Bette Davis) shot a family friend. This the film that Miss Davis believed should've had a different ending. But, director William Wyler did not. Davis was that astute & influential in filmmaking; but equally keen to compromise. "The Letter's" a great classic for both Davis & Wyler who brought out the best in each other.

Worth watching over and over

To make an understatement, this is a darn good movie worth watching over and over. Bette Davis plays her evil best. The most memorable scene is when "dragon lady" Gale Sondergaard makes her grand entrance thru the beaded curtain. If I was an English teacher, I would use the story behind this movie to get students hooked on Somerset Maugham. I've heard that the Santa Fe Opera has commissioned a new opera based on this story. What a brilliant idea and I hope that it will get a new generation hooked.

Why Davis' Performance is Stellar

Leslie Crosbie (Bette Davis) is first seen shooting a man to death. Then, lies about why it came to that to police and her husband. What does a lying murderer look and act like? Genteel, kind, loving, wealthy and attractive? There's the rub. Davis confounds our idea about what kind of woman does these heinous acts. She's found innocent of any wrong doing because she looks innocent. The wife of the murdered man and her lawyer know the truth. Her husband is last to learn she's "still in love with the man" she murdered, because of a costly letter.Empathy for Davis' Leslie is oh so easy.

Among Davis' top Ten 1940's Performances

Admittedly, "The Letter" is not among my favorite films by Bette Davis. But, her performance is one of the best she turned in during the 1940's--during which her acting career skyrocketed.Davis managers to become a sympathetic character even though she's the adulterous murderer, without there being any mystery about either wrong-doing.The lines Davis delivers to her husband when she admits she's still in love with the man she murdered are among the finest moments in acting on film.

One of her very best.

Her hands...watch her hands in the scene where she tells the story of the attempted rape.

mesmerizing

The opening shot, the final shot, and many others between are brilliant. This film seems timeless in its look and production. One of Bette's best. Perhaps Wyler's most overlooked film.The several minutes of no dialog were effective and impressive for a mainstream 1940's Hollywood movie.This is a movie that is certainly worthy of multiple viewings.

good movie

A very good movie. Would highly recommend it. I love Bette Davis, she is my favorite actress of all time. Tells a story and that's what's important. The only thing is the ending, didn't quite get it, but I guess it was appropriate in those times.

The Letter

One of Bette Davis's best performances as the adulteress who murders her lover and schemes to get away with it ... until the letter appears. Besides Davis's acting, credit should also be given to James Stephenson, who plays her attorney.

Nothing could be better!

This is the ultimate film. What a story!The music, the performance, the eerie moon. What could be better than the opening scene? Poor Leslie, dumped for the exotic native women, she gets her revenge. She shoots her lover, not once, over and over again until the gun is empty. I watch this movie everytime I can. Classic.

"The Letter "

A very good Betty Davis film.

The Letter

Even though this is a Bette Davis movie and she is wonderful in it. It is the performance by James Stephenson as Howard Joyce that affects me. His early death was a tragedy.
*We protect your personal infortmation and will not provide it to anyone without your consent. For a complete explanation, please refer to TCM's Privacy Policy. By submitting your contribution, you agree to TCM's Terms of Use.